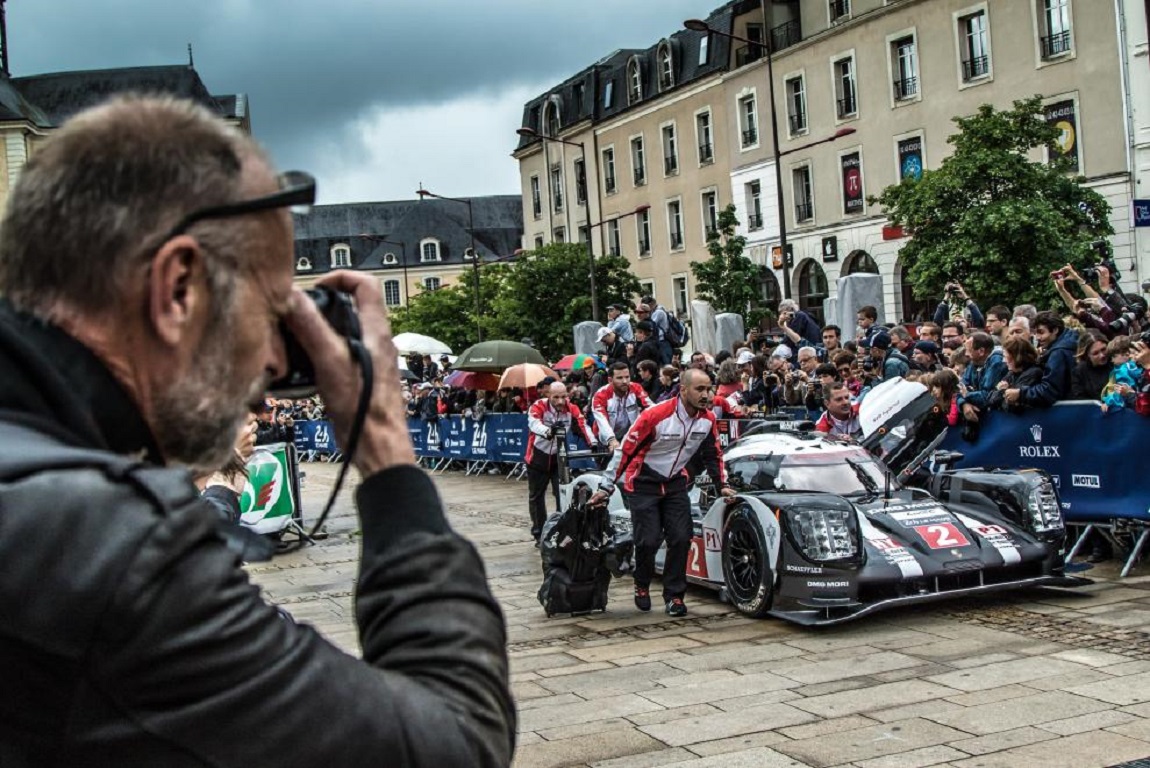 If weather projections are on target, the two-day qualifying phase for the 24 Hours of Le Mans could shift from a battle among the fastest in the field, to a fight involving who can handle a wet track surface and yet muster enough speed to take advantage of the long straightaways.
Unfortunately, the outlook looking ahead to the 84th running of the Grand Prix of Endurance does not look positive. After pre-track action on Tuesday at Circuit de la Sarthe in France was filled with a mix of sun and rain showers throughout, a similar picture looks likely when qualifying opens at the 8.45 mile layout on Wednesday night and continues into Thursday. According to Weather.com, there is a 60 percent chance of showers and thunderstorms on Wednesday evening, while rain is 70 percent likely throughout Thursday. Of course, similar bad weather was predicted last year at La Sarthe however, yet despite that one dry session was in play allowing Team Porsche's Neel Jani to post an amazing three minutes, 16.687 second lap to take pole position overall, the fastest lap in event history since the advent of the two chicanes on the Mulsanne Straight in 1990.
If indeed the wet weather prediction pans out, expect the battle for the 2016 pole position to be a tighter battle between Audi Team Sport Joest and Team Porsche, with Toyota Gazoo Racing perhaps within closer proximity of the battle as opposed to a dry session. Audi's Andre Lotterer has fared well in less than ideal conditions in the other FIA World Endurance Championship events , while Porsche's Jani and Timo Bernhard are also worth watching in the wet. As for Toyota, Anthony Davidson could feature as could fellow former Formula One veteran Kamui Kobayashi.
In LMP2, whether wet or dry conditions win out, expect one of the six ORECA 05 coupes in the field to take the top honors on the final grid. Signatech Alpine's Nicolas Lapierre is a strong candidate to get the spot, as could G-Drive Racing's Rene Rast. Another French veteran to watch is Tristan Gommendy, who posted the fastest lap during the Le Mans Official Test Day on June 5th for Eurasia Motorsport. As for the remainder of the grid, there are a few drivers who could step up to steal the top spot in the lower prototype division. In terms of the Ligier JS P2 entrants, Extreme Speed Motorsports' lead driver Pipo Derani is worth a shot as is RGR Sport by Morand's Filipe Albuquerque. Another long shot pick is SMP Racing's Mikhail Aleshin. The Verizon IndyCar Series regular stunned the crowd in January at the Rolex 24 at Daytona, taking the pole position in very wet conditions.
In terms of the battle in GTE-Pro, a wet track has been mastered in recent months by Porsche Motorsport's Nick Tandy. The Englishman, who twelve months ago won the 24 Hours of Le Mans overall in a Porsche 919 Hybrid, has dominated two recent rain-filled on track sessions in the grand touring ranks, helping Porsche North America earn a shocking overall win at the Petit Le Mans at Road Atlanta last year and backed up the effort by posting the fastest lap in any division during qualifying for this year's Rolex 24 at Daytona. Although rivals from Corvette, Ford, Ferrari, and Aston Martin are not completely ruled out in a wet session, Porsche certainly is the favorite on paper.
The same scenario could also ring true in the GTE-Amateur division with a couple of Porsche-backed drivers on the entry list. Wolf Henzler for KCMG, Patrick Long for Abu Dhabi-Proton Competition could feature in the final pole position fight, representing half of the four 911 RSRs entered in the lower grand touring class. Also joining the conversation could be fellow professionals Pedro Lamy from Prodrive Aston Martin and the aggressive Townsend Bell for Scuderia Corsa Ferrari among others.
Although it appears unlikely that the fast speeds from last year will be matched without a dry session, there still should be plenty of drama as the starting grid will be set by Midnight local time on Thursday.
Stay tuned to OnPitRoad.com for further news and updates on the 84th 24 Hours of Le Mans.