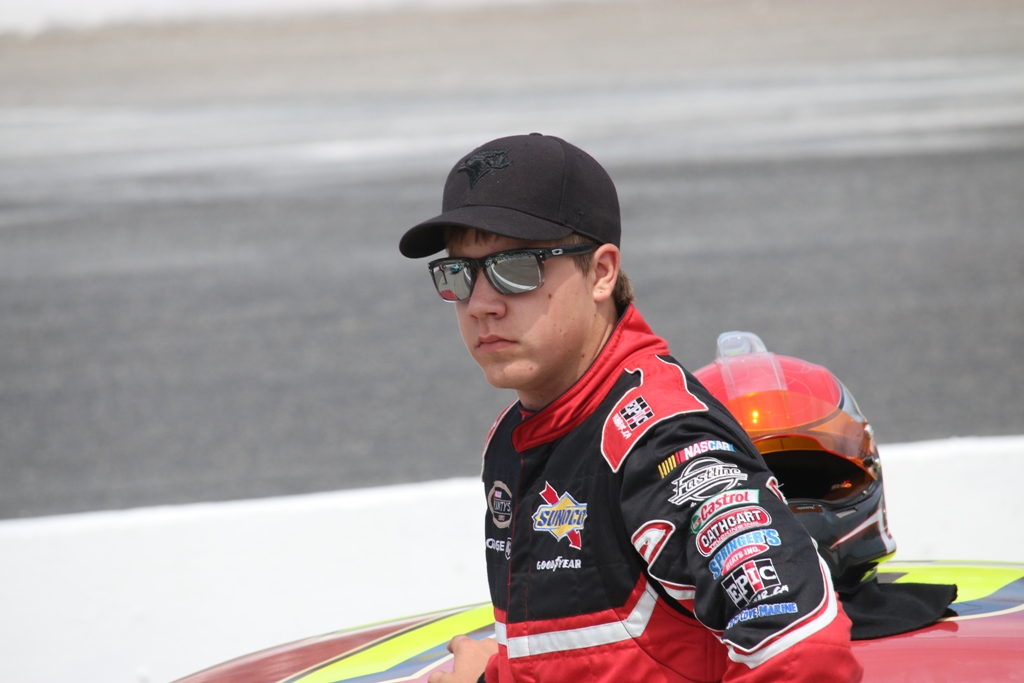 After a fourth-place finish at the season opening Clarington 200 and a career-best second at Sunset Speedway, Cayden Lapcevich found himself tied for the NASCAR Pinty's Series point lead, but knew lack of sponsorship would keep him out of the CRS Express 300 at Autodrome Chaudiere.
That was until a last minute sponsor came just days before the race.
Six Nations dirt track Ohsweken Speedway and track owner Glenn Styres have stepped up to give the Grimsby teenager the late charge funding he needed to compete at Chaudiere and continue his championship fight.
"Chaudiere was kind of an eleventh-hour decision for us," laughed Lapcevich. "Sunset definitely played a big part in us being able to get there. I can't thank my family, our sponsors and our team enough for making this happen. They've given me the opportunity – now I'm just hoping to turn it into something."
After a successful partial rookie campaign last year, Lapcevich had planned to run the full Pinty's Series season in 2016 until their sponsor Tim Hortons decided to shift their funding elsewhere late in the season preparations. It left Lapcevich in a position where he would be forced to run part-time. However, two strong runs to start the season including a runner-up at Sunset, and the sponsorship from Ohsweken Speedway will keep Lapcevich going for at least one more race outside of Ontario.
"Sunset was a big moment for us," Lapcevich said. "Everything from setting fast time to finishing on the podium felt like it was all that we had been working towards. Our team is working nonstop to make this program better and I'm just happy I can give them the results to be proud of."
Lapcevich raced at Chaudiere last season and left the track with an 18th-place finish. This year, Lapcevich looks to change that, and thinks that Lapcevich Racing's strong short track program will help him better his result.
"We had an awesome car at Chaudiere last year but caught some damage early and it sort of threw our night a little sideways," Lapcevich said. "But we know what it takes to be fast there. Our short track stuff is really good, so it's tough not to have some confidence heading into this weekend. It's all about making the right decisions and catching a little bit of luck at the right time."
Lapcevich enters the third race of the season at Chaudiere tied for the points lead with two-time series champion, Andrew Ranger.