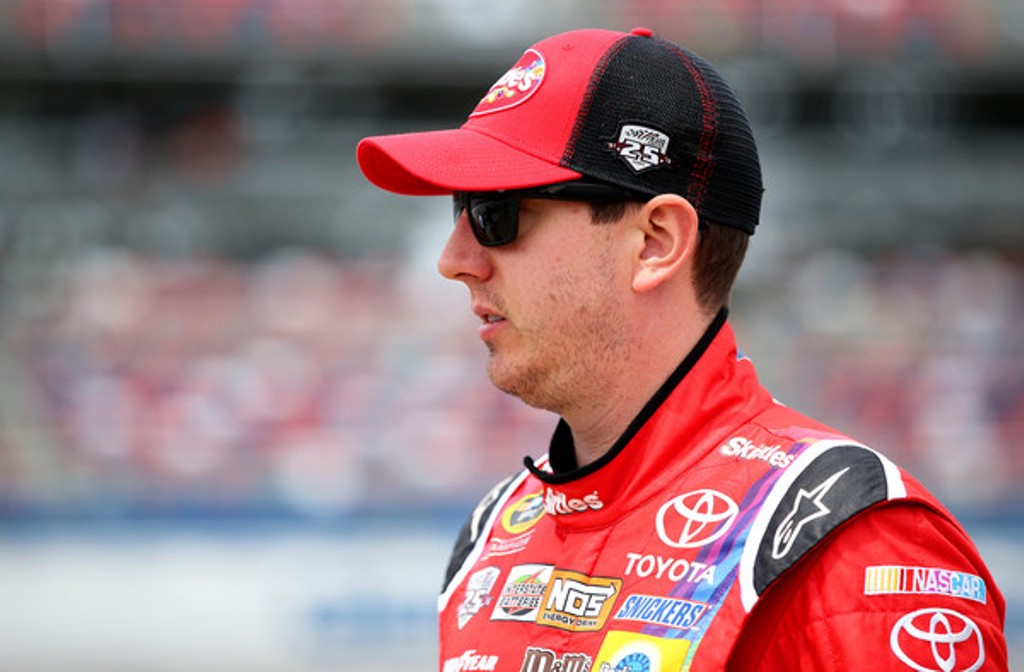 Add Kyle Busch to the list of people upset with Spencer Gallagher.
Busch was entered into last night's NASCAR Camping World Truck Series race at Kentucky with one thing in mind – winning. That goal wasn't accomplished, however, when contact between Spencer Gallagher and him turned Busch into the outside wall, and ended his night.
The wreck happened on Lap 56. Busch had been sent to the back of the field following a penalty on an earlier pit stop for having too many crew members over the wall. Busch was on the outside of Gallagher and Jordan Anderson in turn three, and when Gallagher was squeezed in the middle by both Busch and Anderson, he moved up the track and clipped Busch. Busch spun, and hit the outside wall, and would finish 30th in the race.
Gallagher had an incident in the last Truck race at Gateway with John Wes Townley. Gallagher wrecked Townley early in the race, and the two tangled again late in the race, which turned from potential retaliation of Townley's side to a fight on the track's backstretch. Busch referenced the incident from Gateway when voicing his displeasure with Gallagher.
"It was self-inflicted, I guess," Busch said of the wreck. "Got back in traffic and I don't know. Going down the back stretch I thought I had enough room on the inside, but I know who I crashed with. That doesn't surprise me, now I know how John Wes Townley feels. It's just a shame. Brand new truck and really good piece – destroyed."
While Busch's Kyle Busch Motorsports teammate William Byron celebrated in victory lane, the team owner spent most of the night in the garage surveying damage, and reliving the incident.
"I don't know, I had a run on the outside and thought I left enough room on the outside," he said. "Got hit and spun into the wall. It's a real shame. All these guys at KBM built a brand new piece and it was really good. It was self-inflicted wounds that we kept getting ourselves back in traffic and hurt ourselves with track position there. We had a really fast Tundra and was able to pick off spots on the outside and on the inside. I was just trying to bide my time and thought I made a smart move and ended up getting wrecked. That's all there is to it."