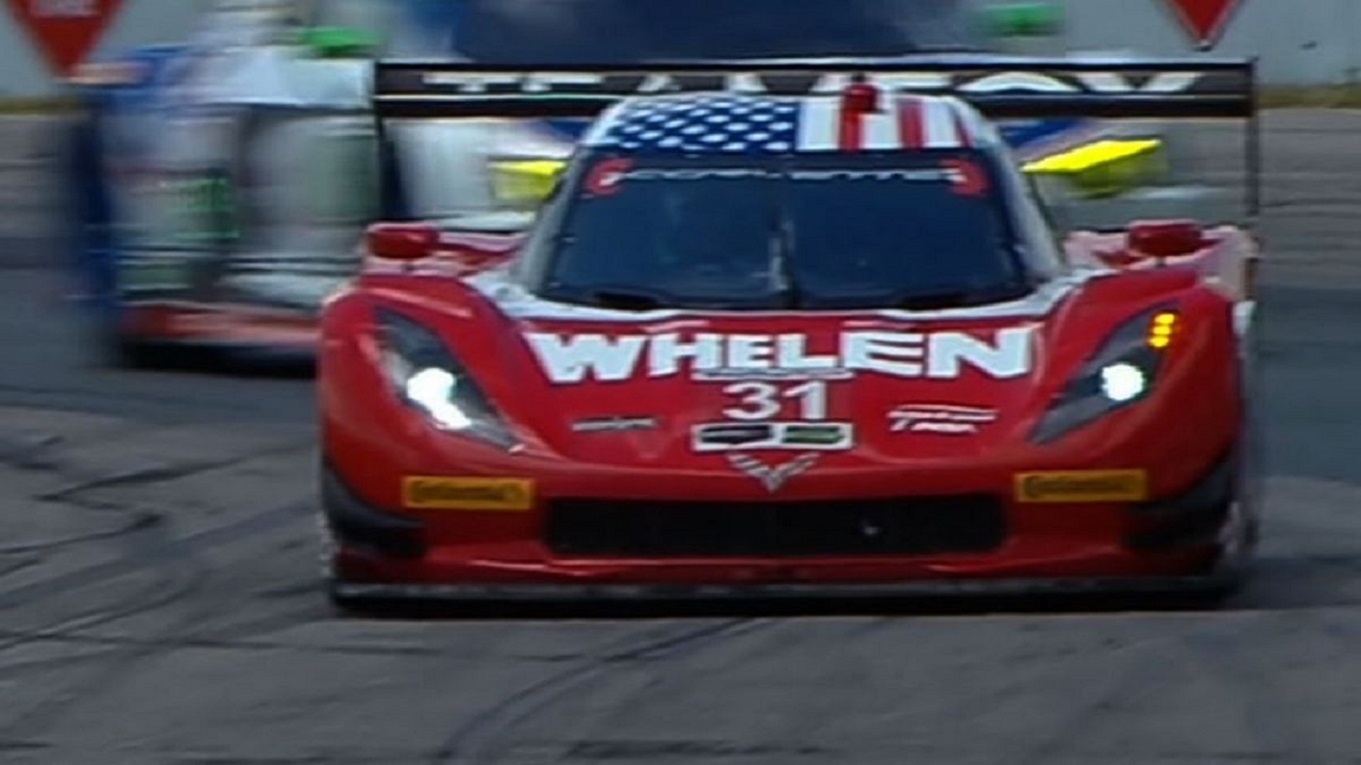 With a numbers advantage, yet facing a potential handicap in terms of pace versus its newest rivals from Japanese manufacturer Mazda, the quartet of Chevrolet Corvette DPs in Sunday's Mobil 1 Sports Car Grand Prix had maybe a 50-50 shot of either winning or falling short in their quest to claim another victory in the 2016 IMSA WeatherTech SportsCar Championship season to date.
At the end of the day Sunday at Canadian Tire Motorsport Park, the General Motors primary brand would prevail, however the victory on Sunday by Action Express Racing may have been due to the efforts of one driver Dane Cameron, as opposed to the car itself. Over the past year and a half, the California native has been one of the strongest finishers in the headliner Prototype division and once again demonstrated his potential for powerful performances by holding off teammate Joao Barbosa, who finished second.
After running sixth prior to the first pit stop, Cameron took over from teammate Eric Curran and fired off a quick set of laps to vault all the way to first once the rest of the field cycled through pit stops. From there, Cameron and Barbosa maintained their positions to the finish of the two hour, forty minute timed distance with Cameron's final winning margin being just over ten seconds.
Despite coming up short in their quest for back to back victories, the runner-up result by Barbosa and teammate Christian Fittipaldi increases their lead on the championship points table as they seek their third consecutive Prototype class championship. Two more Corvette DPs would take the next two finishing positions as Wayne Taylor Racing's Jordan and Ricky Taylor finished third and Visitflorida.com Racing's Ryan Dalziel and Marc Goossens earned the number four position.
Rounding out the first five was the first of the SpeedSource/Mazda Motorsports Lola coupes, who both dealt with mechanical problems on Sunday. The issues were enough to force the No. 55 entry of Jonathan Bomarito and Tristan Nunez to retire near half distance, while Joel Miller and Tom Long nursed the No. 70 machine home to the finish in fifth.
In Prototype Challenge, division powerhouse CORE autosport secured their second win of 2016, yet its first since winning at the Mobil 1 12 Hours of Sebring in March. After winning the TOTAL Pole Award on Saturday, the No. 54 entry dropped to the tail of the starting grid on Sunday as the team elected to start team owner Jonathan Bennett and save its qualifying driver Colin Braun for the latter stages of the event. Although the first stint proved difficult, Braun quickly made up the early deficit suffered early by Bennett, as he took the number one position just past half distance and then maintained a solid cushion to the finish, winning by ten seconds.
Although falling just short in its pursuit of three straight victories in the PC class, Starworks Motorsport's Renger van der Zande and Alex Popow continued their recent solid form to claim runner-up honors on the day, while PR1-Mathiasen Motorsports' Tom Kimber-Smith and Robert Alon would complete the class podium. The second place result allowed van der Zande and Popow to maintain their lead on the PC championship points table after Sunday.
While Starworks fell short in its quest of a three-peat, Chip Ganassi Racing's Ford GT tandem of Ryan Briscoe and Richard Westbrook extended their winning streak to three, using a late surge and an off-sequence pit stop plan on Sunday to top GT Le Mans class rivals Tommy Milner and Oliver Gavin of Corvette Racing by just 1.5 seconds at the finish. After winning the first two races of the 2016 campaign at Daytona and Sebring, the Chevrolet Corvette C7.R runners began to give way to its American manufacturing rival as CGR's Ford GTs, who after struggling in the first three events have won three straight events, which also includes a victory last month at the 24 Hours of Le Mans in June when CGR placed three of its four entrants in the top five.
After winning the TOTAL Pole Award on Saturday, Corvette Racing's sister entry of Jan Magnussen and Antonio Garcia faded to finish third after leading the opening stint of the race on Sunday. The lead BMW Team Rahal M6 of Dirk Werner and Bill Auburlen settled for fourth in Canada, while the second Ganassi Ford of Joey Hand and Dirk Mueller completed the top five.
The results on Sunday means Milner and Gavin's championship lead in GTLM over Briscoe and Westbrook is down to just five points heading to the next event at Lime Rock Park in Connecticut.
Despite only collecting two top five finishes to open the 2016 IMSA season in the GT Daytona class, Turner Motorsport's BMW squad put all the pieces of the puzzle together Sunday in Canada as BMW factory standout Jens Klingmann and Bret Curtis teamed up to grab the Will Turner-owned squad's first victory in nearly a year. After starting fourth on Sunday, the M6 runners stayed in contention until vaulting to the lead, albeit at the expense of contact between Klingmann and Riley Motorsports Dodge Viper pilot Jeroen Bleekemolen.
While Bleekemolen was eliminated from contention, Klingmann powered home to earn the victory by seven seconds over Stevenson Motorsports' lead Audi R8 of Robin Liddell and Andrew Davis, who earned runner-up honors on Sunday. Paul Miller Racing's Lamborghini Huracan of Bryan Sellers and Madison Snow bounced back from a set of iffy recent results to complete the podium, while Scuderia Corsa Ferrari finished fourth on Sunday, extending Alessandro Balzan and Christina Nielsen's lead in the championship standings as rivals Team Seattle Porsche failed to finish due to mechanical problems suffered earlier in the race.