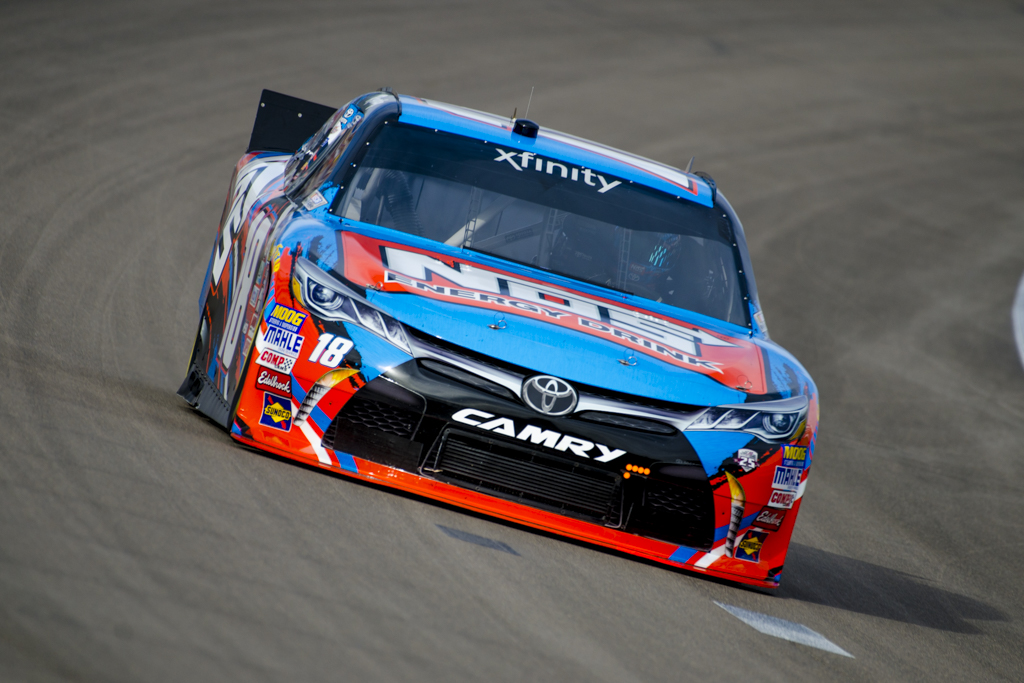 Both the NASCAR XFINITY Series and Sprint Cup Series will be tackling the one-mile track of New Hampshire Motor Speedway. There will be four full-time Cup drivers in the field at the Magic Mile, and past stats show it will likely be one of those drivers pulling into victory lane on Saturday.
In the last 12 XFINITY Series races at New Hampshire, 11 of them have been won by full-time Cup drivers. The lone exception? That would be Martin Truex, Jr. in 2005 driving for Dale Earnhardt, Jr.'s team. The Cup driver win streak goes back to 2004 when Matt Kenseth beat out Kevin Harvick's current spotter Tim Fedewa for the win.
To be frank, only three of the four Cup drivers in the field will have a legitimate shot to win as Matt DiBenedetto driving for Tri-Star Motorsports is expected to start and park.
The top contender for the win on Saturday cames from the Joe Gibbs Racing camp. Kyle Busch, who wasn't expected to race, will be stepping in the No. 18 for the sidelined Matt Tifft as he recovers from a recent brain surgery. Busch is a four-time winner in the Granite State where he boasts three straight wins from 2008-to-2010. His most recent win came in 2013. He led 141 of 213 laps, and outran teammate Brian Vickers for the win. Busch also happens to be coming off a dominant win at Kentucky Speedway last week where he led 185 of 201 laps. The 2008 series champion has won five races this year, but could very well pick up a sixth trophy this weekend.
Austin Dillon has never won at New Hampshire in the XFINITY Series, but he is a winner at the Magic Mile after taking a NASCAR Camping World Truck Series victory here last year. Dillon has one win so far this season at Auto Club Speedway, and the 2013 series champion will be a contender for his second of the year on Saturday.
Despite struggling in the series this season, Team Penske will still have a good shot at a win on Saturday. Brad Keselowski will be piloting the No. 22 for the Captain, and across the top-three series, he's won at New Hampshire three times, which includes two in the XFINITY Series. His two wins in XFINITY competition have both come for Penske in 2012 and 2014, and the 2010 series champion is still looking for his first win of the season. Keselowski's best finish of third this year came at another one-mile track – Iowa Speedway, but New Hampshire is a much flatter track, and there are few correlations between the two tracks.
If an XFINITY Series is going to pull into victory lane on Saturday, one of Kyle Busch's teammates is likely to be that contender. Erik Jones has already won twice this year, and in order to win both races, he had to beat his mentor in Busch. Busch has proven to beatable, so Jones is a strong possibility to break the Cup driver win streak.
Busch and Jones' other teammate Daniel Suarez could also be one to steal a win from the Cup drivers. Suarez earned his first career win at Michigan a few weeks ago, and got that win by passing Busch for the lead with only two laps to go. Suarez isn't susceptible to pressure, so he can't be looked past.
Three JR Motorsports drivers will also try to say something about the Cup drivers winning on their turf. Alex Bowman has been solid in each of his four starts this season. Bowman has two top-five finishes, and his worst finish this year is 10th. If he could upset the Cup drivers, it would be Bowman's first career win.
Consistent seasons thus far for Bowman's teammates Elliott Sadler and Justin Allgaier could put them in race winning contention as well. Sadler already has a win this year, but Allgaier has been a bridesmaid with two second-place finishes so far this year. Sadler and Allgaier sit second and sixth in points respectively.
Also likely to be in contention are Richard Childress Racing drivers Ty Dillon and Brendan Gaughan who find themselves quietly third and fifth in points. They're both safely in a Chase position without a win, but each have something to prove. Dillon is trying to prove he deserves a spot in the Sprint Cup Series full-time, while 41-year-old Gaughan is in a contract year with RCR. A win for either driver could be big for their futures.
Although the stats show the likelihood for a Cup driver winning on Saturday to be much higher than the XFINITY regulars, you can't count out drivers racing for a championship. Each XFINITY Series driver listed above has a high incentive for winning, and they'll likely do whatever they can to be in victory lane.