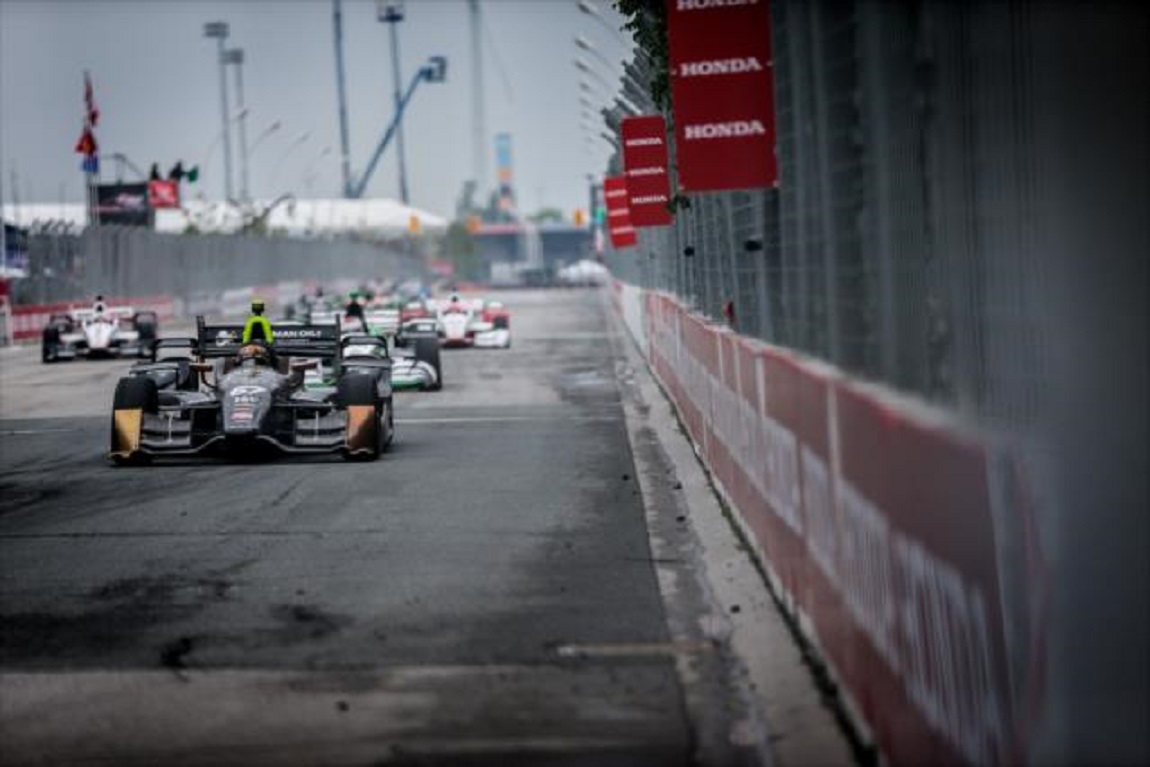 After Josef Newgarden's dominating win last Sunday in the Iowa Corn 300 when he led all but 18 of 300 laps, the Tennessee-native now seeks to defend his victory from a year ago at one of the Verizon IndyCar Series' mainstay stops. This weekend, the premier North American open wheel racing circuit crosses the 49th parallel into Canada for the 30th edition of the Honda Indy Toronto.
The comeback for Newgarden has been just short of incredible. After suffering serious injuries in a major crash during the rain aborted race at Texas Motor Speedway last month, the Ed Carpenter Racing driver recovered quickly enough to reappear at Road America and place eighth, setting up last weekend's front row qualification and eventual outclassing of the entire field in the race to follow.
Although only 1.755 miles in length and 11 turns to negotiate, the layout of the Toronto street circuit (also known as Exhibition Place) remains largely unchanged since its debut event in 1986, which was won by current IndyCar team boss Bobby Rahal. Fellow team owner Michael Andretti is the most successful driver in the history of the Honda Indy Toronto, having taking the top step of the podium seven times. Amazingly, despite tasting major success as a driver, Andretti's luck at Toronto as a car entrant has been limited to just one major score, despite the fact a former part of his organization handled promotion for the race in recent editions.
Ryan Hunter-Reay however, does have the lone Andretti Autosport score at the former Exhibition Place circuit, using his 2012 victory as a springboard to his eventual championship securing. Three other two-time winners are also featured in the 22-car fleet set for Toronto including Team Penske's Will Power, reigning series champion Scott Dixon from Chip Ganassi Racing, and multi-time ChampCar World Series champion Sebastien Bourdais, now with KVSH Racing.
While Newgarden is the main focus for Ed Carpenter Racing's hopes for a win, his road course teammate Spencer Pigot should not be overlooked either. The defending Cooper Tires Indy Lights champion won the last two go-arounds at Toronto for the IndyCar Series' second division and is also coming off his top ten finish of his Verizon IndyCar Series career after placing ninth in the circuit's return to Road America in Wisconsin.
As for the chase for the 2016 series title, Team Penske's Simon Pagenaud still holds a stronghold on the points table and entering the Honda Indy Toronto, the Frenchman claims a 73-point cushion over Newgarden yet he has proven vulnerable in this event. Pagenaud's best result here was a fourth in 2014's first leg of the doubleheader of races that time around and he has only one other top ten effort outside of that. In comparison, coupled with last year's triumph, Newgarden has also failed to feature largely in Toronto, however keep in mind it was not until 2015 that the Tennessean had the equipment required to be a serious contender for the front of the order.
Outside the top two on the list, time is running out for others in terms of championship potential as only three other drivers are currently within 100 points of Pagenaud. One of them however, is IndyCar road racing ace Will Power who has only finished outside the top ten only four times in his career at Toronto, which began in the ChampCar ranks in 2006. Scott Dixon, currently fourth in points has also been effective here, while Helio Castroneves the third Team Penske member in the top five has placed sixth or better in five of his last six appearances.
Of course, whoever does manage to win the Honda Indy Toronto may need to make the Firestone Fast Six on Saturday to improve his chances. Although Newgarden started 11th in his quest for victory a year ago, the narrow nature of the circuit makes passing on course limited and minus full course cautions, an off sequence pit strategy may not be effective.