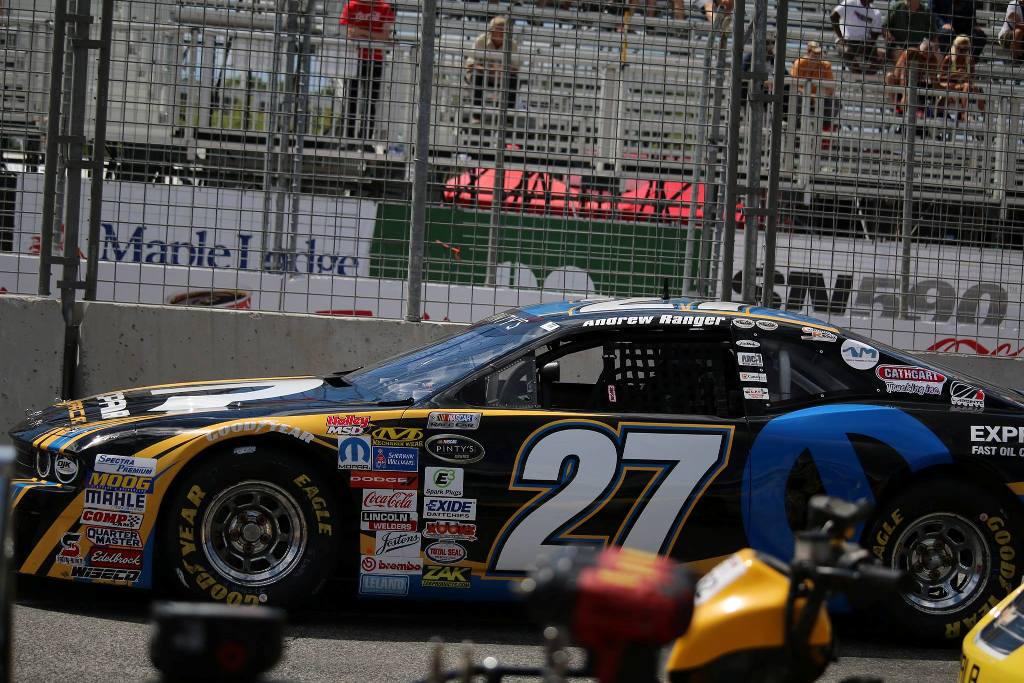 Andrew Ranger has all the momentum right now. He has two wins on the year – including the last road course win at Circuit ICAR, and he leads the points. Ranger has a lot going for him as he goes into a weekend on the Streets of Toronto where he's the only NASCAR Pinty's Series winner at the track.
"We are very excited," Ranger told OnPitRoad.com before qualifying on Friday. "I think the Mopar/Pennzoil car is fast."
Ranger is a driver whose always a force to reckon with on the street courses, and that's proven to be no different this weekend. He was third quickest in practice, which lined up to qualify in the second group of drivers that included those whom posted the top-13 speeds. When it came to qualifying the Roxton Pond driver put down the fastest lap after only putting three laps on the tires to win his 18th career pole, and first of the season.
The pole and quick times in practice put the No. 27 Dodge near the top of the list of favourites for Saturday afternoon's race at a track he's historically strong at.
"It's a fun track and I really enjoy it here," Ranger said. "It has very tight corners, and there is a lot of speed on the straightaways, so it's a track that I really like."
With Ranger entering Toronto as the points leader, he has three strong competitors in Cayden Lapcevich, D.J. Kennington and Alex Labbe right on his tail. The three drivers behind him have different levels of experience, but Ranger doesn't race any of them any differently.
"I think it's cool racing them because everybody's fast," he said. "D.J. (Kennington) and Lapcevich are behind me. Labbe's not too far behind, but right now my plan stays the same – we're going to go race-by-race, and do our best to try to win the most points we can."
Although the tight corners of Toronto will be a challenge, the biggest challenge of all might come in the Western swing. Following the Pinty's Grand Prix of Toronto, teams will load up and head West to Edmonton International Raceway for a race on July 23. Just four days after that, they will go just a little East to Wyant Group Raceway in Saskatoon for the next race on July 27. It can be a rough week on teams with very little turn around, but Ranger knows his team will be ready.
"We are ready," Ranger said. "It's been nine years we've been doing this, so it's not our first time. Right after Toronto we need to prepare the cars, put the cars on top of the trailer and then drive up there to Edmonton. It's fun, and it's part of the deal. We enjoy it. We do well there in Edmonton, and the same thing with Saskatoon. We'll do our best to win the race, or win the most points we can."
Teams will have a few weeks off to prepare for Trois-Rivieres after the Western swing. The street course in Quebec has fared well for Ranger in the past as he's a four-time winner. He hasn't won there since 2012, but he has no concerns going into that weekend.
"Trois-Rivieres – it's a track a lot like here in Toronto," Ranger said. "It's very narrow; very tight. I really enjoy when I race there. The worst position I've done is second-place, so that's not bad."