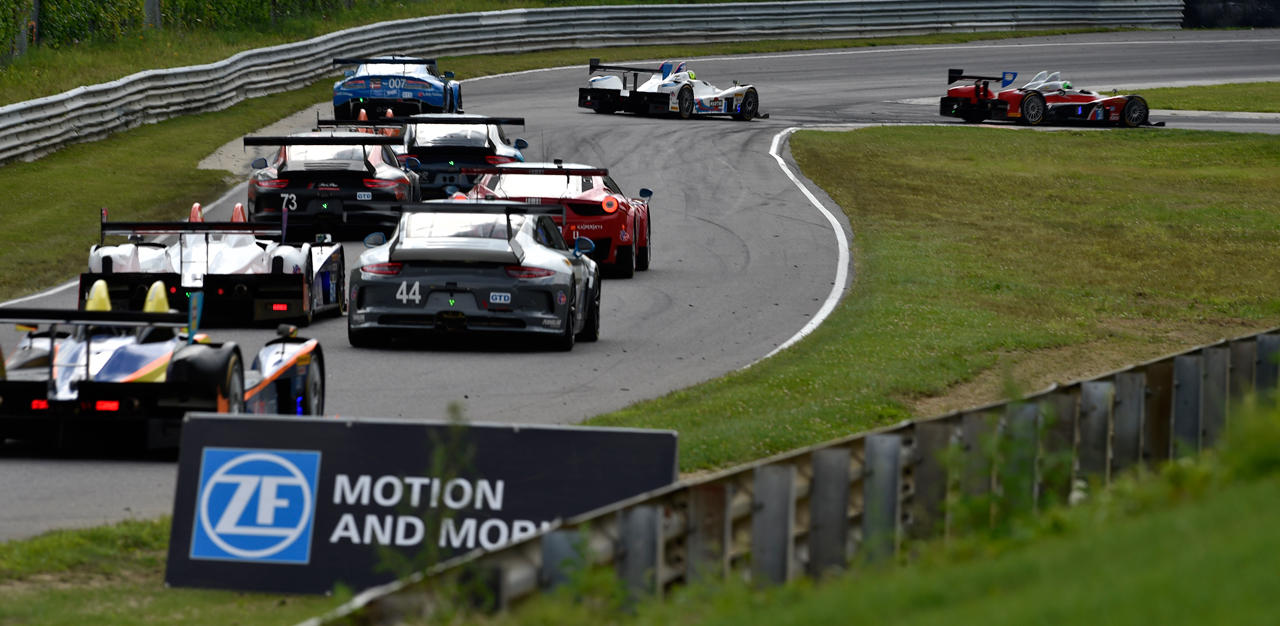 While it is far from the most challenging circuit on the current IMSA WeatherTech SportsCar Championship venue, the 1.5 mile Lime Rock Park layout in Connecticut still holds a major place in the history of sports car racing having hosted events since its opening in 1957. Rejoining the current slate last season, Lime Rock's lack of pit spaces means the headliner Prototype division takes the weekend off, putting the majority of the focus on Sunday's two hour and forty minute timed distance race squarely on the other professional category, GT Le Mans.
After witnessing Corvette Racing and Porsche North America trade victories in the opening three races, the emergence of Chip Ganassi Racing's Ford GT project since its initial win at Mazda Raceway Laguna Seca in May has just been the beginning of the story of a new grand touring challenger. In addition to three straight class wins in IMSA competition, Ford also returned to the 24 Hours of Le Mans last month in supreme form, by taking three of the top four places in the final rankings.
Entering this weekend, Ford's top driving team of Richard Westbrook and Ryan Briscoe, trail Corvette Racing's leading entry of Tommy Milner and Oliver Gavin by only five points, meaning the No. 4 Chevrolet Corvette C7.R entry would have to place second on Sunday if the No. 67 Ford makes it four straight victories to maintain the tiniest of point advantages on the table. Despite the shift of momentum tilting toward its longtime Detroit car-making rival in recent weeks, Chevrolet did manage to earn a podium finish at the most recent event in Ontario, Canada and with recent Balance of Performance adjustments aiding them, they could finally take the full fight to CGR when the green flag and the field heads into Big Bend for the first time.
Bobby Rahal's fleet of BMW M6s have also shown signs of life in recent weeks, most notably from Bill Auburlen and Dirk Werner who enter Lime Rock third on the current GTLM points table. The task though could become tougher for them as recent BoP adjustments has seen turbo boost maximums reduced on their V-8 power plant.
After running upfront in the opening three events of 2016, Porsche North America has noticeably struggled in its efforts to defend its 2015 series championship. The team hopes that a change at Lime Rock to the 2015 Michelin IMSA-spec tire, with which Porsche dominated the second half of the season could be the trick to bring its pair of 911 RSRs back into the victory conversation on Sunday.
While GTLM takes a majority of the headlines this weekend, there is plenty to look forward to in both Prototype Challenge and GT Daytona likewise.
Following an equally surprising slump following its PC win at Sebring, Florida in March, CORE autosport's Colin Braun and Jon Bennett finally claimed their second win of 2016 last time out at Canadian Tire Motorsport Park. Still well down on the current PC points table, another victory could bring the dominant force of the division back into title contention.
At present in PC, the hunted target is Starworks Motorsport's Renger van der Zande and Alex Popow who prior to the Canadian event, had earned back to back IMSA wins in Detroit and at Watkins Glen, New York. Entering this weekend in Connecticut, the dynamic duo leads PR1-Mathiasen Motorsports' Tom Kimber-Smith and Robert Alon by 14 markers, with two-time 2016 PC race winners Stephen Simpson and Misha Goikhberg of JDC-Miller Motorsports currently third, behind by 22 points.
Finally in GT Daytona, Turner Motorsport's BMW fleet seeks to defend its Lime Rock win from a year ago, whilst also backing up its GTD score at Ontario. Although outside most of the top runners on the current points table, Bret Curtis and Jens Klingmann could vault into the top five on the list after Sunday with another trip to the top step of the podium.
Based on the strength of two victories in North American Endurance Cup events, the Scuderia Corsa Ferrari 488 entry of Alessandro Balzan and Christina Nielsen enter Lime Rock with a solid lead on the remainder of the GTD field, with Team Seattle Porsche's Mario Farnbacher and Alex Riberas in second, yet 22 points adrift.
Balzan was the GT champion of the final season of the Rolex Sports Car Series circuit in 2013, while Nielsen narrowly missed out on the IMSA GTD title last year driving an Aston Martin Vantage for Kevin Buckler's TRG Motorsports.
Two other 2016 race winners complete the current top four points-wise with the Magnus Racing Audi, which won the opening round at Daytona Beach in third and the Dodge Viper of Riley Motorsports, winners at Detroit currently holding fourth.
With Ben Keating having already confirmed that the Viper GT3-R will not return to IMSA action in 2017, Riley would like to send out the Viper as a class champion, just as its SRT Motorsports team did with the GT Le Mans-classed Viper in 2014.
Stay tuned to OnPitRoad.com for further updates from Lime Rock Park.