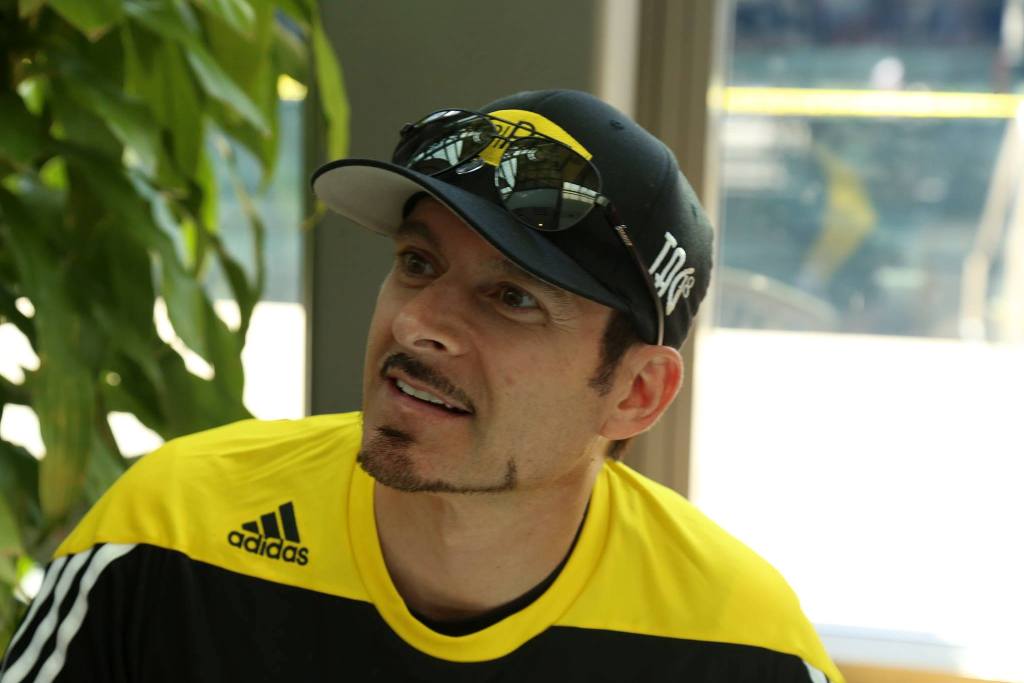 With only a few days worth of turn around time, the NASCAR Pinty's Series begins the trek back east as they get set for a mid-week race at Wyant Group Raceway in Saskatoon.
The Pinty's Series was last on track at Edmonton International Raceway on Saturday night where Alex Tagliani scored his third win of the year in dominant fashion leading 213 of 300 laps.
Coming off of two straight wins, it's impossible not to tab Tagliani as the favourite to win the Wednesday night race in Saskatoon. Tagliani is an open-wheel star bred on the road courses, but after competing in the Pinty's Series semi-regularly since 2007, the Lachenaie, Quebec driver has proven himself to be a strong competitor on the short-track ovals. In his five series wins, three of them have come on the ovals. Watch out for Tags to grab his fourth win of the season on Wednesday.
L.P. Dumoulin finished outside the top-10 in each of the first four races this season, but two top-five finishes that include a second on the weekend in Edmonton might just put Dumoulin in the driver's seat to win in Saskatoon. Dumoulin's last series win came in August of 2014 at Trois-Rivieres, but the 2014 series champion has been a contender for wins since then. Since his last race win, Dumoulin's been a bridesmaid three times by coming up just short of a win in second. In his four series wins, only one has come on the ovals for Dumoulin, and it just so happens to be at Saskatoon in 2014. Dumoulin is on a long winless streak in the Pinty's Series, and that's enough to believe he's hungry enough to do what it takes to win.
A third-place finish in Edmonton helped Cayden Lapcevich cut Andrew Ranger's point lead to nine from a 13-point deficit. After a few races where he had to turn left and right at Circuit ICAR and in Toronto, Lapcevich is back on the ovals where he feels most comfortable on the West Coast swing. Lapcevich has never raced at Saskatoon, but the rookie has yet to finish outside the top-three on an oval this year, so he might be poised for a win.
Lapcevich is challenging Andrew Ranger in the points, and although Ranger has been solid all year, it's the ovals where he's lost points to the No. 76. In three oval track starts this season, Ranger has a pair of eighth-place finishes, and a sixth. If he wants to maintain the point lead, he needs a stronger performance in the Prairies.
Although it may be down to a two horse fight for the title, several other competitors can still win on Wednesday.
Perhaps the biggest dark horse pick to win in Saskatoon is Alberta's Jamie Krzysik. Each year, the Western competitor runs in the West Coast swing, but he's never seemed to be all that competitive. This year, things changed after a top-five run at Edmonton. Krzysik is driving the second car of the Seibert Racing stable, and a competitive car might be all he needs to find victory lane.
D.J. Kennington can't be forgotten as a possible race winner either. Kennington was in line to place on the podium until a late-race part failure dropped Kennington to 10th where he finished several laps down. The No. 17 Castrol Dodge driver suffered bad luck the race before in Toronto where he retired early, and finished outside the top-20. Kennington is now outside the title hunt, and is in a position where he can race hard for wins. Expect the St. Thomas, Ontario driver to do just that this week.
The rest of the 20-car field is made up of a mix of full-time competitors and Western swing-only competitors.
Canada's Best Racing Team has brought two cars out west with the team's general manager Joey McColm in the No. 1 car, and Kevin Poitras driving the No. 25 car normally driven by Josh Collins. Poitras likely won't be a competitor for the win, but he'll be fun to watch as the Trans-Am driver attempts his first ever oval race.
Mark Dilley will run the No. 02 for Micks Racing, while Jason Hankewich drives the team's second car. Dilley finished in the top-five at Edmonton after leading a few laps, so he could contend for the win despite being winless since 2011.
Jason Hathaway is usually a contender for the title, but bad luck has plagued him this year. The No. 3 team could use a good run in Saskatoon to point them in the right direction.
Alex Labbe, Gary Klutt and Kevin Lacroix are the last of the full-time competitors, and each could put themselves in position to win if luck is on their side. Labbe has one win this year at Chaudiere, while the other two are yet to win. Lacroix started on pole at Edmonton, but found himself out of contention early. All three have won on the NASCAR Pinty's Series circuit, and could do it again on Wednesday.
Shania LaForce, Nick Jewell, Noel Dowler, Kelly Admiraal, Trevor Seibert and Ian Admiraal round out the field. LaForce, Jewell and Seibert didn't run in Edmonton, while the other three did. Dowler and Ian Admiraal found themselves in the garage early in the race, but Dowler showed speed all weekend after qualifying ninth. Don't expect Dowler to win, but the former full-time competitor could contend for a top-five. Kelly Admiraal was consistent enough in Edmonton to start and finish in eighth for his first career top-10 finish. The same can be expected from him as he wheels the Jim Bray-owned No. 56 again in Saskatoon.