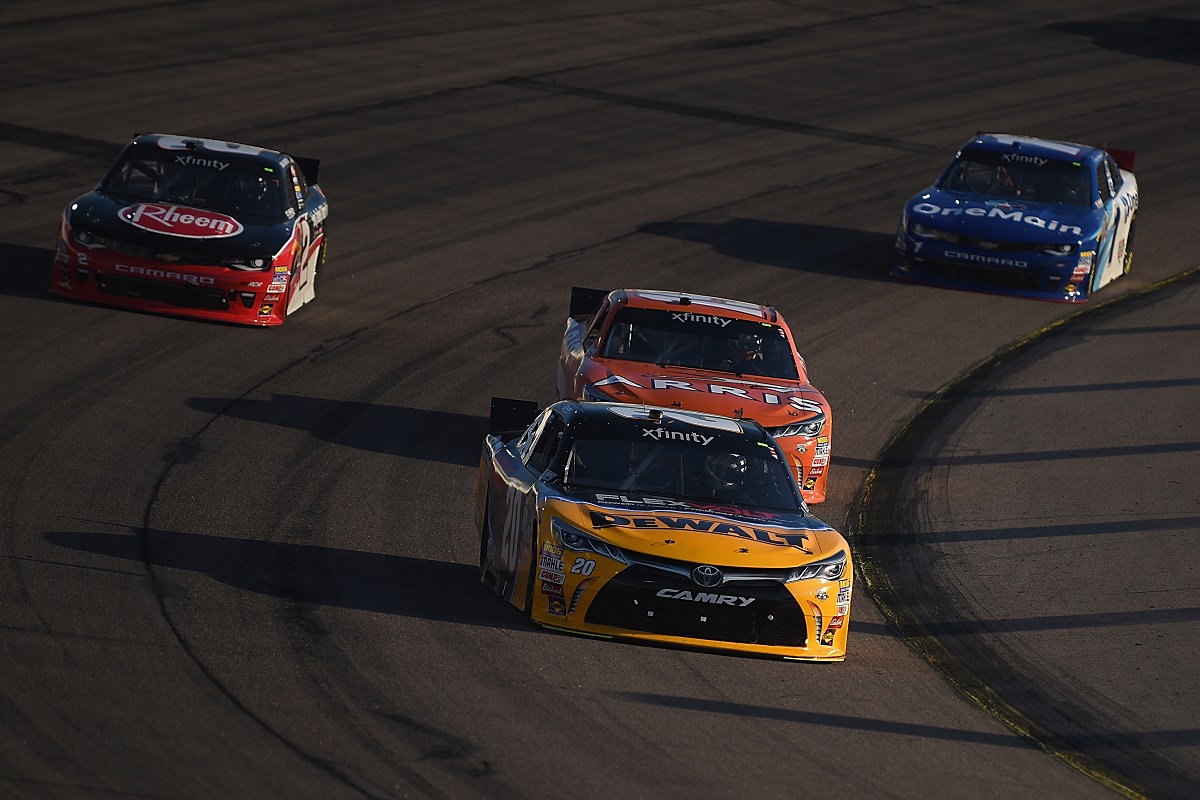 On a night with only one NASCAR Sprint Cup Series driver in the field, a number of XFINITY Series regulars saw the opportunity to lock up a spot in the Chase with a win, but Erik Jones wasn't going to allow that as he cruised to his third win of the season.
Jones led 154 of 250 laps en route to his win. The 20 year old's win didn't come easy as he had to battle Ty Dillon for the lead late.
In addition to having to battle Dillon late for the win, Jones had to battle against several pit road woes as he was without his usual pit crew at the Iowa Speedway. Jones is normally pitted by one of Joe Gibbs Racing's Sprint Cup crews, but JGR opted to not fly the crew out from Pocono. Jones' crew was often referred to as a "rent-a-crew" throughout the weekend, and they had never worked together before the race.
On the final pit stop with just over 100 laps to go, Dillon was able to grab the lead due to swift pit work by his No. 3 Bass Pro Shops Richard Childress Racing crew. Unlike the Gibbs team, RCR decided to fly their Cup pit crews out, and it paid big dividends. Dillon led for 83 laps before Jones made his way around the No. 3 car for the lead with less than 20 laps to go.
"I was working as hard as I could to get around Ty (Dillon)," Jones said in victory lane. "It was tough. The air game was really tough. I needed to get clean air for a long time. Burned a lot of tire off the DeWalt Flex Volt Camry at the start, but it's a great day. We had a great car – one that definitely deserved to win the race. The fastest car – I feel like – won tonight."
A dejected Ty Dillon finished second for the second time at Iowa this year. He finished second to Sam Hornish, Jr. in the spring race, and couldn't hold on to the lead to keep Jones behind him on Saturday night. It was Dillon's fourth second-place finish since his only win at Indianapolis in 2014.
"I want to win so bad," Dillon said. "We're close – they're good right now – you have to give it all you have every lap. We just came up 10 laps short this time. I'm proud of my guys – they gave me a good opportunity tonight.
"My heart's been broken every race since Indy, and I want to get in victory lane again," Dillon continued. "We're close, we just got to get a little better."
Elliott Sadler finished third after leading nine laps early in the race, and was able to capitalize on issues had by Daniel Suarez to take the overall point lead. Suarez finished 30th after contact on a restart severely damaged his radiator.
Brennan Poole finished fourth after starting back in 25th-place. It was only Poole's second top-five finish of the season in a year where he's gotten better as it's gone on.
"Chad Norris (crew chief) made a bunch of great calls," Poole said. "Got the car driving really good in the race, and we just charged to the front. We keep saying we're a team of bulls – we fight to the end. We still got a long way left to go in this season. I'm looking forward to the Chase, and getting this (No.) 48 DC Solar Chevrolet to victory lane.
In his JGR debut as a fill-in driver for Matt Tifft, Dakoda Armstrong brought the No. 18 Winfield Toyota home in the top-five for the first time in his career. Armstrong started third on the night, and dropped back early, but found his way back to the front during a late-race charge. His usual No. 28 car was driven by Drew Herring tonight who wound up finishing 12th.
Many of the drivers who finished sixth through 10th began dropping back late in the race.
Sam Hornish, Jr. finished sixth, but was running as high as third with 20 laps to go. Behind him was Justin Allgaier who was also in the top-five late. Rounding out the top-10 were Brad Keselowski, Josh Berry and Ryan Reed.