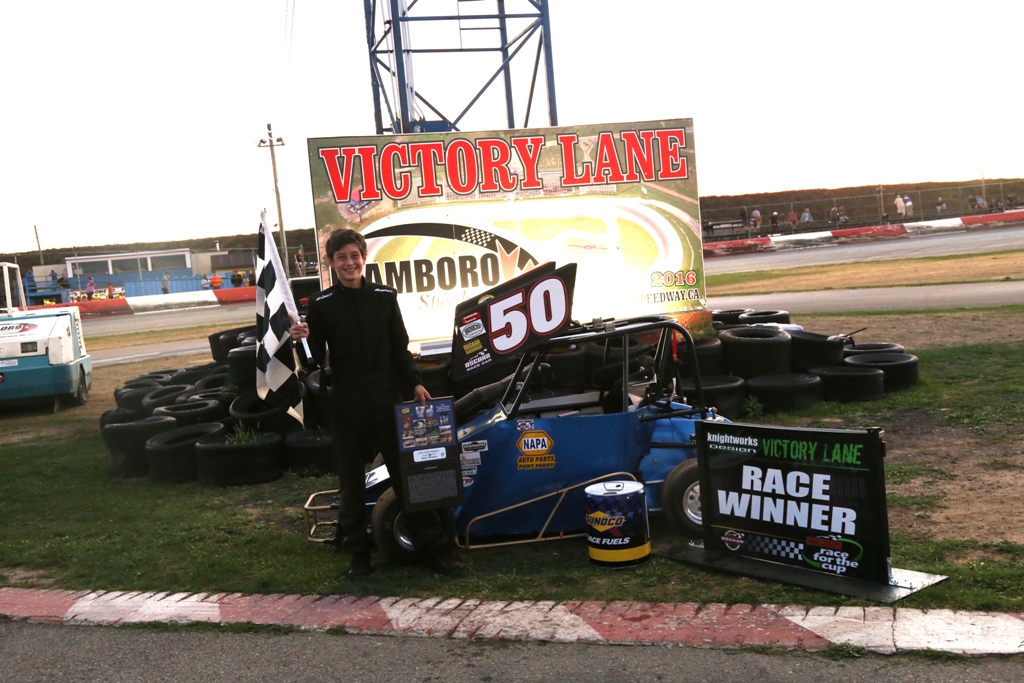 Getting quicker and quicker each week has paid off for Alex Cuzilla as the teenager scored his first career OSCAAR Midget victory as part of Don Biederman Memorial night at Flamboro Speedway.
Brian MacDonald got his second heat win of the year ahead of Craig Deacon, Bill Heatherton, Zack Millman and Darryl Anthony. Unfortunately, Paul Derno ran into a problem mid-race, forcing him to pull off.
Ryan Brown got his fourth heat win of the year ahead of Wally Wilson, Alex Cuzilla, Wayne McKibbon, Trevor Sproul and Russ Couture.
Alex Cuzilla got his third heat win of the year ahead of Wilson, MacDonald, Deacon, Millman and Sproul.
The fourth and final heat saw Darryl Anthony run into a mechanical problem, while Derno was blackflagged for leaking fuel. Wayne McKibbon got his first heat win of the year ahead of Ryan Brown and Bill Heatherton.
Come feature time, it'd be Ryan Brown starting pole ahead of Alex Cuzilla, Wayne McKibbon, Brian MacDonald, Wally Wilson, Bill Heatherton, Craig Deacon, Darryl Anthony, Zack Millman, Russ Couture, Paul Derno and Trevor Sproul.
Brown took the early lead behind the wheel of the No. 24 Midget ahead of Cuzilla, McKibbon, MacDonald, Wilson and Heatherton. Zack Millman worked his way up to seventh by Lap 3 ahead of Anthony as Derno received the black flag for leaking fluid. The battle for third got interesting at Lap 4 with Wilson and MacDonald splitting McKibbon as he slowed with a problem.
Brown continued to lead ahead of Cuzilla with Wilson now third ahead of MacDonald and Heatherton. Millman ran sixth at Lap 6 ahead of Sproul and Anthony. Deacon then made his move, passing Anthony to move into eighth at Lap 7, with Couture rounding out the top 10. Deacon kept moving up the grid, getting alongside Sproul and passing him on Lap 11 for seventh. Meanwhile, Anthony's strong run came to an end as he'd slow with a problem.
At the front of the field, Cuzilla was able to track down Brown for the lead, taking over the top spot at Lap 18 to put the No. 50 Midget out front ahead of Brown, Wilson, MacDonald and Heatherton. As the feature closed towards completion, Wilson tracked down Brown for second and got alongside him with two laps to go, though wasn't able to complete the pass as they weaved their way through lap traffic.
13-year-old Alex Cuzzila cruised the rest of the way to pick up his first career feature victory ahead of Ryan Brown with his sixth straight top-five finish. Wally Wilson finished third for his second podium of the year, followed Brian MacDonald with his sixth straight top-five finish. Bill Heatherton rounded out the top-five for his best career finish.
Zack Millman finished sixth for his best finish of the year, followed by Craig Deacon, Trevor Sproul, Russ Couture, Wayne McKibbon, Darryl Anthony and Paul Derno.
OSCAAR would like to thank Dave Franks for the plaque Cuzzila got to take home.
By: Ashley McCubbin