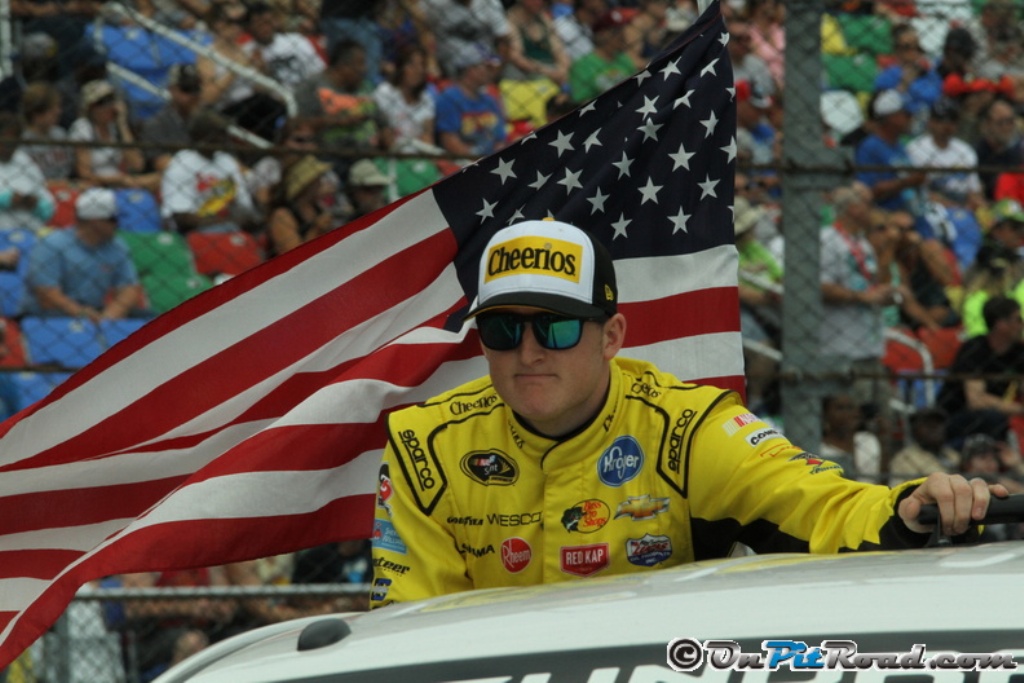 100. It's a milestone number. But this milestone number has been an ugly reminder for Ty Dillon that he has already made 100 NASCAR XFINITY Series starts without moving up to the Sprint Cup Series full-time.
Dillon's 100th series start came in Saturday night's XFINITY race at Bristol Motor Speedway. He finished 25th after being caught up in a late race crash. It was a finish the now XFINITY veteran probably didn't deserve after running up front all night. Before the crash, Dillon took the lead briefly before slipping up out of the racing groove where he lost the lead. The mistake was what put him in position to be involved in a wreck, and cost him a win. The week before at the Mid-Ohio Sports Car Course, Dillon made another error late in the race while leading that cost him a win.
Dillon is poised to finally join his older brother in the NASCAR Sprint Cup Series next season at Richard Childress Racing, but two consecutive mistakes while under pressure to win begs the question: Is Ty Dillon ready to be a full-time Sprint Cup driver?
In 153 starts between the XFINITY and Camping World Truck Series, Dillon only has four wins. Dillon's lone XFINITY win did come in impressive fashion, though. His maiden win came at the Indianapolis Motor Speedway in 2014 where he battled Kyle Busch for the win, eventually becoming victorious.
So, one win for Dillon in top competition, but it came battling one of the best ever. Statistically, Dillon is almost always running inside the top-5 and -10. He has a 66 per cent top-10 finish percentile in the XFINITY Series. Dillon's proven his talent, and after three years in XFINITY, it probably is time to move up. However, for Dillon, the question might actually turn to Richard Childress Racing. Is it his team that isn't ready for Dillon to move up?
It's no secret that since Kevin Harvick left the team for Stewart-Haas Racing at the end of 2013 that the team has struggled. Harvick scored their last win at Phoenix International Raceway in 2013, and the bleeding from Harvick's departure has yet to stop. Ryan Newman was hired on to drive the No. 31 for RCR in 2014. Newman finished second in the championship – coincidentally to Harvick – but failed to win a race. Since moving to RCR in 2014, Newman's consistently been their most competitive driver, but it appears he's probably the driver that has to step aside to make way for Dillon.
RCR's other two drivers Paul Menard and Dillon's older brother, Austin, are likely locks to keep their ride. Richard Childress obviously isn't firing one grandson to open up a spot for the other grandson, and Menard brings sponsorship to the team. Newman's the only one that doesn't bring anything tangible to the team in terms of money, so it's his seat that would be open. The problem with losing Newman is you lose results. Although he has yet to win, Newman's scored 11 top-five finishes, more than double that of Austin Dillon since joining. He also has more than Menard's seven top-10 finishes since 2014.
Let's flash forward to 2017 and just assume that the younger Dillon does take Newman's ride: With Menard's form currently in shambles after only two top-10s to start this season, Austin Dillon would see himself as the team's leading driver, a responsibility that would be new to the 25-year-old. An RCR with a rookie driver and no Newman would struggle even more than it has in these past three years.
It can be debated for days whether Ty Dillon's ready to make the step up to Cup. He has the talent, and he has the potential. After three full-time seasons in XFINITY, leaving him there another year would put him at a standstill in a sport that requires constant movement. Dillon is probably ready for Cup, but his prospective team simply isn't ready for him to be in Cup.