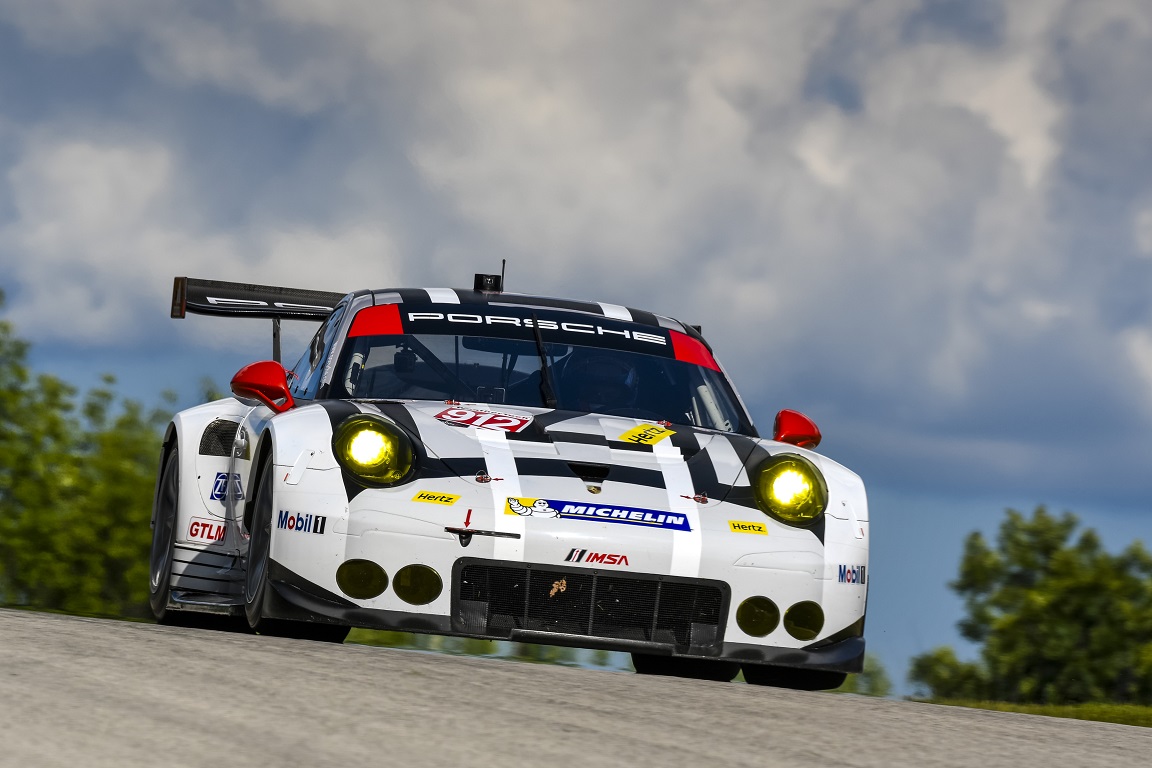 In 2015, Porsche North America enjoyed perhaps its best season output ever in terms of action in the International Motorsports Association (IMSA). Its GT Le Mans division factory team dominated the second half of the championship slate, winning four of the last five rounds and even managed to outdo the headliner Prototype division runners by claiming overall victory in the season ending Petit Le Mans at Road Atlanta in total downpour conditions. Its lower division GT Daytona teams also reaped greatly in the laurels of success, capturing a combined four wins of its own over the course of last season.
Entering the new year, the German marque was once again expected to be a controlling force over the world that is the IMSA WeatherTech SportsCar Championship, despite the fact new regulations and challengers were joining the action in both grand touring classifications. Despite a solid start to the season, with a GTLM win at Long Beach and GTD success at Mazda Raceway Laguna Seca, Porsche suddenly started to give way to its opposition. Incredibly, what seemed like assured podium finishes in 2015, were suddenly struggles just to place in the top five in most appearances this year.
Porsche runners and supporters have been quick to blame the IMSA sanctioning body and its Balance of Performance adjustments created to maintain a level playing field across the board as the main cause for its difficulties in claiming results in 2016. Things have plummeted so badly for the 911 GT3-Rs in GT Daytona that several teams have even elected to not participate in this weekend's Michelin GT Challenge at the Virginia International Raceway. Although several are on the entry list at this article went to press, expectations are that only Porsche North America in GTLM and Alex Job Racing/Team Seattle in GTD will be the lone representatives for Porsche participating this weekend. While most evidence on the table suggests that the finger of blame should be pointed squarely in IMSA's own face, one should take a second look at the other side of the coin. In this article, we will look at three reasons you cannot blame IMSA for the iffy results posted by Porsche during the 2016 season to date.
Reason #1: Poor Decisions Behind The Wheel.
More often than not, mistakes on track have plagued the 911 RSRs in GTLM and in fewer but still notable times in GTD action by its satellite entrants throughout the 2016 campaign. Although Porsche North America did manage to earn a victory on the streets of Long Beach, California, it largely came via a late race collision between Fred Makowiecki that looped around race leader Tommy Milner of Corvette Racing at the turn 11 hairpin. This allowed teammate Nick Tandy to take the checkered flag first.
Even though these "shot themselves in the foot" occurrences turned dormant over the next several races, they have unfortunately returned to fruition in the last two events at Lime Rock Park and Road America. A pair of clashes with theBMW Team Rahal M6 GTLMs in Connecticut sharply derailed fortunes for Porsche and equally questionable late race moves in Wisconsin also cost them what looked to be an all but assured podium finish.
In order to win championships in auto racing, one must be aggressive indeed. Yet one also needs to know when to unleash it and when to harness it. Porsche has clearly lacked that control this season to date.
Reason #2: Not Taking Advantage Of Superior Driving Teams
With Porsche factory drivers with loads of miles and experience behind them, the talent is present for Porsche in GT Le Mans and GT Daytona to consistently challenge for victories, yet the aforementioned errors have held up things. Although the lack of results in GTLM has been the main story, an equal amount of questions raised should be tied to a few Porsche squads in GTD, most notably Team Seattle and Park Place Motorsports, the latter being one of the boycotting teams this weekend.
Despite the rules dictating that one driver per team must be Silver level or lower, Team Seattle essentially has two Gold-level talents at its disposal in Mario Farnbacher and Alex Riberas behind the wheel. In fact prior to the start of the 2016 action, Alex Riberas was rated at the Gold level by the FIA, the global overseer of sports car racing. It took an appeals process by Team Seattle to have Riberas' own ranking lowered back to Silver status, as it was in 2015.
With only perhaps the Scuderia Corsa Ferrari pairing of Alessandro Balzan and Christina Nielsen within any close range in terms of talent, Team Seattle should be leading the championship in GTD. Yet, via questionable decisions by both team and its drivers, the squad currently only ranks third on the points table, even trailing a Riley Motorsports squad which features a major performance gap between its professional driver Jeroen Bleekemolen and his co-driver in team boss Ben Keating.
Reason #3: Poor Preparation In Advance of 2016
While several other manufacturers in the GT Le Mans category were actually already doing testing runs during the summer of 2015 for the new, faster regulations, Porsche really did not shift its focus toward the new year until mid-October This offered Porsche North America with only two to three months at the most to prepare for the season opening Rolex 24 at Daytona in late January of 2016.
Although some of the issues could be tied to running an older car against several new ones entered by BMW, Ford, and Ferrari respectively, keep in mind Corvette Racing like Porsche also largely updated its existing C7.R challenger to the 2016 regulations, a process in terms of testing purposes that for the Chevrolet marque entrants began in June of 2015 almost four months before Porsche began its own planning work.
Even if the gap was not evident in the opening rounds of the championship, due in part to the new challengers breaking in untested equipment, the poor tact taken by Porsche in advance of the new regulations began to become clearer as the 911 RSRs started to fall off the pace as the season has progressed. And IMSA has not completely ignored Porsche's problems, even allowing the team to revert to the 2015-spec Michelin tire it achieved great success with starting at the most recent race at Road America.
In this battle of "IMSA said, Porsche said," it seems evident that the German manufacturer and a majority of its teams have taken largely the wrong action in electing to skip the festivities this weekend at VIR. Although IMSA has had its share of issues in its first three years since the unification of North America sports car racing, it is far from being the sole reason Porsche has so far been unable to meet its goals in terms of success in 2016 as opposed to what it amassed in 2015.
Views and opinions expressed in this article are those of the author and may not reflect the views held by other members of the OnPitRoad.com staff.