IMSA: Corvette Racing Sweeps Front Row For Michelin GT Challenge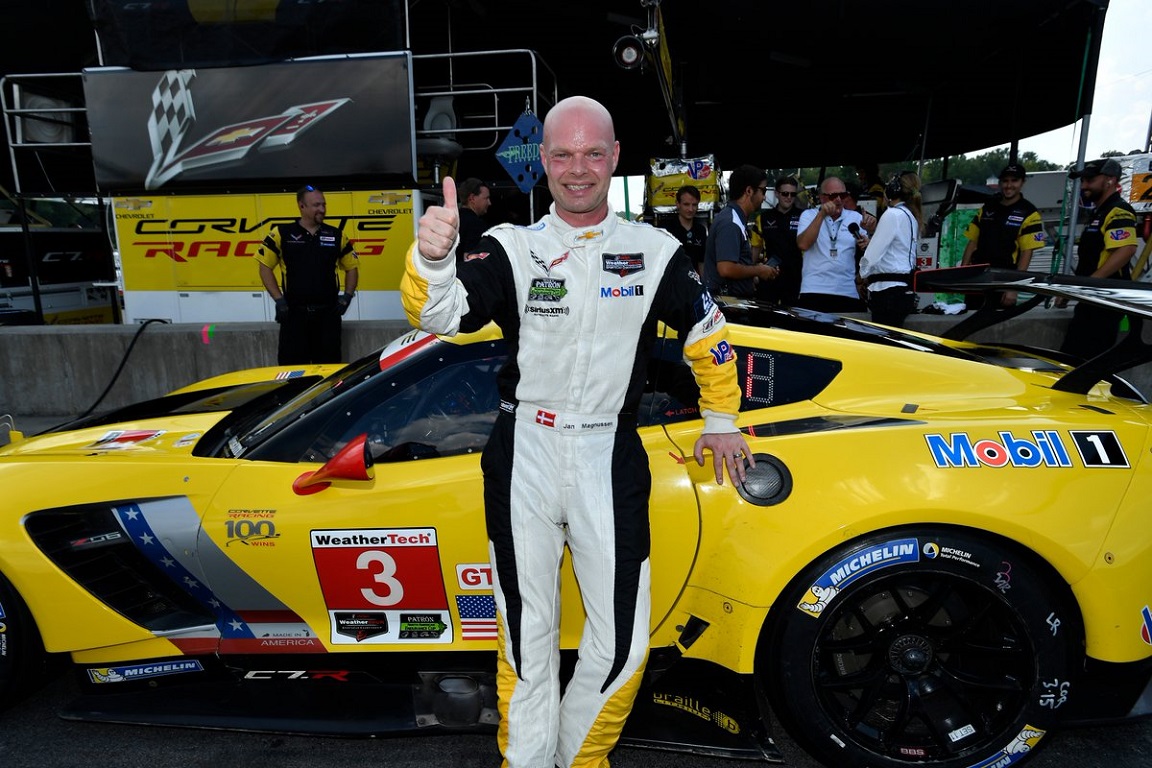 After having its issues in qualifications in the most recent IMSA WeatherTech SportsCar Championship event at Road America, Corvette Racing has stamped its authority in terms of defending its lead on the current championship table by sweeping both places on the front row for Sunday's Michelin GT Challenge at the Virginia International Raceway.
Managing to get the entire session in before torrential rains plagued action in the support events on Saturday afternoon, Jan Magnussen was able to get the upper hand on championship leader Oliver Gavin by just 11 one thousandths of a second, posting a one minute, 41.557 second lap of the 3.27 mile VIR layout. Although Doug Fehan's pair of C7.Rs have been near the top of the charts in the first two days of on track combat, there are other contenders in the GT Le Mans class fleet which could still deny Chevrolet its maiden victory at the challenging design, which until last year was known for a giant oak tree in the infield.
The primary chasers in GTLM for much of the 2016 slate have been the new Ford GTs from Chip Ganassi Racing, a team known for success in the Verizon IndyCar Series and in Daytona Prototypes. The grand touring newbies have taken to its new surroundings by storm, claiming three wins in IMSA and a class victory in June at the 24 Hours of Le Mans so far this season. On Saturday, Dirk Mueller put CGR in third position on the grid, with its second car placing eighth in the hands of Ryan Briscoe.
2014 Michelin GT Challenge champions Risi Competizione will start fourth on Saturday with its new Ferrari 488, while BMW Team Rahal's new M6 GTLMs will lineup in positions number five and six. Rounding out the grid in GTLM are the two Porsche 911 RSRs from defending class titlists Porsche North America, starting seventh and ninth.
Entering Sunday's two hour and forty minute timed race, Corvette Racing's Oliver Gavin and Tommy Milner hold a 13-point lead on Chip Ganassi Racing's Richard Westbrook and Ryan Briscoe on the points table, with the sister Chevrolet entry of Jan Magnussen and Antonio Garcia 41 markers out of first. With only two races left on the series schedule following VIR, the Michelin GT Challenge could go a long way towards determining the 2016 IMSA champions.
In the lower GT Daytona division, Madison Snow placed the Paul Miller Racing Lamborghini Huracan on the top spot of the lineup card Saturday, posting a one minute, 44.956 second lap to secure the TOTAL Pole Award by almost three tenths of a second. Despite showing an impressive turn of pace in its debut effort in IMSA competition, Lamborghini has yet to earn its first GTD class win. In addition, a trip to victory lane could move Snow and co-driver Bryan Sellers into the top five on the current GT Daytona championship standings, as due to the withdrawal of multiple Porsche-backed teams, only 12 cars will be represented in the class this weekend.
Behind PMR, Audi R8 runners Stevenson Motorsports will once again be in a strong position to grab its first IMSA victory on Sunday as Matt Bell and teammate Lawson Aschenbach will start second. A Lamborghini and Audi presence will also feature on the second row as IMSA rookies Dream Racing will be flanked by the second Stevenson Audi.
While Lamborghini and Audi are well placed near the front, a disappointing effort in qualifying by Alessandro Balzan will place GTD championship leaders Scuderia Corsa Ferrari in the number eight spot on the grid Sunday. Entering the Michelin GT Challenge, Balzan and co-driver Christina Nielsen have a 15-point delta on the Magnus Racing Audi belonging to Andy Lally and John Potter, who will also start near the back of the pack after only managing the 11th fastest run in qualifications.