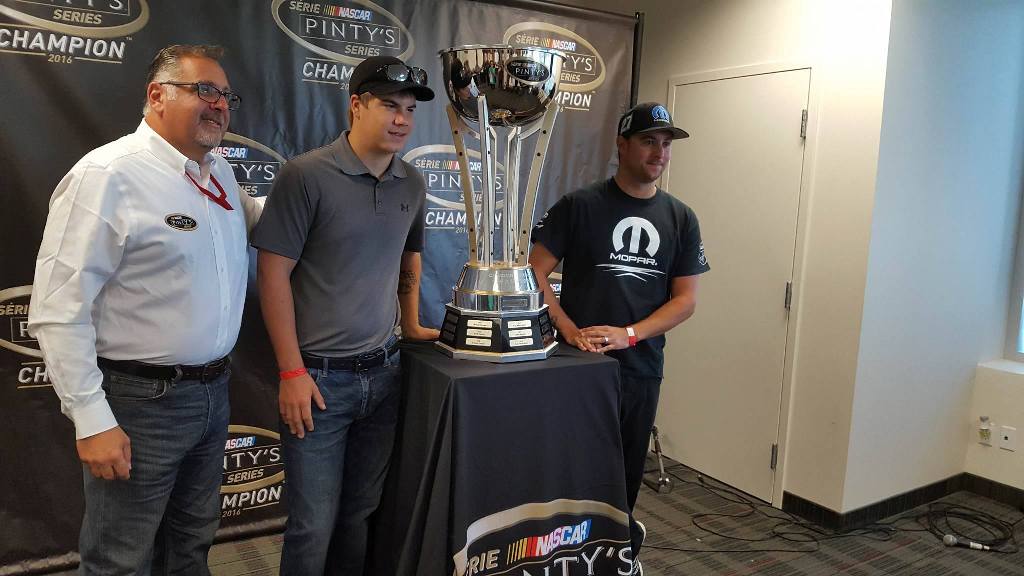 Ahead of the third to last race for the NASCAR Pinty's Series season at Canadian Tire Motorsport Park, Tony Spiteri, Senior Vice President of Marketing and Research for Pinty's, along with championship contenders Cayden Lapcevich and Andrew Ranger revealed the series' new championship trophy.
The new trophy stands 30 inches tall with the base. The trophy itself weighs 32 pounds, but with the base weighs a grand total of 73 pounds. The unique trophy require over six months design time to come up with a new look, and over 300 hours of labour from various artisans went into developing the new trophy.
Pinty's Foods came aboard at the beginning of the 2016 race season to sponsor the series after Canadian Tire decided to step back from series sponsorship after nine years of partnership.
"The series expectations have been met and exceeded," Spiteri said before the trophy reveal. "From a Pinty's perspective, we're looking at what's transpiring. The best gauge I can have is when myself and the team are walking through places like airports across Canada, and people are stopping us, and saying, 'Hey, thank you for what you're doing,', because motorsports in our humble opinion is underfunded in Canada.
"In terms of what's happening on the track, the gentlemen to my immediate left (Ranger and Lapcevich) – you can't get a better product. Races are being won by fenders – good clean racing – a lot of rubbing and stuff – great television."
With two-time Pinty's Series champion Andrew Ranger on hand for the trophy reveal, Ranger says it makes him even more hungry to nab a third championship.
"Definitely," Ranger told OnPitRoad.com. "I won the championship in '07 and '09. When you see a new trophy like that, you definitely want to win it, so I will try everything. The team – they are awesome, they work hard. We are trying really hard to win another one."