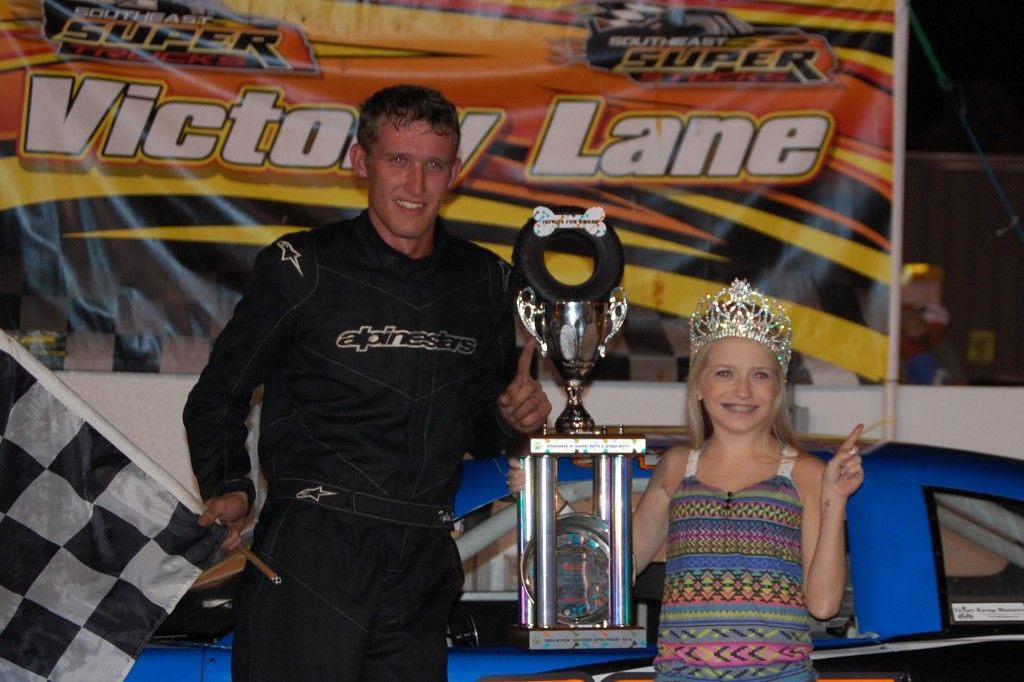 The SouthEast Super Stocks came roaring into Anderson Motor Speedway Saturday September 3rd. Last time there, it was Jason Leatherwood walking away with the hardware. Though rather than Letherwood, this past weekend featured a new winner for a driver that has fought hard all year.  
The drivers and teams unloaded and began to get ready for the day. Tyler Worley paced the field in the first practice session by over 2/10ths of a second over the field. However, all the drivers and teams worked harder and everyone picked up the pace for round two of practice. This time it was Scott Franklin topping the charts. Zack Franks found his way to the top of the final practice speed charts.
Qualifying was up next after the teams made it through final tech and safety inspection. Scott Franklin set fast time and collected the pole award for the Super Stocks. You could tell the competition was tough and the racing was going to be a good show as the difference from first to last in qualifying was only 2/10ths. Franklin went on to roll a five on the invert dice, which now set Worley starting on the top spot for the race and young hot shoe Sawyer Frady starting on the outside.
When the green flag fell on the field, Worley quickly took advantage of starting the race in the top spot. He pulled away from the field and never looked back. The race for second thru fifth was the extremely close and changed a few times. Franks began to chase down the leader after starting shot gun on the field. Worley focused on keeping Frady behind him after Frady took several looks under but kept coming up short. With just a few laps left in the race, Franks had now found his way inside the top five and was coming fast.
Worley went on to cross the finish line first and captured his first win of the year after coming up short several times and having bad luck through out the season.
Official Results
16 Tyler Worley

1 Zack Franks

39 Steve Carver

99 Sawyer Frady

29 Jason Leatherwood

7 Scott Franklin

9 Spencer Childers

81 John Gallman

65 John Mamph