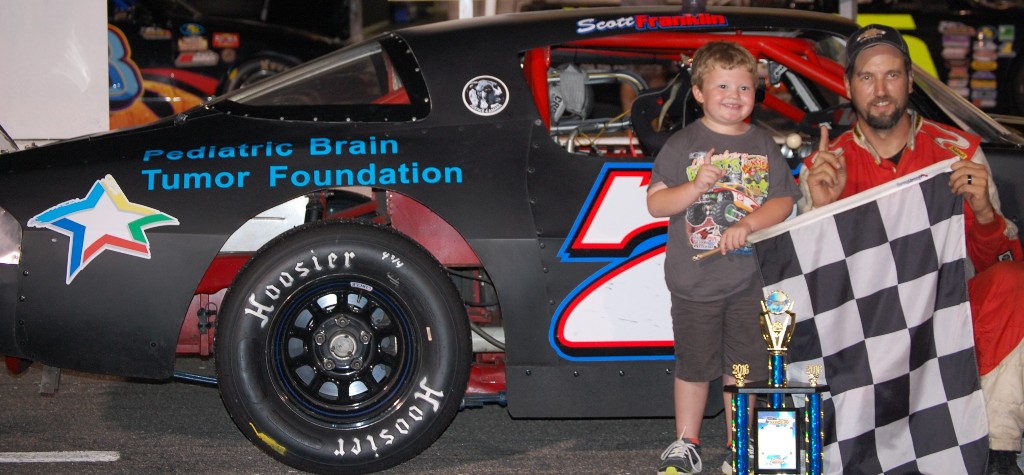 The Southeast Super Stocks rolled into Tri-County Motor Speedway for the Pediatric Brain Tumor / Jonathan Harris Memorial race ready to battle it out on September 17. The points battles have been getting closer as Sawyer Frady has been slowly reeling down the current points leader Jason Leatherwood with consistent each and every week. As they headed into Hudson, NC the drivers and teams knew what they had to do to gain the most points.
Scott Franklin, who knows his way around Tri-County and has collected several wins there, topped the first two practice sessions. Frady picked up the pace and found himself on top for the final round of practice. The teams made final adjustments and headed to pre qualifying tech inspection. It was none other than Franklin who qualified on the top spot and he went on to roll a four for the invert, which now set Zach Franks starting the race in the top spot with Frady on his outside.
As Franks paced the field to the green, he had a good start and took off away from the rest of the field. Last race winner Tyler Worley began to set his sights on the leader and he started moving up through the field from his sixth place starting position, finding himself in a battle for second with Frady. Before they knew it Franklin had worked his way past them and was now looking at the back of Franks' car. Several laps of side by side racing, Franklin finally was able to get around Franks for the lead. He never looked back as he pulled away and went on to take the victory followed by Worley in second, Leatherwood in third, Franks in fourth and Steve Carver in fifth.
Franklin was very emotional in Victory lane as he represents the Pediatric Brain Tumor and said the reason why he was so determined was because of Conner. Worley donated his winnings from the race to the Pediatric Brain Tumor Foundation.
Official Results
7 Scott Franklin
16 Tyler Worley
29 Jason Leatherwood
1 Zach Franks
39 Steve Carver
99 Sawyer Frady
91 Clint Watkins
81 John Gallman
65 John Mamph
9 Spencer Childers
52 Duke Bare