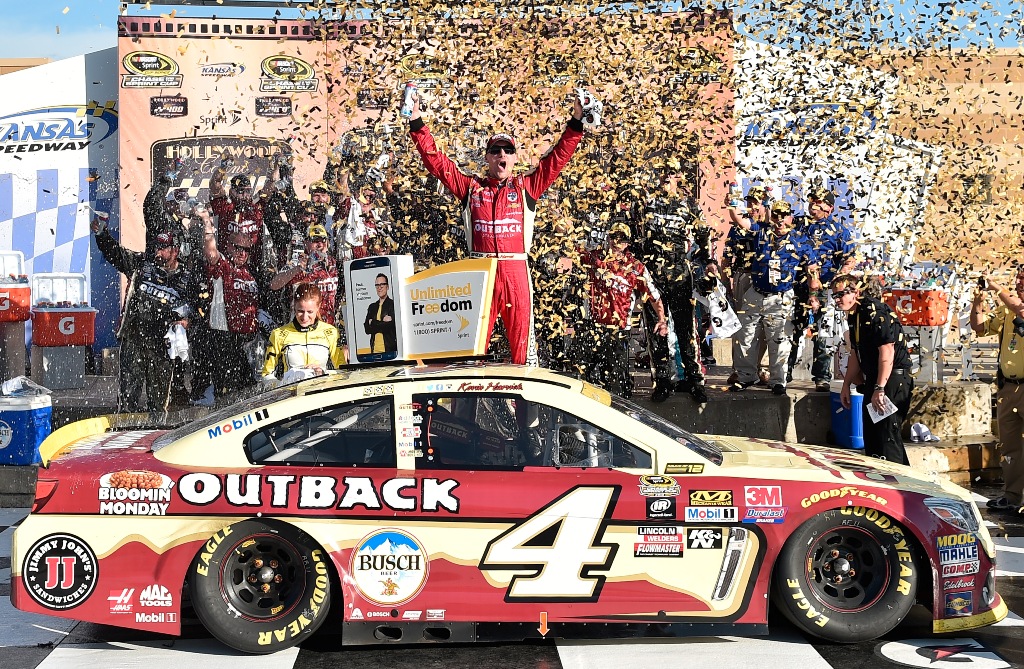 Kevin Harvick came into Kansas Speedway five points out of a Chase position, but he leaves Kansas with a guaranteed spot into the next round of the Chase.
Harvick won his fourth race of the season at Kansas, and 35th of his career after leading 74 of 267 laps. Harvick grabbed the lead for the final time of the day on a late-race restart with just under 30 to go where he outran a hungry Carl Edwards who was looking for his first win at his hometrack.
While Harvick secured his Chase spot, a few Chase drivers ran into issues that put them in a deeper hole heading into Talladega. A crash ended Brad Keselowski's day early, and had him finishing down in 38th. Keselowski now finds himself seven points outside the cutline going into a big wild-card race. Despite the wreck, Keselowski has confidence he and his team can deliver at Talladega.
"If my team keeps putting out this kind of effort, I'm not going to worry about today," said Keselowski. "We're going to win another race or we're going to race Talladega or other races. We'll be fine."
Chase Elliott and Denny Hamlin also ran into late-race issues. Elliott had several tire issues throughout the day, but the worst one with under 20 laps to go had Elliott finish three laps down in 31st. Elliott is in a 24-point deficit of the top-eight in points. Hamlin had several pit road penalties late in the race that cost him a shot at a top-10 finish. Hamlin finished 15th, and is six points out of a Chase spot.
Harvick's win puts him in a position of comfort heading into the calamity of Talladega, but that won't break the No. 4 teams motivation next weekend.
"We prepare the same for every race," Harvick said in victory lane. "I try every week to find something to motivate myself … It's hard to keep yourself motivated, and perform at a high level, so to do it for three years now says a lot about the character of this team."
Missouri-native Carl Edwards finished second at his hometrack for the second time of his career after leading 61 laps. Edwards was followed by Joey Logano, Jimmie Johnson and Kyle Busch rounding out the top-five.
Austin Dillon brought his No. 3 Chevrolet home in sixth followed by Alex Bowman who scored a career-best finish of seventh. A.J. Allmendinger, Matt Kenseth and Kasey Kahne closed out the top-10 starting positions.
For Matt Kenseth, a ninth-place finish wasn't what he was looking for. Kenseth dominated the first half of the race, leading 116 laps, but credits a minor tap to the wall mid-way through the race for costing him a chance at the win.
Martin Truex, Jr.'s team struggled throughout the day with fueling issues that were likely caused by something inside the car. The team had trouble getting the fuel cans to connect into the fuel cell, which caused several unscheduled pit stops. Truex's No. 78 team was able to rally back to an 11th-place finish, though.
Kurt Busch had a rather uneventful day, and finished just outside the top-10 in 13th. Although he had a mediocre run, Busch still finds himself 17 points inside the Chase.
With only one race remaining in round two of the Chase, several drivers find themselves in precarious positions heading into Talladega. Logano and Dillon are currently tied for the final Chase spot with Hamlin and Keselowski on the outside looking in. Meanwhile, Elliott finds himself in a "must win" situation going into the 2.66-mile track.