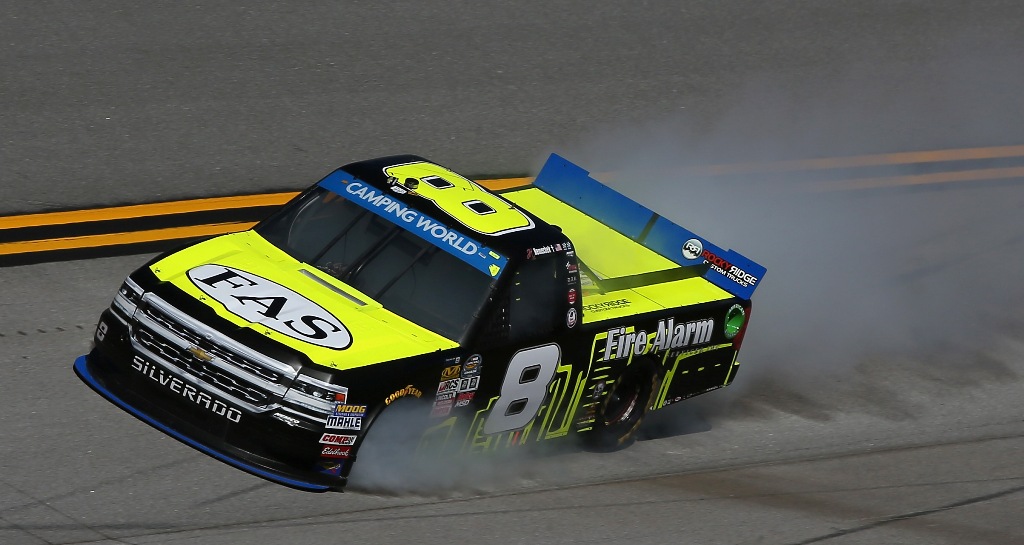 While six of their competitors breathed a sigh of relief after the race at Talladega Superspeedway, Daniel Hemric and John Hunter Nemechek exit the NASCAR Camping World Truck Series Chase, and no longer have a shot at the championship.
Although Talladega was the race that officially knocked both drivers out, separate issues at New Hampshire in September is where the knockout stems.
Hemric, who entered the Chase as one of the title favorites, had been consistent all year. He led the regular season points, despite not winning a race. A brake failure dropped Hemric below the cutline after a 28th-place finish. A second-place finish the following weekend at Las Vegas wasn't enough for the North Carolina driver to rebound. He came to Talladega needing a win to advance, but crash damage only allowed for an 11th-place finish.
"The effort was second-to-none," Hemric said. "I can't thank all of these Brad Keselowski Racing guys for doing everything they could to salvage the best day we could with what we had. We were just part of a lot of very unfortunate situations there that we couldn't avoid or couldn't miss. One you can probably rebound. Two you can rebound from, but the third one definitely put us in a bad situation."
Now, Hemric has all his focus on trying to win a race before leaving the Truck Series to go XFINITY Series racing next year with Richard Childress Racing.
"Just go win races, something we came up short doing – sometimes on my part, sometimes on their part – but we stay together as a team," he said.
Nemechek's issues stemmed from New Hampshire like Hemric. The 19-year-old finished ninth in the Granite State, but a penalty post-race for his truck being too high in inspection resulted in a 15-point penalty, putting him below the eight-ball. A lackluster race at Las Vegas, and early engine failure at Talladega to finish last ended the single-truck operation's chance at a Cinderella story championship.
"All my temps were fine. I haven't seen a blow up like that in a while," said Nemechek. "Definitely disappointing, but that's how our last three weeks have been. Can't thank all my guys and Fire Alarm Services enough for their support.
"Hopefully we can go forward and win some races before the season is over."