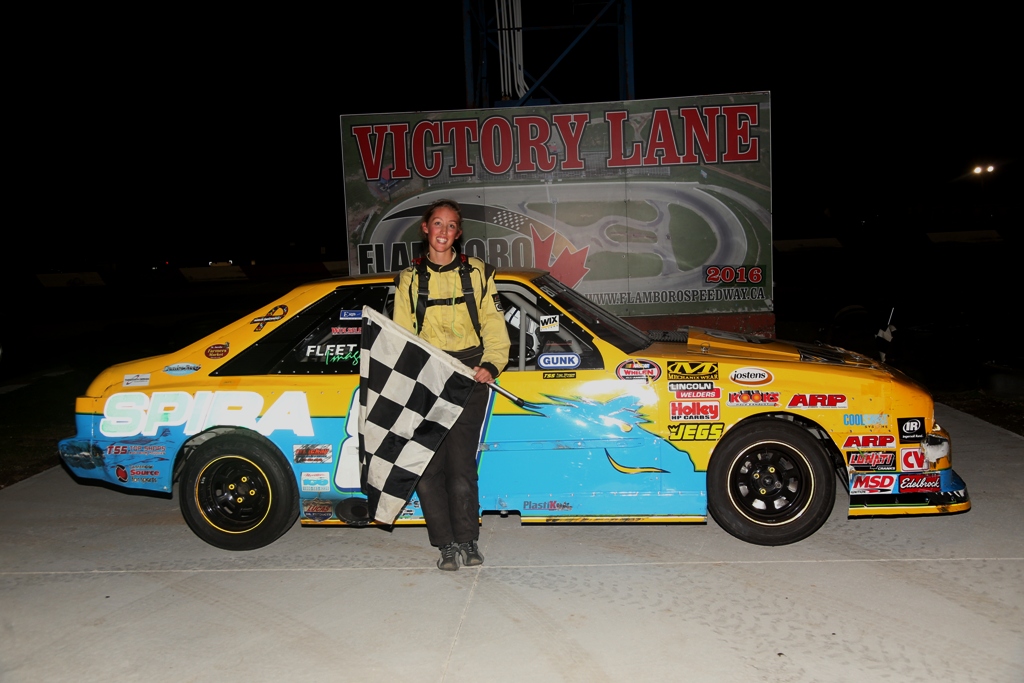 Despite having a season with some rough moments through the summer, Samantha Shaw ended the year in style as she scored the victory in the final 30-lap feature of the year en route to taking home the overall Mini Stock victory at Flamboro Speedway.
Following time trials, it'd be Lane Zardo leading the field to green ahead of Samantha Shaw, Phil Givens, Brian Wilson, Jason Tolton, Brandon Crumbie, Tim Tolton, Steve Laking, Dave Crumbie, Bob Gilbert, Mark Da Silva, Carson Nagy, David Gallinger, Rich Schwartzenburg and Rob Hoskins.
Zardo put the No. 50 out front off the drop of the green flag ahead of Shaw, Wilson, Givens, Laking, Brandon Crumbie and Tim Tolton. Wilson then got alongside Shaw for second on Lap 3, completing the pass two laps later as Givens got alongside Shaw for third.
Meanwhile, Nagy got sideways off of turn four, spinning through the grass and taking the cone with him. The cone came de-wedged, landing on the track just before turn one to bring out the caution.
The first attempt at a restart saw Wayde Thorne go around in turn one, making contact with the wall. The second attempt was clean, kicking off a battle for the lead between Zardo and Wilson. Wilson then put the No. 7 Alliance Roofing, Edge Automotive, ProFleet Refinishing, TireCraft Waterloo, Plumeville Construction Mini Stock out front on Lap 8, with Shaw getting alongside Zardo for second. Shaw was unable to complete the pass, though, falling back in line in third.
Behind them, Givens continued to run fourth ahead of Laking, Tim Tolton, Jason Tolton and Brandon Crumbie. Russ Aicken, who started tail of the field after missing qualifying, had worked his way up to ninth by Lap 11 ahead of Dave Crumbie, Gilbert, Da Silva and Schwartzenburg. Schwartzenburg was then able to make up some ground, passing Da Silva on Lap 14 to move up into 12th.
Further up the field, Jason Tolton made his way by Tim Tolton to move up into sixth on Lap 15, followed by passing Laking five laps later for fifth. The battles continued at the front of the field as Shaw made her way by Zardo on Lap 24 for second, while Jason passed Givens for fourth two laps later.
Brian Wilson led 22 laps en route to picking up the win ahead of Samantha Shaw, Lane Zardo, Jason Tolton and Phil Givens. Steve Laking finished sixth, followed by Russ Aicken, Tim Tolton, Bob Gilbert and Brandon Crumbie. Dave Crumbie finished 11th, followed by David Gallinger, Rich Schwartzenburg, Michael Hooper and Mark Da Silva. Carson Nagy finished 16th as the first car one lap down, followed by Wayde Thorne, Clay Collison and Taylor Thring.
Come time for the second feature with the lead lap cars inverted, it'd be Mark Da Silva on pole ahead of David Gallinger, Rich Schwartzenburg, Dave Crumbie, Brandon Crumbie, Bob Gilbert, Tim Tolton, Russ Aicken, Steve Laking, Phil Givens, Jason Tolton, Lane Zardo, Samantha Shaw, Brian Wilson, Carson Nagy, Wayde Thorne, Michael Hooper, Taylor Thring, Rob Hoskins and Clay Collison.
Mark Da Silva took the early lead behind the wheel of the No. 01 Mini Stock ahead of Gallinger, as Schwartzenburg and Dave Crumbie ran side-by-side for third. Unfortunately, Crumbie got knocked back a few spots as a result of contact with Brandon Crumbie on the backstretch on Lap 2. The contact sent a ripple through the field, which eventually resulted in Zardo spinning Shaw off of turn four for the caution.
The restart then resulted in an incident in turn three and four involving Schwartzenburg and Dave Crumbie. The second restart was clean, with Da Silva continuing to lead as Aicken ran side-by-side with Gilbert for second ahead of Laking.
All hell broke loose on Lap 6 when Aicken, who had just taken the lead, bounced off the wall, possibly or possibly not from contact from behind with Gilbert and DaSilva, collecting a number of cars. The final list of drivers involved included Tim Tolton, Dave Crumbie, Hooper, Brandon Crumbie, Jason Tolton, Laking, Wilson, Da Silva, Gilbert, Aicken, Thorne, Gallinger, Givens and Nagy.
With the involved cars sent to the back, or to the pits by driving or tow truck, it'd be Zardo – who was running 11th at the time of the accident –  taking over the lead. With 24 laps left in the event, Zardo led Givens, Shaw, Hoskins, Dave Crumbie, Schwartzenburg, Collison, Thring, Hooper, Nagy, Gallinger, Da Silva, Gilbert, Wilson and Laking.
Zardo got a good restart to keep the lead as Shaw made her way by Givens to move into the runner-up spot. Hoskins continued to run fourth ahead of Crumbie, Schwartzenburg, Gilbert, Laking, Wilson and Da Silva as Nagy ran side-by-side with Collison for 11th. Nagy got the spot on Lap 11, bringing Gallinger through with him for 12th as Collison, Hooper and Thring rounded out the field. The third of the race then flew on Lap 15 for Collison spinning by himself in turn four.
Zardo got another good restart, keeping the lead ahead of Shaw, Givens, Crumbie, Hoskins and Gilbert. Gilbert then got alongside Hoskins for fifth on Lap 18, completing the pass a lap later and bringing Laking through with him. Behind them, Wilson ran eighth ahead of Da Silva, Gallinger, Nagy and Collison.
At the front of the field, Shaw was able to run down Zardo, finding herself on his rear bumper for a bit, before putting the No. 81 Spira Fire Protection, Lucas Oil Products Canada, Wurth Canada Limited, TSS Top Shops, Fleet Image Inc., Dave Mackay – Mackay Enterprises, Northern Ice, Dominion Sure Seal, Plasti-Kote, Nuco, Wolseley, St. Jacobs Farmers Markets, Erb & Erb Insurance, Gunk, WIX Filters, and Victaulic Spira Racing Mustang out front on Lap 23.
Zardo now ran second ahead of Givens, as Gilbert and Laking both made their way by Crumbie for position. Hoskins continued to run seventh ahead of Wilson, Da Silva, Gallinger, Nagy and Collison. Wilson then slowed a bit on Lap 26, which allowed both Da Silva and Gallinger to get by for position.
Samantha Shaw led the final seven laps en route to scoring the victory ahead of Lane Zardo, Phil Givens, Bob Gilbert and Steve Laking. Dave Crumbie finished sixth, followed by Rob Hoskins, Mark Da Silva, David Gallinger and Brian Wilson. Carson Nagy finished 11th, followed by Clay Collison, Rich Schwartzenburg and Taylor Thring.