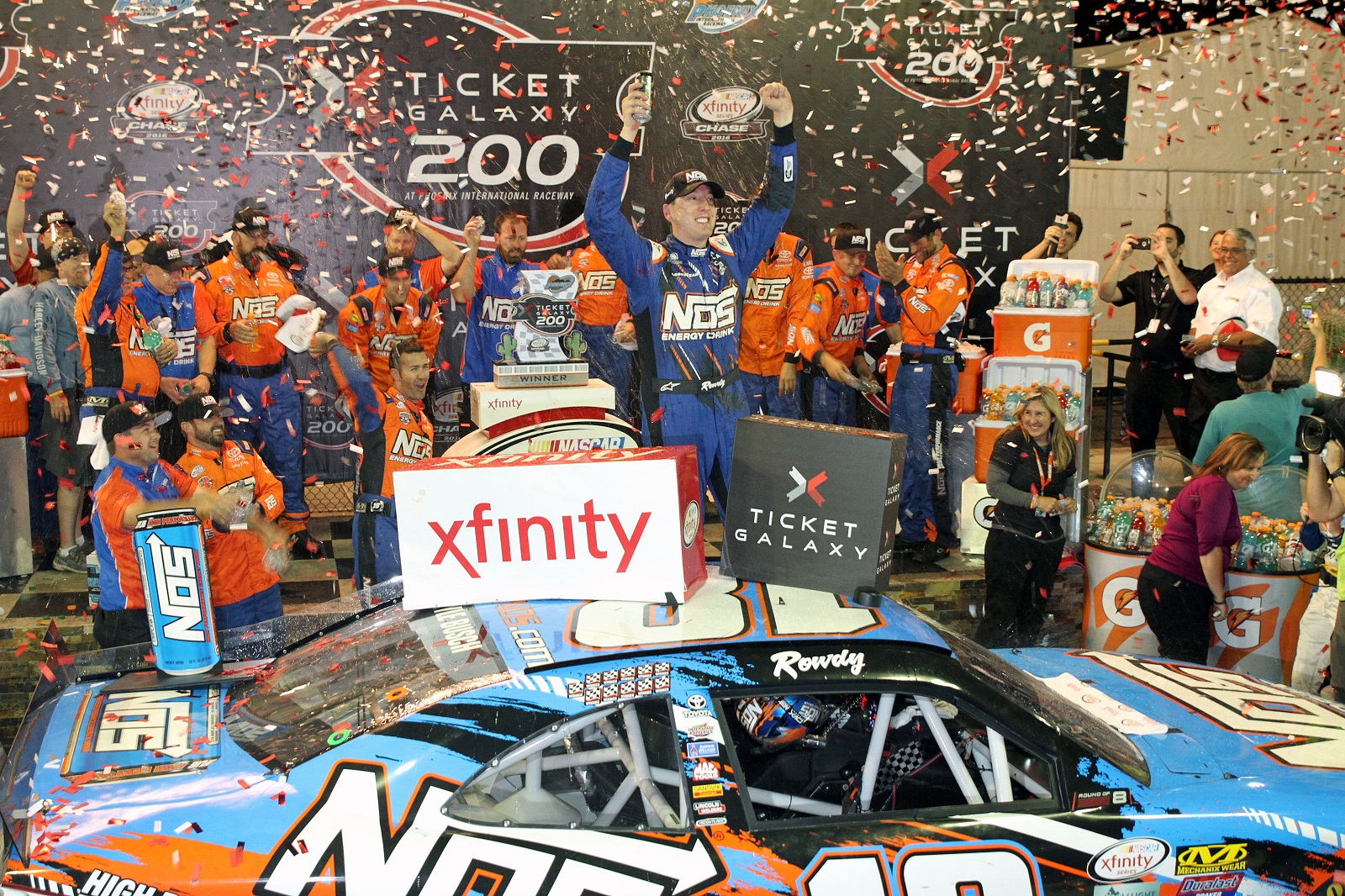 There was more drama following Saturday's NASCAR XFINITY Series Ticket Galaxy 200 at Phoenix International Raceway then there was over the course of 200 miles.
Kyle Busch won again. He totally dominated again. Busch led a race high 190 laps en route to his 10th victory of the season and 10th career win at Phoenix.
"That's what we set out to do tonight and we've been really fast here at Phoenix," Busch said. "We've had some great race cars and Chris Gayle (crew chief) and all these guys do such a great job each and every week preparing these things and it's fun to win here."
Austin Dillon would finish second followed by Ricky Stenhouse Jr., Justin Allgaier, and Daniel Suarez.
Ryan Reed, Ty Dillon, Blake Koch, Brad Keselowski, and Erik Jones rounded out the top ten finishers.
The XFINITY Series Chase Championship 4 was decided on Saturday as Suarez, Elliott Sadler, Allgaier, and Erik Jones will do battle next weekend at Homestead Miami Speedway to determine this year's champion.
"It was a solid day for sure – another top five," Suarez said. "I think we have had top five's since the last couple months – since the Chase has started – so that's something definitely very good. Hopefully we can do even better for next week in Homestead, the most important race of the year."
For Elliott Sadler, there was several tense moments during the post race inspection when it was discovered two lug nuts were not against the wheel. A third loose lug nut would have meant Sadler would have been penalized and left out of the Championship 4. However Sadler's crew chief Kevin Meendering will be suspended for next week's season finale.
"The emotions of the last 30 minutes have been tough," Sadler said. "We knew one was loose, and one was in question."
The jubilation of those advancing to Homestead was met by the disappointment of Darrell Wallace Jr., Brendan Gaughan, Reed, and Koch as they saw their championship dreams dashed.
Wallace had a strong race going until Lap 148, when Koch made contact with him resulting in a hard multi car crash on the frontstretch.
The early exit was an emotional one for Wallace, who was carrying the name of his grandmother "Granny Jan" on his car after she passed away the week before the race.
"That was the most fun I've had," Wallace said. "Just circumstances took us out. Thanks Granny I love you. I know she was over there in the passenger side riding along. I tried to tell her the 11 was coming down but she wanted to take it. It is just unfortunate."
Gaughan was running 20th on a different strategy when he hit Turn 1 wall after a tire went down.
"I don't know what tire it was," Gaughan said. "I just know it blew so early on the straightaway that I had to say, 'oh this is going too suck' three times before it hit. It was about to play out like we wanted…let's stay green and take a shot at it. We took a shot. I did not want to be the caution nor did we want it to hit that damn hard."