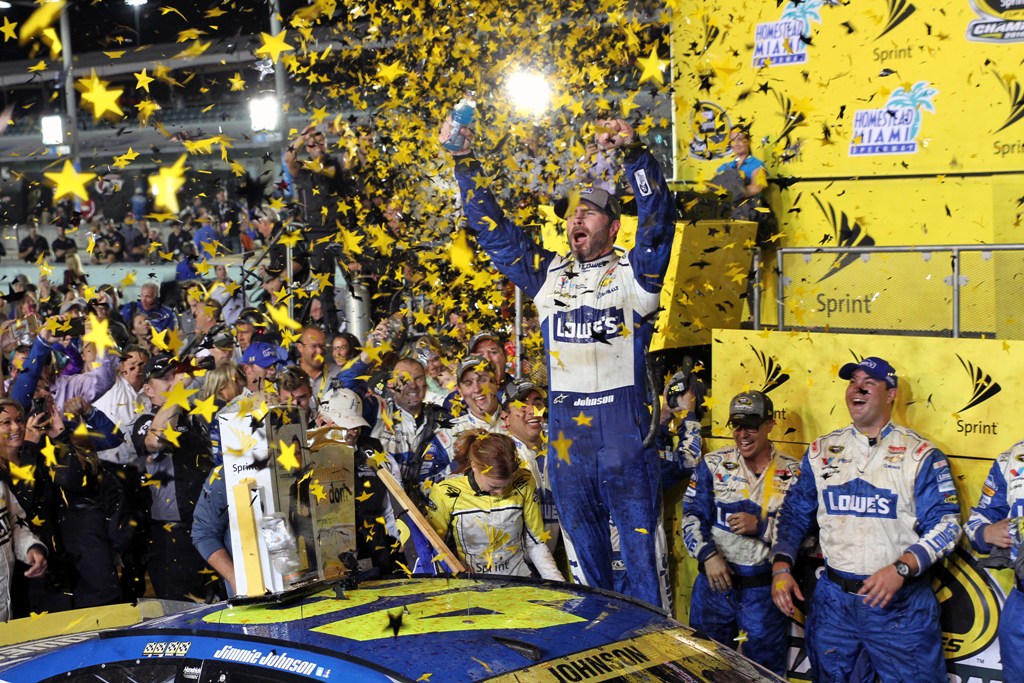 Jimmie Johnson took one giant leap towards immortality as well as being considered the greatest driver in NASCAR history by winning his record tying seventh NASCAR Sprint Cup Series championship to go along with his victory in Sunday's Ford EcoBoost 400 at Homestead – Miami Speedway.
Johnson tied Richard Petty and the late Dale Earnhardt as the only seven – time champions in the 68 year history of NASCAR.
Sunday's win was Johnson's 80th career victory. He had to out duel the other Championship 4 drivers Joey Logano (fourth), Kyle Busch (sixth) and Carl Edwards (34th) at Homestead.
At the age of 41, Johnson becomes the youngest seven-time champion. Petty was 42 when he captured his seventh title in 1979; Earnhardt was 43 in 1994.
"Oh my gosh, there is no, no way on earth," Johnson said. "Just beyond words. Just didn't think the race was unfolding for us like we needed to do to be the champs, but we just kept our heads in the game. Chad called a great strategy, made some great adjustments for the short runs. Luck came our way and we were able to win the race and win the championship. I wouldn't be here without so many people believing in me and giving me this chance. From my dirt days – my parents first and foremost. My brothers. My wife and family today. Car owners, sponsors, Chevrolet, Lowe's, so many amazing people along the way that believed in me to give me this chance.
"Jeff Gordon, Rick Hendrick, all the men and women at Hendrick Motorsports for working so hard to get these cars fast and giving me an awesome 15 years with the company. Just thank you. From the bottom of my heart. Thank you. So thrilled to be in this moment., So grateful for the opportunity and so thankful and blessed. I am at a loss for words."
Kyle Larson finished second after leading a race high 132 laps. He was followed by Kevin Harvick, Logano, and Jamie McMurray.
Kyle Busch, Matt Kenseth, AJ Allmendinger, Denny Hamlin and Michael McDowell completed the top 10 finishers.
For much of Sunday's race at Homestead it looked like Carl Edwards was going to exercise the demons of 2011 and claim his first ever Cup Series championship. That was until Lap 259, when Logano made contact with Edwards sending him hard into the frontstretch wall.
"It was so much fun to drive up through those guys. This track is perfect. It's such a blast to drive," a dejected Edwards said. "The Goodyear tires are great. We're sliding around doing everything we can and having a really good time. Running Kyle (Busch) down and racing him like that and for him to race me that hard and that fair was so cool. I just hated to see that caution."
"I think it was just racing," Edwards explained. "I haven't seen a real close up view, but the way I had it figured is first of all that was the race of my life up to that point. That was a lot of fun and Joey (Logano) was so good on the short run. I don't know how he got that restart. It was a really good restart. I thought we were – I thought everything was going to work out and Jason (Hedlesky, spotter) told me he was looking low and I – he told me basically he was there. I knew what Jason was saying and I just pushed the issue as far as I could because I figured that was the race there and so here let me watch it again.
"Yeah, Joey just timed it perfectly, he moved down, I thought I could feel him a little and I just thought that – I was probably a little optimistic, but I thought I could clear him or force him to lift. I just thought I had just a little more time, but he drove down as far as a guy could be expected to drive down and that's how it ended. I don't know what the caution was for. I really hope it was something that we needed to have a caution for because that was really – that was going really well."
Once he climbed from his battered car, Edwards made his way to Logano's pit stall and climbed up to talk to crew chief Todd Gordon.
"Yeah, no apology," he said. "I just wanted to say, 'Hey, that's just racing and good luck to you guys.' There's so much on the line. I want to make sure that – I don't want to be anything extra to mess with Joey. He's done a good job and they deserve to go have a good, fair race."
Defending Cup Series champion Kyle Busch had an up and down night on Sunday and was in the mix for a second straight title until fading on the last restart. Busch would settle for sixth.
"You just never give up. You've just got to keep going. Whatever is thrown at you, you've just got to keep making the best of what you've got and just keep trying," Busch said. "We did that and we had a lucky break there when the yellow got us back in the sequence with everybody. We weren't the best this weekend."
"It was a really rough night for us at the beginning and it didn't seem like it was going our way and then all of a sudden it looked like we had it in the bag and it was ours to win or ours to lose and we just didn't quite get a great restart there on two restarts to go," Busch said.
Tony Stewart capped off his Hall of Fame career on Sunday. The three-time NASCAR Sprint Cup Series Champion and future NASCAR Hall of Fame driver finishes his 18-year career with 49 victories, 13th on the all-time wins list, 187 top-five finishes and 308 top-10 finishes.
Before the start of the race, Stewart stayed on pit road to high five crew members and then led the field on the parade laps, following behind a truck pulling a giant "Thank You Smoke" banner, a humbling experience.
"Probably the coolest thing about the day that I just thought of was just pulling away and coming down pit road and high fiving all those guys.  It made me think back to the moment when Dale, Sr. won the Daytona 500.  It was just an awesome moment.  It made me feel good because those are guys that like us and we have mutual respect for each other."
"I've said all year I just want to be one of the guys racing. To be put out there it's an honor, but it's humbling at the same time."