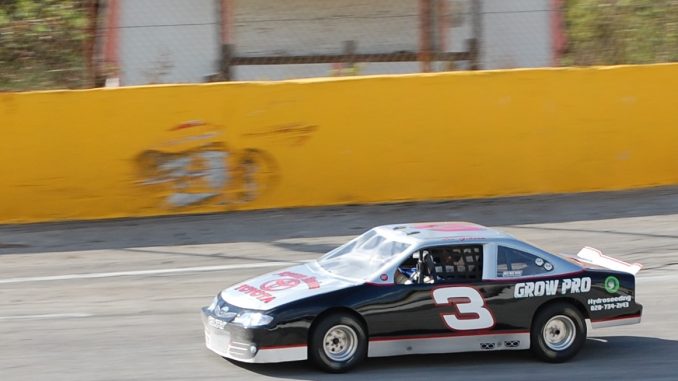 Lets get to know your 2016 Southeast Super Truck Series Mini-Cup Champion, Lee Gibson.
Age : 49 Years Old
Hometown : Lake Junalaska, NC
Race Car : He pilots the #3 Earnhardt Sr look-alike paint scheme sponsored by Bryan Easler Toyota, Gro-Pro Hyrdroseeding and High Country Hydroseeding.
History : Lee has just completed his fifth year in the stock car racing world. He started mid season in 2011, and before the season was over picked up his first win. Gibson has over 20 wins between the SEST Series and Newport Speedway.
2016 Season Goals : "Just to be competative and try to finish all the races. If it hadnt been for Anthony
Price having some bad luck at the beginning of the year, the roles would have been reversed. Thats how
racing goes, sometimes luck can help ya or hurt ya" Stated Gibson.
Favorite Tracks : Tri-County Motor Speedway in Hudson, NC and a close second is Newport.
2016 Highlights : Winning the championship again, and being competitive every week.
2016 Downfalls : Newport
has been very good to him over the years, although this season he had a scary mishap happen towards the
end of the season. A mid race accident he got caught up in resulting in him landing on his lid, litterally.
2017 Season Goals :
As the 2017 is drawing closer and closer to the kick off, his goals going into it are to simply win as many
races as he can "I would say to win, I hate to lose!"
So keep your eye on the very fast #3 Bryan Easler Toyota, Gro-Pro Hydroseeding, High Country Hydroseeding Mini Cup this season as he will try to make it 3 championships