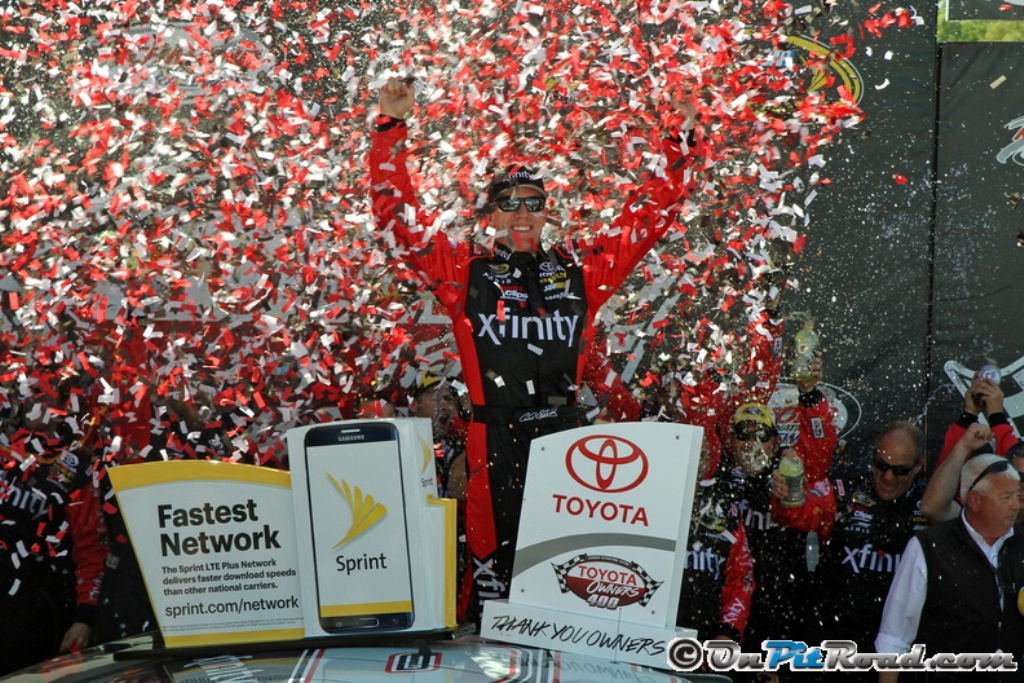 In what appears to be stunning news, two-time Monster Energy NASCAR Cup Series championship runner-up Carl Edwards is expected to announce his retirement effective immediately on Wednesday.
Edwards, who was in position to win his first championship at Homestead-Miami Speedway in November until a late-race crash, will call an end to a 15-year career in NASCAR that spanned across all three national series, and included an XFINITY Series championship and 72 total victories.
NASCAR Camping World Truck Series
Edwards' career in the Truck Series didn't begin in the most illustrious of ways. He began the same way many drivers have done in the past – with a small team. He made seven starts in 2002 driving for Mike Mittler in the No.
63 truck, a team synonymous in the series for giving young drivers their first shot.
Somewhere along the way – be it through handing out business cards to team owners – or impressing with a top-10 finish at his hometrack of Kansas Speedway – the Missouri driver landed a gig with Jack Roush in 2003.
Over the next two years competing in the Truck Series, Edwards would amass six wins, and ultimately move his way up the chain where he competed in the XFINITY (then Busch) Series.
NASCAR XFINITY Series
It was this Series where Edwards harbored a lot of his success.
In 2005, he ran both the Cup Series and XFINITY Series schedule on a full-time basis for the first time. For many young drivers, this can be a difficult thing to do, but Edwards used the challenge to his advantage winning multiple races in both series that year
In each of the six seasons that Edwards ran the full series schedule and ran for points, he finished no worse than third in points, earning the 2007 series championship by more than 600 points.
In 245 series starts, Edwards earned 38 checkered flags and finished in the top-five for 53 per cent of his starts.
Monster Energy NASCAR Cup Series
Edwards began turning heads as soon as he stepped into a Cup car.
In a 13-race schedule in 2004 for Roush Racing (now Roush-Fenway Racing), Edwards scored five top-10 finishes, which included a best of third at Atlanta Motor Speedway. The following season Edwards scored four wins as a rookie, and finished third in series points.
In years following, Edwards would continue to win several races, including his first breakout year in 2008 where he won nine times on the year, but lost out on the championship to Jimmie Johnson.
Edwards' first year of major heartbreak came during the 2011 season. He only won one race during the year, but looked to be on his way to a championship after being wildly consistent during the Chase. Things changed, however, when Tony Stewart won five of the last 10 races of the season resulting in the closest championship battle in NASCAR history. Stewart and Edwards tied for the championship at Homestead, and Stewart was granted his third championship via the tiebreaker of having more victories.
Moving to Joe Gibbs Racing
Continuing success would loom for Edwards, but as Roush-Fenway Racing began to be
on the decline, it was time for the series veteran to make a decision that changed the arch of his career.
In the summer of 2014, Edwards confirmed a switch to Joe Gibbs Racing after 11 years with RFR.
During two seasons with Joe Gibbs Racing, Edwards added five wins to his tally, and was able to compete for a championship during the 2016 season.
His Legacy
If this is truly the end of Edwards' career as a driver, and we see no Mark Martin-esque return, Edwards will be remembered for many things.
The first of many positives about Edwards is the relationship he has with his fans. A fan-friendly driver who always took the time to sign autographs and stop for photos, he'll be remembered for being an all-around good guy.
In addition to this, 'Cousin Carl,' as he was dubbed by former NASCAR driver Ken Schrader, will be known for his strong personality and entertaining winning celebrations. Each time Edwards won a race, he would end it with a backflip. The backflip was always entertaining for fans, though likely nerve-wracking for owners and sponsors, but it allowed him to let out his fun-loving personality for a minute, and give the fans a reason to cheer.
One thing is for sure, Carl. You'll be truly missed on the track by fans and competitors alike.