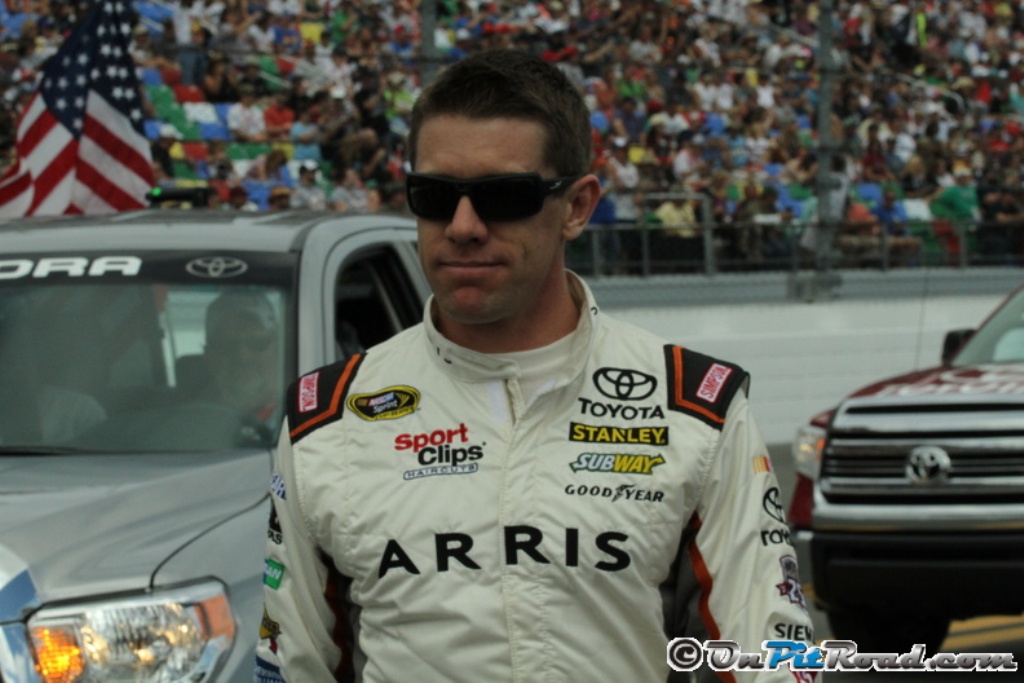 In a press conference held on January 11, Monster Energy NASCAR Cup Series driver Carl Edwards announced that he was stepping away from full-time racing after a career that included 72 total NASCAR victories and one national championship.
Edwards started the conference off by stating that in his 20-year racing career this is the most scared he has ever been. He added that after the race in Homestead-Miami Speedway that he started thinking long and hard about this decision.
"I have a lot of interests in life outside of sports that deserve my attention and I feel strongly that the time to do that is now," Edwards said. "I've been racing for more than 20 years. It's amazing the opportunities that racing, and NASCAR in particular, have provided me. The people I've met and the things I've been able to do. I'm very grateful for all of that."
The first reason that Edwards gave was that he was in fact happy with his career even without him winning a championship.
"I'm satisfied with my career and my accomplishments," Edwards continued. "Racing for me has never really been about trophies. Of course I love winning, but there is a thrill to going into a corner at nearly 200 mph competing against the best in the world. I absolutely love that. Obviously there are risks involved in racing that I never take for granted, either, and I'm happy to be able to walk away from the sport fully healthy. I just believe that it's hard to start the next chapter in your life until I close this one. It is an awesome sport, but very demanding with year-round commitments and a lot of time on the road."
Secondly, he said he was stepping away because there were other things that he wanted to do with his time besides being with his family.
His third reason for stepping away from the racecar was to stay healthy. Right now he stated he is the healthiest he has been and with him stepping away from full time racing he plans to stay that way. Edwards also said that Dale Earnhardt, Jr.'s issues with concussions over the last several years played a role in his decision.
Joe Gibbs, owner of Joe Gibbs Racing, said that although the decision was very unexpected, he supports Edwards and his decision.
"Certainly this was not something that we were expecting as we prepared for the 2017 season," Gibbs added. "However, it was clear in our conversations with Carl that he had given this careful consideration and believes strongly that it is the direction he needs to go in."
Brian France, NASCAR Chairman and CEO, released a statement before press conference expressing his support of Edwards.
"Carl Edwards has made an indelible mark on NASCAR. His hard-charging driving style has led to memorable moments that will live forever in the history of our sport. Carl's passion and personality will greatly be missed – as will the signature backflips that NASCAR fans have come to expect following his victories. We wish Carl nothing but the best as he enters this next phase in life."
After Edwards left the stage, it was announced that 2016 NASCAR XFINITY Series champion Daniel Suarez for Gibbs will take over the No. 19 car as
Edwards' replacement. 
"It's amazing," Suarez said.  "I wasn't expecting to be in this position right now. This is hard to believe that I am in this position. It won't be easy and I have a lot to learn. But this is a dream come true. Want to thank family, Coach Gibbs, and everyone else who helped."
For Gibbs, Suarez was the best option to take over the No. 19 car.
"Daniel (Suarez) was the obvious choice." Joe Gibbs added. "He had an unbelievable year in XFINITY."