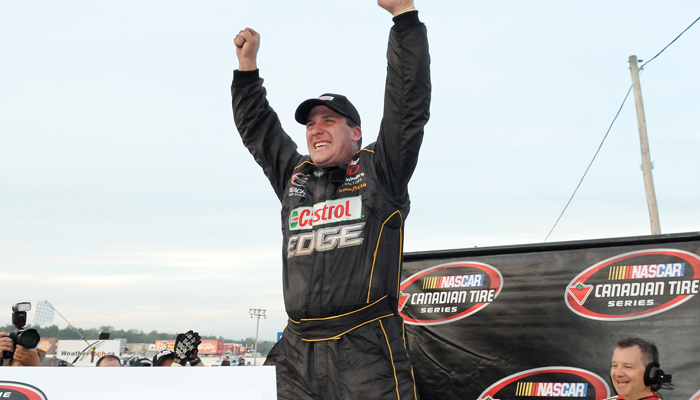 The Daytona 500 entry list seems to grow day after day, and one more entry was made official on Wednesday when Gaunt Brothers Racing and NASCAR Pinty's Series driver D.J. Kennington announced their intention to race in the 59th running of the race.
Gaunt Brothers Racing, owned by Triad Racing Technologies president Marty Gaunt, will return to NASCAR competition for all four of the Monster Energy NASCAR Cup Series restrictor plate races. A bulk of the team's experience has come in NASCAR's touring series such as the Pinty's Series and K&N Pro Series West with Jason Bowles behind the wheel.
"With the recent unveiling of the 2018 Toyota Camry, we feel that now is the right time to return to the racetrack," said Gaunt, whose Triad engines powered five championship-winning Toyota drivers and contributed to multiple manufacturer championships at the NASCAR national level. "We're going to provide a concentrated effort this season at tracks on which we can immediately adapt and compete."
Kennington, a two-time Pinty's Series champion and 19-time race winner, will bring Canadian sponsors Castrol and Lordco Auto Parts to the team as they make their first foray into premier series racing. Kennington made his series debut in 2016 driving for Premium Motorsports at Phoenix International Raceway where the 39-year-old finished 35th.
"As the Daytona 500 is called 'The Great American Race,' our team will be considered the 'Great Canadian Invasion,'" joked Kennington. "I'm definitely ready to take this on. I'm excited to be running the first race with Monster Energy as the series sponsor, and I love how the program came together with Castrol, Lordco and the Gaunts."
GBR will get a brunt of its technical support and cars from RAB Racing owned by Robby Benton.
"There are a lot of great things happening with the sport right now and we feel fortunate to continue our relationship with Marty, Triad and Toyota, starting with this attempt at the Daytona 500," said Benton.
"Our aspirations will be no small task, but we know what we need to do to position ourselves to make this a successful effort. We'll transition over to the Daytona 500 after competing in the Rolex 24 Hours of Daytona with our sports car program later this month."