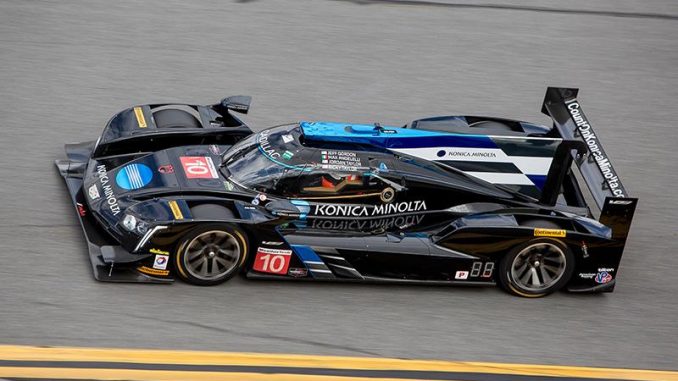 The 2017 Rolex 24 is winding to a close, and as 21 hours have gone by, the weak have been weeded out while the contenders continue to fight.
Prototype (P)
The Prototype Class seems to be down to a three-car fight between two Cadillacs of the Wayne Taylor Racing No. 10 and the Action Express Racing No. 5 car and Spirit of Daytona Racing's No. 90 Multimatic/Riley.
The Cadillacs have dominated the race, but the Riley has been quicker in wet weather conditions. The race should be mostly dry to the end, but the Spirit of Daytona's hopes are still alive as the two Cadillacs have been prone to slight offs.
Top-5:
No. 10 – R. Taylor/J. Taylor/Angelelli/Gordon
No. 5 – Barbosa/Fittipaldi/Albuquerque
No. 90 – Goosens/Van Der Zande/Rast
No. 2 – Sharp/Dalziel/Derani/Hartley -2 laps
No. 81 – Hedman/Lapierre/Hanley/Duval -7 laps
Prototype Challenge (PC)
Barring any errors for Performance Tech Motorsports, it should be a guaranteed win for the No. 38 team as their lead over the second place Bar1 Motorsports No. 26 is more than 20 laps.
There hasn't been much action for the lead between the PC cars, but several of the full course yellows have been caused by cars in this class.
Top-5:
No. 38 – French/O'Ward/Boulle/Masson
No. 26 – Papadopoulos/Mowlem/Merzon/Hindman/Cheng -24 laps
No. 20 – Yount/Rice/Kvamme/Ducote/Yacaman -36 laps
No. 88 – Mayer/Dayson/Popow/Daly/Rayhall -90 laps
No. 8 – Falb/Ruscitti/Keating/Wickens/Cumming -112 laps
GT Le Mans (GTLM)
The battles in both GTLM and GTD have been non-stop. The lead has swapped back and forth between the Porsches, Ferraris, Corvettes and Fords over the last several hours, and the battles don't seem to be coming to a stop anytime soon with six cars still on the lead lap.
One of the favorites crashed during the night hours. The No. 67 Ford GT crashed while Ryan Briscoe was at the helm. The car has since returned to the track, but is nearly 30 laps off the pace.
Top-5:
No. 62 – Fisichella/Calado/Vilander
No. 66 – Mueller/Hand/Bourdais
No. 3 – Garcia/Magnussen/Rockenfeller
No. 68 – Mucke/Pla/Johnson
No. 69 – Tincknell/Priaulx/Kanaan
GT Daytona (GTD)
As mentioned above, GT Daytona has been very competitive in the overnight hours and early morning hours. The newly formed GTD team of Michael Shank Racing has been competitive as the Acuras have led some laps.
The No. 15 GT3 Lexus ran well throughout the night, and led for a short stint until a tire issue with Jack Hawksworth driving took them out of the fighting.
Six of the 27 cars remain on the lead lap.
Top-5:
No. 33 – Keating/Bleekemolen/M. Farnbacher/Christodoulou
No. 63 – Nielsen/Balzan/Cressoni/Bird
No. 86 – Segal/Negri/Dyer/Hunter-Reay
No. 29 – De Phillippi/Mies/Gounon/Schmidt
No. 93 – Lally/Legge/Wilkins/Rahal