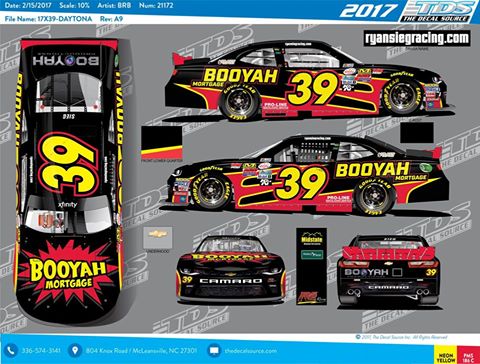 SUGAR HILL, Ga. (Feb. 16, 2017) – RSS Racing and driver Ryan Sieg are pleased to welcome Booyah Mortgage as the primary sponsor on their No. 39 Chevrolet Camaro for the NASCAR XFINITY Series season-opening race at Daytona (Fla.) International Speedway on Sat., Feb. 25.
Booyah Mortgage is a Veteran owned and operated business in central Florida and marks the company's first foray into Motorsports. Owner Shane Johnson served as a United States Marine and is dedicated to helping other military Veterans.
Additionally, Sugar Hill, Ga.-based RSS Racing will be racing in honor of Veterans and homeless Veterans at the "World Center of Racing."
Furthermore, the family-owned team will welcome the support of Booyah Productions, Baseball Racks, Midstate Basement, Pro Line Rentals and Crazy Vapors as associate marketing partners sponsors for the 120-lap PowerShares QQQ 300 at Daytona.
Kevin "Cowboy" Starland will lead the No. 39 team for the fourth straight year as crew chief.
Industry veteran Mike Ford, who joined the team last season, will be an active team consultant for all 33 races in 2017.
"We really want to move away from being an underdog team despite not having a cup affiliation and being in Georgia," said Starland. "RSS Racing has right tools and people in place to be competitive every week."
Owner and driver Sieg will again pilot the No. 39 Chevrolet for a full season in the XFINITY Series following a career season in 2016, which saw the 29-year-old compete in the inaugural XFINITY Series Chase for the championship.
"I could not be more pleased with the progress of our race team," he said. "We moved into a new shop, started a second team, and finished the season ninth in the standings last year. I'm certainly looking forward to taking this team to the next level."
About Booyah Mortgage:
At Booyah Mortgage, their mission is:  " 'A "Veteran'- whether active duty, discharged, retired, or reserve- is someone who, at one point in his life, wrote a blank check made payable to 'The United States of America,' for an amount of, 'up to, and including his life.'  That is honor.  And there are way too many people in this country today, who no longer understand that fact.  Our mission is to ensure that we give back to those who wrote that check." For more information on Boohah Mortgage please visit http://www.booyahmortgage.com/ or call them at 1-844-7BOOYAH
About RSS Racing:
RSS Racing fields the No. 39 Chevrolet Camaro in the NASCAR XFINITY Series for Ryan Sieg. RSS Racing has competed in NASCAR events since 2009 from its headquarters in Sugar Hill, Ga. For more information on RSS Racing and Ryan Sieg, please visit ryansiegracing.com or follow them on Twitter @RyanSiegRacing.