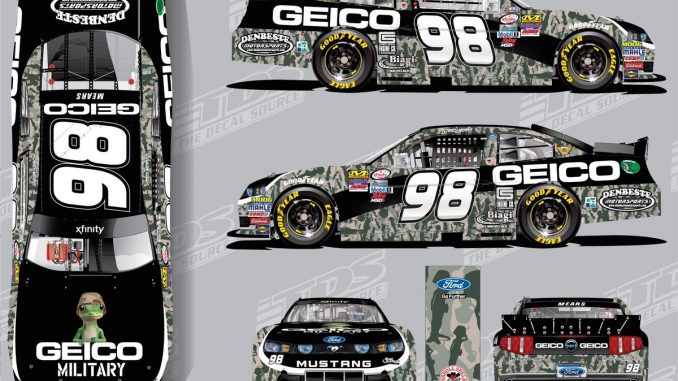 After months of speculation over where veteran NASCAR driver Casey Mears would land in 2017, the answer is finally known.
The former Coca-Cola 600 winner will run in 12 NASCAR XFINITY Series races for Biagi-Denbeste Racing in 2017 with longtime partner GEICO as sponsor.
GEICO, a former sponsor of Fred Biagi's last foray into the XFINITY Series, rejoins the team 11 years after last being with the team, which included a win with Mike Wallace at the helm at Daytona International Speedway.
"We are excited to expand our footprint in the NASCAR community with our sponsorship of Casey Mears and Biagi-DenBeste Racing in the Xfinity Series," said GEICO vice president of marketing, Ted Ward. "We enjoyed our relationship with the team in years past and are happy that Casey will continue to be part of the GEICO family. This program is a nice complement to our Monster Energy NASCAR Cup Series sponsorship of Germain Racing and will help broaden our presence during race weekends. The military is an important component of our business and we are looking forward to honoring our service members with the #98 GEICO Military Ford."
Mears has driven in the Monster Energy NASCAR Cup Series with GEICO as a sponsor for the last several years, but was ousted from his seat at Germain Racing in favor of Ty Dillon. Mears now gets a second opportunity with his sponsor in competitive XFINITY Series equipment.
"I'm thankful for GEICO's continued support and I'm happy we were able to get this deal put together with Biagi-DenBeste Racing," Mears said. "Fred Biagi and Bill and Lori DenBeste are great people and I've always respected them and how committed they've been to NASCAR and building their team over the years. I'm honored to be able to drive the #98 GEICO Military Ford and pay tribute to our military and their families. GEICO does a terrific job of supporting the military and I appreciate the opportunity to play a small role in honoring our service members."
Mears' first race with the team will be at Auto Club Speedway in March.