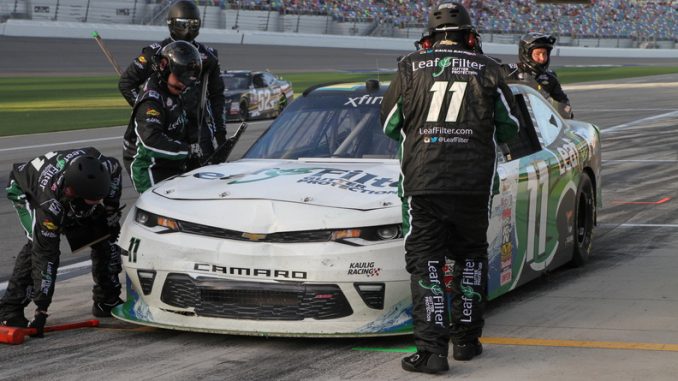 Despite having a badly damaged car, Blake Koch was able to gain a 15th place finish in the PowerShares QQQ 300 at the Daytona International Speedway on Saturday.
He started the weekend in practice staying consistently in the top-16. When it came to qualifying on Saturday morning, the team showed speed in single car runs and managed to make the second and final round of qualifying. In the final round he would net an eighth-place starting spot, one upping their starting spot from the 2016 edition of the PowerShares QQQ 300.
He stayed consistently in 16th following the drop of the green flag of the start of the 2017 NASCAR Xfinity Series Season. Koch had a front row seat to the first big-one of the day that involved Spencer Gallagher and Cole Custer. Koch was able to maneuver around the crash going through the grass just adding some landscaping to his No. 11 LeafFilter Gutter Protection Chevrolet Camaro. The team cleared the extra landscaping from the grille and topped off the car with Sunoco Fuel.
He restarted 18th with three laps remaining in the first stage of the race, but coming to just two laps to go, the second big one would collect Brandon Jones and Justin Allgaier. Koch would gain some damage to the right-front nose, which the team had to fix. He was able to complete segment one in the fifth position, and earn six championship points to his standing.
He had advanced to the eighth position by Lap 50 but with four laps to go in stage two, Brennan Poole would get loose and sandwich him into the wall. Koch was able to pass the finish line in the tenth position and earn yet another point to his bucket of points.
On Lap 66, his right front tire would shred, sending debris all over the track putting the caution out. With under 20 laps to go, he would flat spot his tires but wouldn't gain any extra damage and would set up for the final shootout of the PowerShares QQQ 300. During the final restart of the race, he lined up in 16th and work his way up to finish 15th when the checkered flag fell.
He and his team will leave Daytona ninth in NASCAR Xfinity Series points heading to the Atlanta Motor Speedway.
"I can't say enough about how hard my Kaulig Racing team worked today," said Koch in a team release. "We never gave up or let ourselves get discouraged despite having to make something close to 12 pit stops during the course of the race. We feel really good about the points we earned today and can't wait to carry that momentum and drive into Atlanta next weekend."