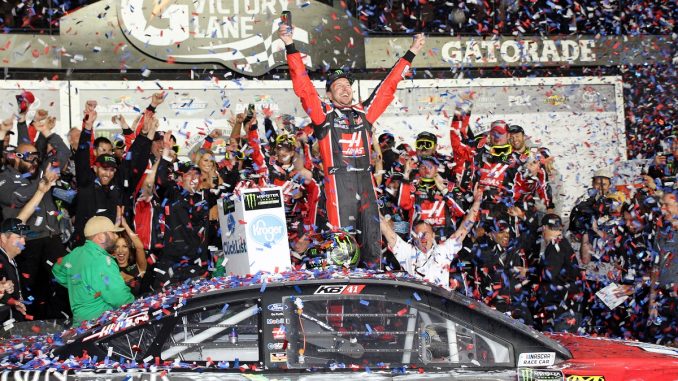 In his 16th try at winning the Great American Race, Kurt Busch was able to save just enough fuel to win the 59th Annual Daytona 500. Ryan Blaney basically sputtered and coasted his way to second place finish, while AJ Allmendinger, Aric Almirola, and Paul Menard rounded out the Top-five.
Many fans had said back when the new format was released that fuel mileage races were a thing of the past for the sport, but when it came to the final lap on Sunday, that wasn't the case with drivers like Blaney, Kyle Larson, Michael McDowell running out of fuel on the final lap.
Chase Elliott, who led 39 of the races 200 laps, was another driver who ran out of fuel on the final lap and what stung the most was the fact that he was leading the biggest race of his career when he did. Truex Jr. was in a similar scenario like he was last season until he too ran out of fuel, both drivers failed to comment following the 200 lap race.
The beginning of the race was rather calm but once we began the second segment the chaos set in and didn't seem to leave. The first caution of the night involved Daytona 500 rookie, Corey LaJoie, who missed pit road entry and slammed into the outside wall, he would finish 24th, seven laps down.
The next crash would involve some of the contenders when Kyle Busch lost a tire and spun collecting his JGR Teammate Matt Kenseth and JGR Affiliated teammate and rookie, Erik Jones. This crash would also end the day of two-time Daytona 500 champion Dale Earnhardt Jr. who ran out of time on the new five-minute clock system.
72 laps to go would spawn another caution would eliminate DJ Kennington, Jimmie Johnson, Chris Buescher, Clint Bowyer, and Danica Patrick. It would start when Trevor Bayne made contact with Jimmie Johnson and the chaos would move up the track collecting anyone who was at the top who couldn't get stopped on time.
With 65 laps to go, Roush-Fenway Racing teammates Trevor Bayne and Ricky Stenhouse Jr. crashed when Ryan Blaney attempted to pit. It would end Stenhouse Jr.'s afternoon.
The second big one of the day would come with 59 laps to go. It eliminated more of the contenders including Brad Keselowski, Jamie McMurray, Ty Dillon, Ryan Newman, and Daniel Suarez. Elliott, McDowell, and Denny Hamlin, all received damage.
With 51 laps to go Joey Gase and Chase Elliott made contact sending Gase sliding through the inside grass on the backstretch, Brendan Gaughan went to miss the crash and ended up spinning around but would drive away.
Results from Daytona