Many teams felt the wrath of the new format and several big crashes, but one team that just wouldn't give up in the PowerShares QQQ 300 was Johnny Davis' team JD Motorsports. Drivers Ross Chastain, Garrett Smithley, and Harrison Rhodes were able to finish within the top-20 including two of the three gaining top-10 finishes.
In the 2016 season opener, Garrett Smithley watched from afar as he made his season debut at Atlanta Motor Speedway the following week. In the July race he gained a 13th place finish. Going into 2017, one of his goals had to be to make the one race he didn't in his rookie season, and that goal was met while exceeding expectations. He would start 26th and would dodge and weave around the many big crashes, and finish a career-best eighth.
"What a great start to the season," Smithley said in a release. "We were able to bounce back from being in a couple of wrecks and get a great finish. The guys did a really good job."
Harrison Rhodes drove for JD Motorsports in 2015 for 26 races and attempted the season opening race but missed the race. In his return to JD Motorsports, he would qualify in the PowerShares QQQ 300 using the owner points that Ryan Preece gained in 2016. He started 34th, and much like Smithley, he dodged several wrecks and ran in the lead draft for much of the race. As the checkered flag fell, Rhodes found himself in tenth. Jay Lopez, a team member for Harrison Rhodes told OnPitRoad, "It's almost like a win."
"It was an unbelievable run for our Flex Tape team tonight and for JD Motorsports as a whole," Rhodes said in a release. "I was fortunate enough to miss some big wrecks and stay out of trouble. After making it all the way to fourth, I thought I might have a chance to win! It was a crazy and exciting night, but I'm extremely happy to start the season on a high note with a top 10. Thanks to the whole JD Motorsports team for all their hard work and commitment."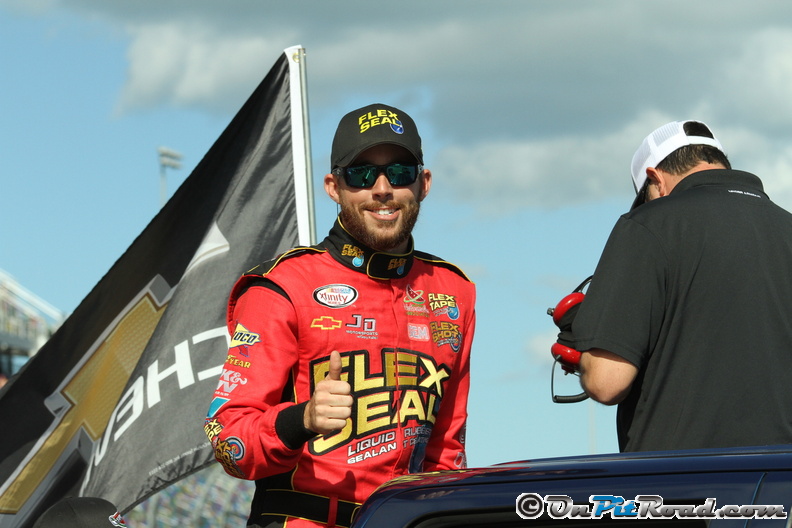 Ross Chastain survived the carnage to gain a 16th place finish. The Alva, Florida native survived the last lap melee to come home in the top-20.
"It was a wild race," Chastain said. "Cars were going everywhere, bouncing off the wall and off each other. It feels great to bring the car home after all that. A pretty good start to the year."