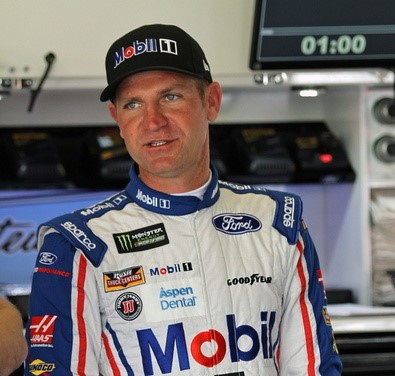 Clint Bowyer is poised to regain the successes he enjoyed earlier in his career. Now, driving for Stewart-Haas Racing replacing the retired Tony Stewart, Bowyer has been talked about significantly during Speedweeks. He qualified fourth fastest and will start sixth in the Daytona 500 after a solid performance in his Duel 150.
Bowyer's NASCAR Cup Series career began with Richard Childress Racing in 2005. It wasn't long before he became competitive on a weekly basis. Bowyer scored his first career win in 2007 driving the No. 07 Jack Daniels Chevrolet. The Emporia, KS driver went on to finish third in the final points standings that year. It seemed as if Bowyer was well on his way to becoming one of NASCAR's next superstars.
2008 was another successful season for Bowyer scoring his second win along with seven top-fives, 17 top-tens and finishing fifth on the standings. In the three years that followed, Bowyer continued to run well, but he did not finish as well in the final season standings.
It was 2012 when Bowyer seemingly had his breakout year. He made the move to Michael Waltrip Racing, an organization that was on the rise. Toyota's Cup program was coming together nicely and MWR was becoming a top-tier team in NASCAR. Bowyer scored three wins in 2012, along with 23 top-ten finishes and a second place finish in the points. He immediately became the subject of championship discussions for the upcoming season and was on many people's short list as a pick to be champion in 2013.
2013 was another solid year for Bowyer, however, it was also the season in which the MWR organization would begin to fall apart. After the extremely controversial events of the fall Richmond race, Bowyer found himself at the center of the controversy for seemingly intentionally spinning his car to help his teammate, Martin Truex Jr, make The Chase.
The downward spiral of MWR effected performance of the team. Bowyer was only able to manage a 19th and 16th place finish in 2014 and 2015 respectively.
It was late 2015 when it was announced that Bowyer would replace the retiring Tony Stewart in the No. 14. There was a catch, however. The seat would not be vacant until the 2017 season. Bowyer would spend the 2016 season with HScott Motorsports.
The 2016 season was, to say the least, a disaster for Bowyer. The HSM equipment was not top-tier and that was blatantly obvious with Bowyer's on track performance and off track personality.
On more than one occasion, Bowyer let his frustrations be known with the quality of the equipment. While some skeptics may have seen this as poor sportsmanship or lack of loyalty to the team for which he was driving, it was, in actuality, proof positive that he has not lost his passion for the sport. Bowyer has a highly competitive personality. He wants to perform well and the inability to fully utilize his talent on track coupled with the frustrations from the previous years were coming to the surface.
Bowyer ended the season with the worst stats of his career. He managed only three top-ten finishes and a dismal 27th place in the final standings. To top it all off, there was a post-season lawsuit and dispute over money with HSM. Fortunately, it was settled and his relationship with the organization has come to an end.
2017 has started very well for Bowyer. He is once again regularly being mentioned on TV and radio broadcasts. He has a smile on his face as he walks around the garage area. Bowyer is being mentioned as a potential winner of Sunday's Daytona 500, something that has not happened in a while.
Obviously, Bowyer, has not forgotten how to drive a racecar. At age 37, he is definitely not past his prime. The only concern has been how the No. 14 has performed over the last couple years. The 14 team has not performed at the level of the team cars driven by Kevin Harvick and Kurt Busch. To add more unknowns, the team switched manufacturers in the off-season from Chevy to Ford.
As Speedweeks nears its end, those concerns seemed to have been alleviated. Bowyer has performed well and it would not be a surprise to see the No. 14 sitting in Daytona on display for the remainder of the 2017 season. Winning the Daytona 500 would be the perfect way for Bowyer to kick off his "comeback" season.
Most of Bowyer's performance issues over the past several years were completely out of his control. The only exception being the Richmond controversy. We may never know who made the decisions that fateful night that precipitated the fall of a top-tier organization. Perhaps Bowyer was not given a choice in the matter or perhaps it was legitimately just an itch. We may never truly know.
What we do know, however, is that Bowyer will take full advantage of this new opportunity. Expect to hear a lot about Bowyer in 2017.