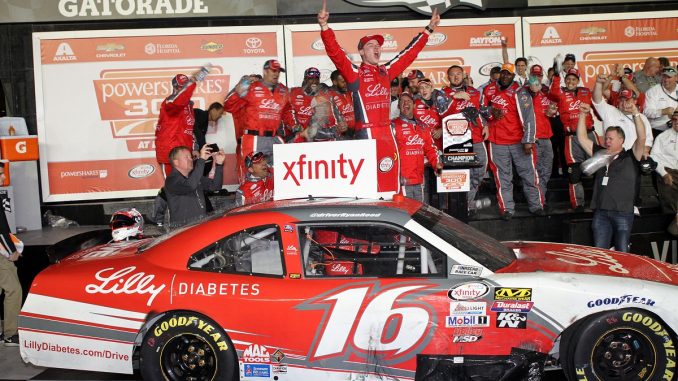 Ryan Reed was able to survive chaos en-route to his second career victory at the World Center of Racing. He was able to hold off Kasey Kahne, Austin Dillon, Brad Keselowski, and Brendan Gaughan, all of which are competing in the 59th Annual Daytona 500 tomorrow.
It was absolute chaos in each segment with Elliott Sadler scoring two segment victories but he would finish 24th after being involved in a big crash toward the end of the race.
The first big one came early in the race collecting many of the races contenders including Spencer Gallagher, Cole Custer,and Jeremy Clements. It resulted in the red-flag being thrown. The crash started at the middle of the backstretch when Scott Laggasie Jr. hit Tyler Reddick causing the melee.
The second big one had a scary hit in which  pole-sitter, Brandon Jones, and Justin Allgaier made hard contact into the outside wall. Daniel Hemric got into Allgaier which then sent Jones and himself hard into the outside wall. This crash would end the day of Allgaier, Erik Jones, Brandon Jones, Daniel Suarez, Hemric, and Darrell Wallace Jr.
The third big one of the day came with 14 laps to go which ended the day for Sadler. Several cars in this crash went to the grass, but a majority of them were able to drive off with minimal damage.
While coming to the checkered flag, final big one happened. It involved Matt Tifft with a hard lick to the outside wall. The No. 40 of Brandon Hightower made contact with Tifft sending him into the outside wall collecting Dakoda Armstrong.
There were only three cars that did not receive any damage today. Ty Dillon, who ran out of fuel with two laps to-go. Kasey Kahne who finished second, and the no. 99 of David Starr, which had engine issues at the beginning allowing him to escape the race without damage.
Results from Daytona