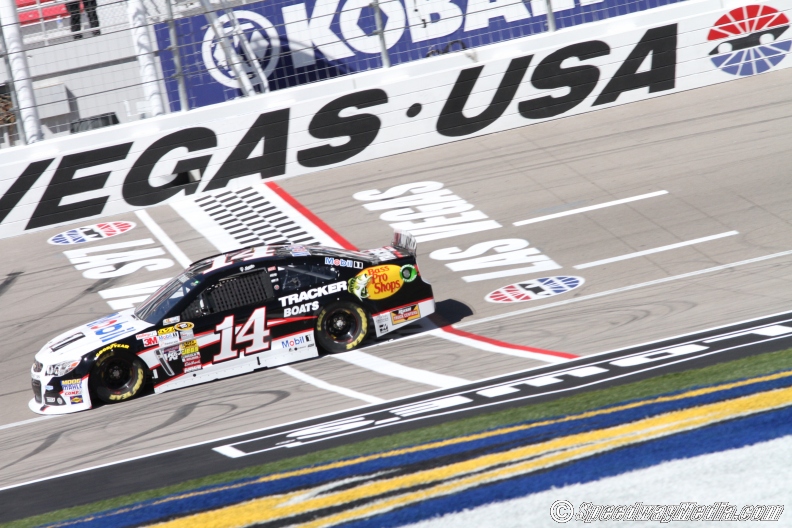 Rumors of a second Monster Energy NASCAR Cup Series race at Las Vegas Motor Speedway have been floating around for a while now, and confirmation came today that the Sin City track will have a second premier series event.
The Las Vegas Tourism Board met to discuss the idea on Wednesday in which it was approved as expected.
Shortly after the second race weekend was approved, Las Vegas-based NASCAR drivers Kurt Busch, Kyle Busch, Noah Gragson, Spencer Gallagher and Brendan Gaughan were all on hand to help Speedway Motorsports, Incorporated president Marcus Smith make the official announcement along with the tourism board.
"The fantastic support that NASCAR as a sport and the Las Vegas Motor Speedway receives from Las Vegas is phenomenal, and it really has proven to be something that we can't ignore," Smith said. "Their race fans have spoken very loudly that they want to come to Las Vegas again."
Included in the announcement was that not only would Las Vegas get a second Cup date, it would also get a second NASCAR Xfinity and Camping World Truck Series date, making it the only track to host two tripleheader weekends in 2018.
"We're going to be bringing the September NASCAR Cup and Truck weekends from the New Hampshire Motor Speedway along with the standalone Xfinity Series race at Kentucky Speedway to Las Vegas Motor Speedway for a tripleheader weekend in the fall.
"And then we're also going to realign our standalone Truck Series event here in the fall with the spring, and we're going to have two tripleheader weekends in Las Vegas. Something that doesn't happen anywhere else in the country in the NASCAR schedule."
Kentucky Speedway general manager Mark Simendinger issued a statement on his track losing it's fall date in the Xfinity Series shortly after the announcement.
"We accomplished great things with the NASCAR XFINITY Series race in September, and now it will continue to grow in its spot as the first race of the playoffs during this exciting new weekend.
We were the last Monster Energy NASCAR Cup Series track to hold a XFINITY Series race on a non-Cup weekend. It makes sense to combine all three NASCAR national touring series as this big weekend in Las Vegas is launched. I fully expect Las Vegas to be THE place for NASCAR fans to be in the fall, just as it is in the spring."
With the announcement of the fall weekend at New Hampshire being dissipated, it also likely means the Truck Series will lose its sole race date at the speedway, although nothing has yet been confirmed.