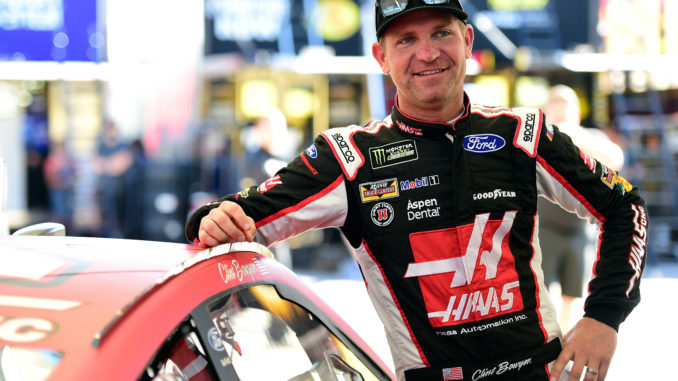 If you had to look at one Stewart-Haas Racing driver who has been fast since the start of the season, Kevin Harvick would definitely be the one driver you couldn't look past. However, Kurt Busch, Danica Patrick and Harvick only have the manufacturer move to transition with, while Clint Bowyer is in a whole new ride.
He moved from HScott Motorsports to Stewart-Haas Racing this year and took over the No. 14 that was formerly driven by Tony Stewart, who retired following the 2016 season. Along with that move, he has been getting used to driving a Ford much like his teammates. Despite all the change, it's good to see him being competitive again, especially on Sunday at the Las Vegas Motor Speedway where he finished in the top-10.
Last Sunday, he qualified 13th, which is a little better than his average starting spot that is also an 18th-place average matching his average finish. He battled a loose handling car throughout most of stage one. He pitted during the Lap 19 caution period but was slowed down by another car on pit road. He found himself on the outside of the top-10 as Stage one came to an end finishing 19th.
He started 19th at the beginning of stage two and after a few adjustments the No. 14 Haas Automation Ford Fusion, he was still loose. He was able to gain two spots in the final four laps of the stage, but again would find himself outside the top-10 at the end of the stage finishing 14th.
He started the final stage in 17th, and started turning top-six lap times midway through the final stage, which meant he knew he had the speed to run with the faster cars in the pack. With nine laps remaining, he restarted in 11th. In those final laps, he worked past the 10th-place car to secure his first top-10 finish with Stewart-Haas Racing, as he was just short of a top-10 the previous weekend in Atlanta where he finish 11th.
"It was a struggle. To be truthful, we weren't the best all weekend, but we just kept digging. Buga didn't give up on the box and kept adjusting on it and got me pretty good, the best we'd been right there at the end. It's a top-10 and gives us some momentum. It's our third race together and we got a top-10, so we've got to keep digging." he said in a team release.