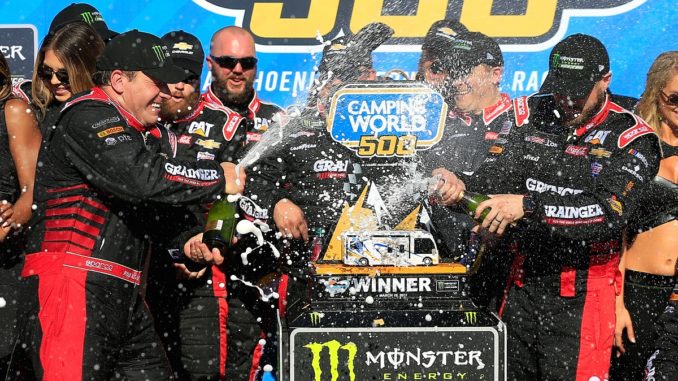 Ryan Newman was able to steal the victory today in Phoenix after crew chief Luke Lambert made a gutsy call to stay out on late race caution.
Newman was able to hold off a hard charging Kyle Larson and Kyle Busch, who dominated the race to steal the win in the desert. With the victory, it snaps a winless streak for both Newman and Richard Childress Racing with Newman's last victory coming in 2013 at Indianapolis, and RCR's last coming at Phoenix with Kevin Harvick back in 2013.
Logano was able to hold off a string of drivers to secure the first stage victory of the afternoon. Logano led all but one of the 75 laps in the first stage with Reed Sorenson leading the sole lap. During Stage 1, we only saw one caution that involved the No. 55 of Reed Sorenson and No. 83 of Corey LaJoie on Lap 28. Sorenson made contact with Lajoie sending the No. 83 into the wall.
Chase Elliott took the lead from Logano ten laps into Stage 2 in a three-wide battle that also had Larson battling for the lead. Elliott took the lead and never looked back, but a caution that would send LaJoie out of the race, would send the field down pit road where Logano would try to steal the lead back. Logano then found himself on the wrong side of the radar gun and would be nailed for speeding, sending the No. 22 way back in the field. Elliott would push further and further away from the No. 42, and would secure Chevrolet their first stage victory in the Cup Series.
Elliott would continue his domination in the final stage with a little bit of kicking and screaming from Larson who wouldn't let Elliott keep the lead so easily, but Elliott would continue to lead. With 121 laps to go, Matt Kenseth nailed the outside wall after a right-side tire exploded and made hard contact into the outside wall. Elliott would lead the field down pit road, but was overtaken by Busch after a quick pit stop.
An ironic twist of fate for Busch may have been the deciding factor in the race when with under five laps to go, Joey Logano, whom Busch had an altercation on pit road with last week, blew a tire and nailed the outside wall causing the caution to fly.. Busch took two tires but was beat off the pit lane by Larson. The lead on the restart however went to Newman as he Ricky Stenhouse Jr., and Martin Truex Jr. stayed out, which placed Larson and Busch fourth and fifth at the restart. Both drivers gave it all they could, but it wasn't enough. Larson scored his third straight second-place finish, while Busch was third.
Results from Phoenix