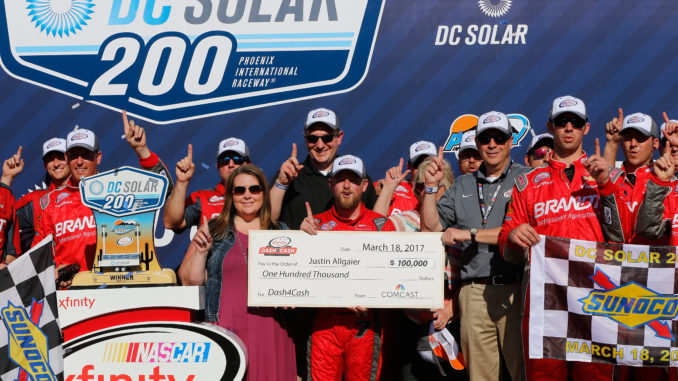 Justin Allgaier was able to push ahead of Ryan Blaney and Erik Jones late in Saturday's race at Phoenix International Raceway to snap an 80-race winless streak today as well as win $100,000 in the Dash 4 Cash during the DC Solar 200.
Allgaier's teammates William Byron and Elliott Sadler, who were also competing for the Dash 4 Cash, rounded out the top-5. The other Dash 4 Cash competitor, Tyler Reddick, finished 14th.
Erik Jones, who started second in the race, was able to capitalize on a strong race car to win the first stage. His car, however, wasn't able to maintain the same speed throughout the race, and despite racing for the win at the end, had to settle for a third-place finish after leading 15 laps early.
Ryan Blaney had to come from the rear of the field after not qualifying due to inspection issues but was able to race his way up to the front during the first stage of the race. He was able to remain up in the top of the field throughout the day, and even won Stage 2.
An incident between Cole Custer and Austin Dillon with just 10 laps to go in the race caused NASCAR to park the No. 2 Chevy. Custer drove into the first turn too deep, and hooked Dillon. Custer immediately apologized over the radio, but Dillon, who had fairly severe damage, waited for Custer's No. 00 Ford to come back around, and drove his car into the wall. NASCAR asked Dillon, crew chief Justin Alexander and the spotter to visit the hauler at the end of the race.
There was a total of 13 lead changes along with 482 quality passes according to the XFINITY X1 NASCAR App.
Results from Phoenix