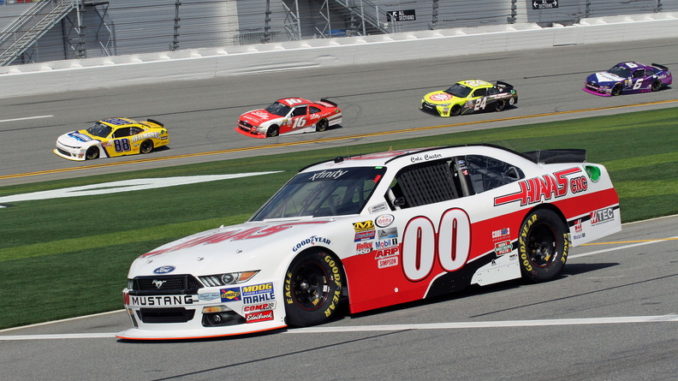 Cole Custer will make his first appearance at his hometown track behind the wheel of the No. 00 Haas Automation Ford Mustang this weekend. Despite having 51 starts in NASCAR's top three series, he'd never raced on the Auto Club Speedway in Fontana California.
"It means a lot. I've never raced there before, so it will definitely be cool. I've had some friends come out for a couple of races on the West Coast swing and we'll have a lot of family in California, so it will be cool having a lot of support there. I'm really looking forward to seeing what it's like at my hometown track," Custer said in a team release.
He is coming off of a 21st-place finish last weekend after getting collected in an accident involving Austin Dillon that ended with a very unhappy Dillon pushing Custer into the wall during the caution. In his first full-time season in the NASCAR XFINITY Series, he's scored one top-10 finish. He currently sits 12th in the standings, 66 points behind points leader Elliott Sadler.
"We've had some solid cars the last few weeks that I feel have been top-10 every single week. Our goal is to go into this weekend with a top-five car and make a solid top-five run. I've never been to Fontana before, but hopefully I can learn it pretty fast. It looks like we'll have a great Haas Automation Ford Mustang this weekend. It would be great to bring home a solid finish for the team."
On top of coming to his home track he is also racing at the home track of Haas Automation, which is headquartered just two hours from Auto Club Speedway in Oxnard, California. Haas Automation will adorn the No. 00 Ford Mustang this weekend as he seeks his first career victory in the NASCAR XFINITY Series.
His crew chief Jeff Meendering heads to the Auto Club Speedway for the second time in his NASCAR career, with both starts coming with Bobby Labonte in 2008. He's overseen a best finish of 21st at the track in Southern California. Meendering will make his 45th career start on the pit box on Saturday.
"California is Cole's hometown track, so there will be a lot of pressure there for us. I'm sure he'll have a lot of friends and family. Auto Club Speedway is such a large track and you have to deal with the bumps down the backstretch that are really rough, and then you've got such long sweeping corners. It's a big compromise between setting your car up for downforce to handle through the corners. Then, as big as it is, you've got to take as much drag out almost similar to a superspeedway. It's kind of a difficult track to set up for, but we're looking forward to it," Meendering said.