Leavine Family Racing Crafts New Marketing Approach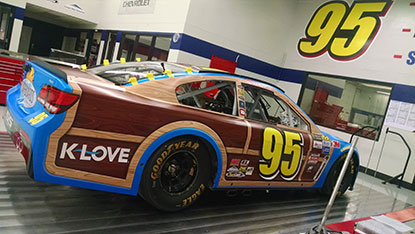 In most cases in NASCAR, if a team doesn't have sponsorship it's probably going to be the same paint scheme as ran before or just a plain colored car. Leavine Family Racing has a different outlook on not having a primary sponsorship this weekend at the Auto Club Speedway in Fontana.
NASCAR veteran Michael McDowell will pilot a special paint scheme this weekend with an interesting story behind it. McDowell, who will start a track best 25th on Sunday in the Auto Club 400, will pilot the Woodie Wagon with Surfboards by Leavine Family Racing on the hood symbolizing what could be a potential partner.
"Our intent with this special scheme is to show the NASCAR ecosystem the personality of LFR and the ability to connect with an audience," said Jeremy Lange, Vice President of Leavine Family Racing. "The mission of the Woodie Wagon and Surfboards by LFR program is to represent the car culture nationally and pay tribute to the local Southern California car culture."
It is the second installment of the car culture as last season McDowell ran a "Rat Rods by Leavine Family Racing" paint scheme at New Hampshire last fall.
"Being from the West Coast, I am looking forward to taking NASCAR Goes West to a new level," said McDowell. "I mentioned last season that I wanted to build a Rat Rod when we launched that scheme, but now I might be convinced to build a Woodie Wagon as well."
McDowell is coming off of a 24th-place finish last weekend at his home track of Phoenix. He has secured two top-20 finishes so far this season and currently sits 26th in Monster Energy NASCAR Cup Series points. In seven starts at the Auto Club Speedway, McDowell has a best finish of 31st that he gained last season but has already broken his best qualifying effort at the Southern California track.
"I think Auto Club is one of the most fun races of the season, because it hasn't gone through a repave, so it's old, it's worn-out, and it's bumpy," said McDowell. "The car and tire combination is finally just meshed enough to where you can move around and be not three-wide, not four-wide, but five and six-wide. It's crazy and the tires fall off – that is the biggest thing.  I know it's hard to get at every race track, but that is when it gets good."
For more information about this weekends car culture paint scheme check out their website at www.LFR95.com