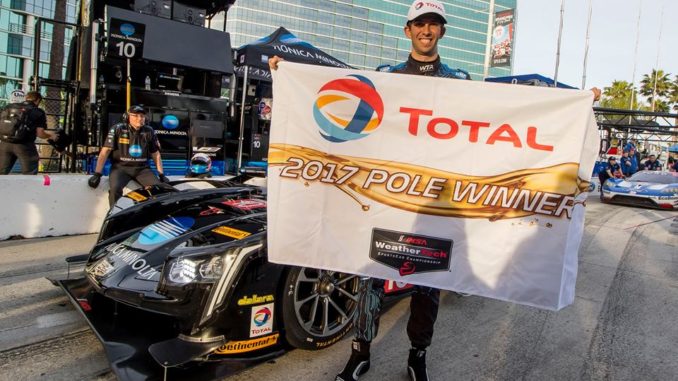 The No. 10 Konica Minolta Cadillac DPi-V.R will start Saturday's Bubba Burger Sports Car Grand Prix from the pole for the first time this season after IMSA WeatherTech SportsCar Championship qualifying Friday evening on the Grand Prix of Long Beach (Calif.) street circuit.
Ricky Taylor, who's sharing the cockpit only with his brother and full-time co-driver Jordan Taylor after scoring back-to-back victories in the season-opening Rolex 24 At Daytona and Mobil 1 Twelve Hours of Sebring endurance marathons, drove a fast lap of 1 minute, 13.549 seconds at 96.3 mph around the 1.97-mile, 11-turn seaside street course to eclipse the track-record qualifying effort of 1:14.790 at 94.7 mph he set here in 2015. It was his 14th career major North American sportscar-car racing pole, the 24th in team history, and his third-consecutive front-row qualifying effort at Long Beach. He and his brother will be vying for their third consecutive Long Beach victory as part of an event-record 35 car-and-driver combinations that will take the green flag Saturday for the one-hour, 40-minute sprint race.
"We came here motivated as we won the first two big races," said Ricky Taylor, who with his brother also shared the cockpit with veteran Italian Max "The Ax" Angelelli and four-time NASCAR Cup Series champion Jeff Gordon in the Daytona win, and for the first time with British open-wheel star Alex Lynn in the Sebring victory. "I think this is the most valuable pole of the year as track position is so important here. We have won here the last two years. This year is going to be tougher. There are more cars on the track with the addition of the GTD cars. We are looking at two pit stops, the GTD and GTLM cars just one. There has been one yellow the last two years combined. With different pit strategies, it can make for a messy race. It is difficult to pass here. I'm glad to have the track position to start the race. Last year, I had to make a move on Christian (Fittipaldi) for the lead into turn one. Pole is a vulnerable position here. I will have to have a good start. This is our first street race with the Cadillac DPi-V.R. Cadillac has done a great job with the car. The confidence it gives you in the seat is just incredible. You feel the bumps here, but it really doesn't upset the car too much. The first gear we are running is very long, so we have to take care exiting the hairpin turn. Hats off to the team for giving me a great car."
The top-five qualifiers for Saturday's Bubba Burger Sports Car Grand Prix are:
1. Konica Minolta Cadillac DPi-V.R (No. 10 Cadillac DPi-V.R) with Ricky Taylor and Jordan Taylor (1:13.549 at 96.3 mph – track record)
2. Action Express Racing (No. 5 Cadillac DPi-V.R) with Christian Fittipaldi and Joao Barbosa (1:13.753 at 96.0 mph)
3. Mazda Motorsports (No. 55 Mazda DPi) with Tristan Nunez and Jonathan Bomarito (1:14.128 at 95.5 mph)
4. JDC-Miller Motorsports (No. 85 Oreca LMP2) with Misha Goikhberg and Stephen Simpson (1:14.408 at 95.2 mph)
5. Action Express Racing (No. 31 Cadillac DPi-V.R) with Eric Curran and Dane Cameron (1:14.444 at 95.1 mph)
The green flag flies at 4:10 p.m. EDT Saturday with live television on the FOX network beginning at 4 p.m. Live timing and scoring during all on-track sessions is available at IMSA.com and the IMSA smartphone app.
– TSC –
Konica Minolta Business Solutions U.S.A., Inc. is a leader in information management focused on enterprise content, technology optimization and cloud services. We are reshaping the Workplace of the Future™ (www.reshapework.com). Our portfolio of offerings deliver solutions to improve our customers' speed to market, manage technology costs, and facilitate the sharing of information to increase productivity. The All Covered IT Services division offers a range of IT strategy, support, project and cloud computing solutions across all verticals. Konica Minolta has won numerous awards including one of Forbes Magazine's Best Employers. The company has been recognized as the #1 Brand for Customer Loyalty in the MFP Office Copier Market by Brand Keys for nine consecutive years. Konica Minolta, Inc. has also been named to the Dow Jones Sustainability World Index for five years in a row. For more information, please visit:www.CountOnKonicaMinolta.com and follow Konica Minolta on Facebook, YouTube, and Twitter@konicaminolta.us.