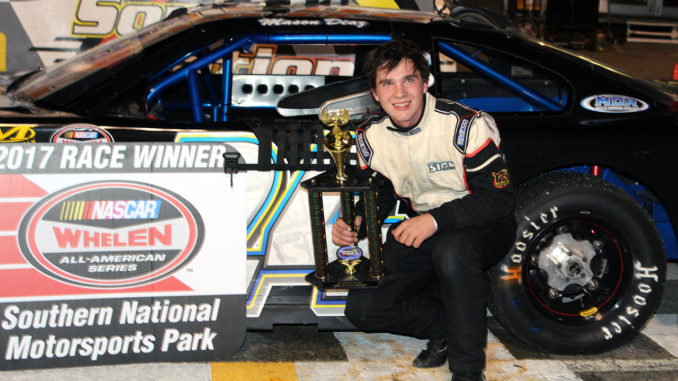 LUCAMA, NC – Mason Diaz picked up his first career Late Model win on Saturday night when he beat out teammate Jonathan Findley in the first Late Model duel at Southern National Motorsports Park.
Diaz started the race in the fourth spot but quickly worked his way into position, passing Michael Fose early in the race to take the second spot.  He ran down Findley in the second half of the race, taking the lead with 11 laps remaining to score his first career Late Model Stock Car victory.
"It feels good to be in victory lane," Diaz said after the race.  "Can't thank the crew enough for everything they did for me.  Going into the race, I wasn't sure what we were going to have since practices were short and stuff today.  Crew gave me a great car and threw a lot of good shots at it for the race.  I can't thank them enough."
The victory propels Diaz in his pursuit of Rookie of the Year honors in the NASCAR Whelen All-American Series, which is Diaz's main goal in 2017.  Along with propelling his rank nationally, it was also a confidence booster after the 16-year-old from Manassas, Virginia finished second in two of the last three Late Model Stock Car features held at Southern National Motorsports Park.
"This year, we're going for national Rookie of the Year," Diaz stated.  "This first win really boosts us and being somewhat early in the season, definitely gives me a lot of confidence moving on.  So far, this year, I've finished second and third.  Finally got a win so looking forward to this season."
After an invert, Diaz started eighth in the second Late Model duel and raced his way to a third-place finish.
"I probably could have saved more in the first heat," Diaz said after the second duel.  "In the start of the race, the very first corner, the leader [Gerald Benton] got sideways.  We all accordioned up, and the nose of my car got messed up.  It made it tight through the center.  We still went to the front, and we probably would have had something for them if it weren't for the front-end damage."
While Diaz would have loved to have swept, he was perfectly content with a win and a third place finish on Saturday night.
"It was a great overall day," Diaz continued.  "I can't thank Mike Darne Racing enough for the fast car they give me."
Mason Diaz now has one win and five top-five finishes on the season at Southern National Motosports Park.  His next race will be at Myrtle Beach Speedway on Saturday night, April 15th.
Mason Diaz is supported by The Sign Shop, Mike Darne Racing, Prince William Marina, Concord Automotive and Convenience Car Care. To learn more about Mason Diaz Racing, check out his website at www.masondiaz24.com, "like" Mason Diaz Racing on Facebook or follow @masondiazracing on Twitter.