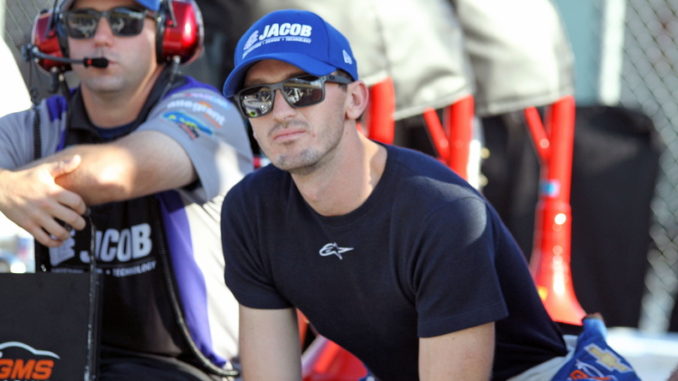 Statesville N.C. (April 17, 2017) — Ben Kennedy confirms a multi-race NASCAR XFINITY Series (NXS) schedule with GMS Racing for the 2017 season. With 12 NXS races already set, Kennedy will pilot the No. 96 Chevrolet Camaro alongside teammate Spencer Gallagher beginning at Charlotte Motor Speedway in May.
"I am really excited to be competing with GMS Racing in the XFINITY Series," said Ben Kennedy. "The conversation to get me in the second car has been on-going since the end of last season. Everyone that works at GMS is so dedicated to the team. There's a sense of family at the shop and at the track so I'm glad everything has finally lined up. GMS has shown speed this year in both series and I know that they will give me the necessary tools to run up front."
Kennedy competed last year at GMS Racing in the NASCAR Camping World Truck Series (NCWTS) where he claimed his first NCWTS victory at Bristol Motor Speedway, locking himself into the inaugural NCWTS Chase. He will be paired with a familiar face from GMS Racing, Jeff Stankiewicz, who will crew chief Kennedy and the No. 96 team. Stankiewicz called the shots for the Daytona Beach-native last year in his first start for GMS Racing at Kansas Speedway, where the duo collected a top-10 finish.
"We couldn't be more excited to have Ben fill our second car," said GMS Racing Director of Competition, Mike Beam. "This is a huge step for our [NASCAR] XFINITY Series program and I look forward to watching Ben learn and grow as a driver through it."
Additional details on partners will be announced at a later date.
ABOUT GMS RACING
GMS Racing competes full-time in the NASCAR Camping World Truck Series with drivers Johnny Sauter, Justin Haley and Kaz Grala, and the NASCAR XFINITY Series with Spencer Gallagher and Ben Kennedy. Since the team's start in 2014, GMS Racing has grown to occupy several buildings located in Statesville, N.C. The campus also includes operations for GMS Fabrication.
SOCIAL MEDIA
To keep up-to-date with the latest news, information and exclusive content, follow GMS Racing on Facebook, Twitter, and Instagram.