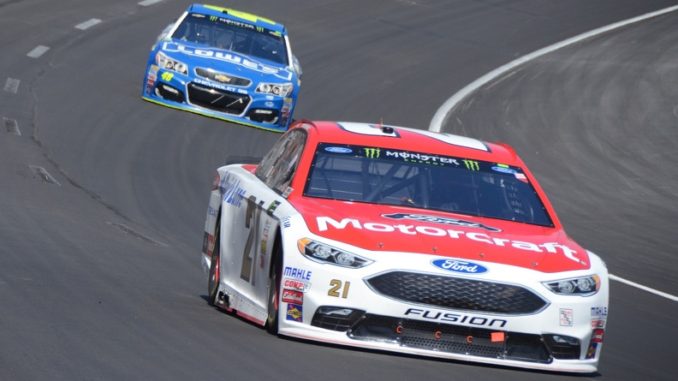 DEARBORN, Mich., May 4, 2017 – Ryan Blaney and the Motorcraft/Quick Lane team return this weekend to Talladega Superspeedway, site of some of their best performances in recent years.
In his last four races at the big Alabama superspeedway, Blaney drove the Wood Brothers' iconic No. 21 to fourth-place, ninth-place and 11th-place finishes. Engine trouble in the fall of 2015 caused the only blemish on his Talladega record.
With the No. 21 team showing speed consistently all season, the extra attention the Woods give to superspeedway cars and Blaney's growing reputation among his peers adds up to Blaney soon joining the pantheon on racing royalty who have won with NASCAR's longest-running team.
Donnie Allison, David Pearson and Neil Bonnett all have piloted the No. 21 Ford to victory lane at Talladega. Pearson won three spring races in a row between 1972 and 1974.
Blaney pulls into Talladega 12th in driver points.
RYAN BLANEY
On Superspeedway Racing:
"Superspeedways have always been a good track for the 21 team. We've had chances to win and have come up a bit short a couple times. Big thing is staying out of trouble and trying to position yourself for the end."
RYAN BLANEY TALLADEGA FAST FACTS:
Is 12th in driver points standings
Finished fourth in his first Cup race at Talladega in 2015
Finished ninth and 11th at Talladega last season
WOOD BROTHERS TALLADEGA FAST FACTS:
This will be the team's 89th start at Talladega
First start was in 1970
Has four spring race wins at Talladega: Donnie Allison (1971) and David Pearson (1972, 1973, 1974
Neil Bonnett won the 1980 fall race at Talladega
CREW CHIEF JEREMY BULLINS
On Preparing Cars for Superspeedways:
"A lot of the work that we do with speedway cars revolves around holding things to very tight tolerances, making sure the finish work is as perfect as you can make it. There's just a lot of detail work that goes into every car, but the speedway cars seem to get a little extra attention."
On Ryan Blaney's Ability to Attract Drafting Help:
"He's certainly proven to the competition that he is capable of making good, smart decisions and that gives those around him confidence to work with him. That certainly helps when it comes down to the end of the race and you need someone to give you a push."
WEEKEND TV SCHEDULE ON FS1 & FOX
Friday        May 5, 11:30 a.m. ET – Practice, FS1
May 5, 4:45 p.m. ET – Final Practice, FS1
Saturday    May 6, 9 a.m. ET – Pole Qualifying, FS1
Sunday      May 7, 2 p.m. ET – Geico 500, FOX
#  #  #
About Motorcraft
Motorcraft® offers a complete line of replacement parts that are recommended and approved by Ford Motor Company. From routine maintenance to under-hood repairs, Motorcraft parts offer exceptional value with the highest quality and right fit at competitive prices. Motorcraft parts are available nationwide at Ford and Lincoln dealers, independent distributors and automotive parts retailers are backed by Ford Motor Company's two-year, unlimited-miles Service Parts Limited Warranty. Ask for Motorcraft by name when you visit your local auto parts store or your favorite service facility. For more information, visit www.motorcraft.com.
About Quick Lane Tire & Auto Centers
Ford's Quick Lane Tire & Auto Center offers routine vehicle maintenance such as oil and filter changes, light repair services including brake repair, and tire replacements on all vehicle makes and models. With more than 800 locations and growing, customers can visit  www.quicklane.com to find a center that is closest to them, print savings coupons and review maintenance tips to keep their vehicles running at peak efficiency. This site includes information on how to spot tire wear, how to jump-start a battery and even a series of tips to improve a vehicle's fuel economy.
Wood Brothers Racing
Wood Brothers Racing was formed in 1950 in Stuart, Va., by Hall of Famer Glen Wood.  Wood Brothers Racing is the oldest active team and one of the winningest teams in NASCAR history. Since its founding, the team won 98 races (including at least one race in every decade for the last seven decades) and 117 poles in NASCAR's top-tier series. Fielding only Ford products for its entire history, the Wood Brothers own the longest association of any motorsports team with a single manufacturer. Glen's brother, Leonard, is known for inventing the modern pit stop.  The team currently runs the Motorcraft/Quick Lane Ford Fusion driven by Ryan Blaney in the famous number 21 racecar.