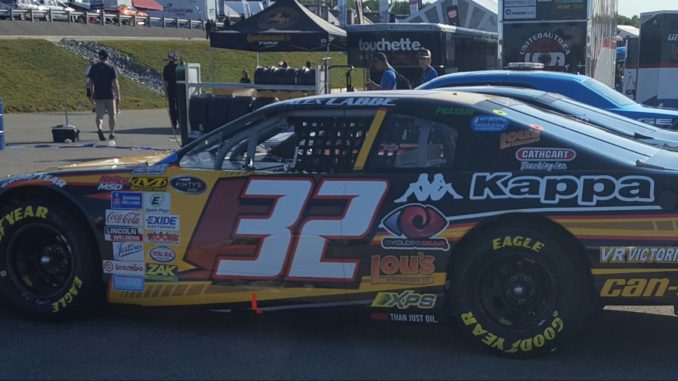 It's been a long offseason for NASCAR Pinty's Series drivers, but the series is back in action this weekend at Canadian Tire Motorsport Park for the Can-Am 200.
Several drivers are looking to start off the season strong, but Alex Labbe comes into CTMP with the pressure mounting as his sponsor will also be the race's presenting sponsor. Last year's Autodrome Chaudiere winner will be looking for his second career Pinty's Series win after a busy offseason that included a few races in the NASCAR XFINITY Series. Labbe has run well at CTMP in the past, and is the race's defending pole winner from last year.
A newly named member of the 2017-18 NASCAR Next class, Cayden Lapcevich is returning to the Pinty's Series this year to defend his 2016 championship. Lapcevich became the youngest driver to win a Pinty's championship, and did so in his rookie year at just 16 years old. Now 17, Lapcevich enters the series with more preparation. The family owned Fastline Motorsports team didn't plan on running the full season as they lacked funding and resources, but came away with the title anyway. If they feel more prepared this year than in 2016, they will surely be another threat for the win and series championship this year.
While he usually skips this race each year to compete in Indianapolis 500 qualifying, Alex Tagliani will be racing at CTMP this week, and competing full-time for the series championship. With additional sponsorship coming from Lowe's Canada, the five-time Pinty's race winner looks to add another trophy to his accolades. While he hasn't won at the Bowmanville track yet, Tagliani will try to change that this weekend.
Jason Hathaway has competed in all 121 NASCAR Pinty's Series races, but the 40-year-old will take some time off from full-time racing this year. Hathaway will compete in both races at CTMP this year as well as the return race to Delaware Speedway. Hathaway only has one road course win in his Pinty's career, but it came at CTMP in the fall 2015 race.
Falling just short of his third series championship last year, Andrew Ranger is seeking redemption after missing out on the title to Lapcevich. What better track for Ranger to get that redemption than this one. An engine failure midway through last year's fall race at CTMP is what eliminated him from championship contention, so scoring his fifth win at the track could help close the wound.
Kevin Lacroix's career as a NASCAR driver has very much been feast or famine. In his first seven series starts, he either ended the race in victory lane, or ended it in the garage trying to diagnose some sort of problem. Since then, he's become a contender each race. In his first full-time season last year, he scored two wins, including the fall race in Bowmanville. After starting second, he led the entirety of the second half of the race to win by nearly four seconds. A road course ace, Lacroix knows how to get around the bends of Canadian Tire Motorsport Park, and knows how to finish on the top step of the podium.
It's been three full race seasons since two-time champion D.J. Kennington has gone to victory lane, but the latest Canadian to race at the Daytona 500 can change that this weekend with a strong showing. Kennington, a versatile driver, has one win Canadian Tire Motorsport Park, and could easily return to victory lane this weekend.
An American driver has never won in the series run exclusively north of the border, but if anyone can change that feat, Christopher Bell is that guy. Bell, a three-time NASCAR Camping World Truck Series race winner, will fly up north after running in the Truck race at Charlotte Motor Speedway on Friday in order to get some road racing experience prior to the September Truck race in Canada. Not only is he looking for experience, but he'll also try to take the checkered flag driving for four-time champion Scott Steckly. In last year's Truck race at CTMP, Bell finished inside the top-five.
With so many more drivers like L.P. and J.F. Dumoulin, Gary Klutt and Robin Buck capable of winning this weekend, the feature race of Victoria Day SpeedFest should be an exciting one full of spectacular racing.