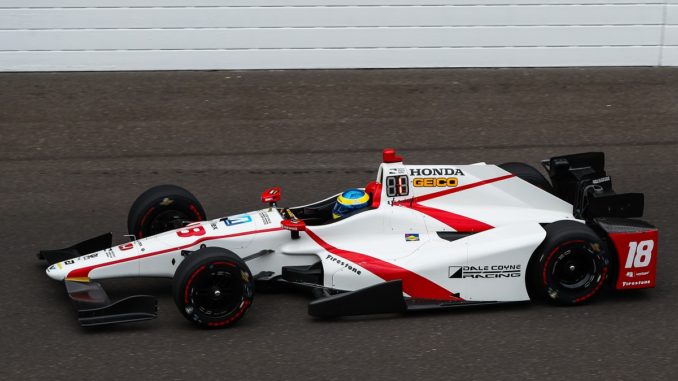 INDIANAPOLIS (Friday, May 19, 2017) – As expected, "Fast Friday" lived up to its billing at Indianapolis Motor Speedway.
Speeds crested in the final practice day prior to weekend qualifications for the 101st Indianapolis 500 presented by PennGrade Motor Oil, despite 2.5 hours of track time lost to midday rain. When the checkered flag waved to conclude practice, Sebastien Bourdais had the fastest lap of the day and week, at 233.116 mph.
"There's never a bad day when you're at the front," said Bourdais, driver of the No. 18 Dale Coyne Racing Honda.
The four-time Indy car champion ranks sixth all-time with 36 wins, but Bourdais has never qualified or finished better than seventh in six previous Indianapolis 500 starts. The 38-year-old Frenchman feels good about his chances this year.
"The car felt good," said Bourdais, who pocketed $10,000 for being fastest on the day. "We tried a couple of things and finished the session really happy with the speed and the car balance. Hopefully it stays that way. … It's pretty exciting just to be in the mix, knowing that we seemingly have a chance to do well in qualifying."
101st INDIANAPOLIS 500: Practice 5 results; Combined practice results; Qualifying draw
Bourdais drew the 19th qualifying position among the primary cars for the 33 drivers slated to make four-lap runs in Saturday's first day of time trials on the 2.5-mile oval. Each car is guaranteed one attempt through the qualifying line and teams may make additional attempts as time permits. The fastest nine cars at the conclusion of Saturday's qualifying are locked into Sunday's Fast Nine Shootout to determine the Verizon P1 Award and pole sitter for the May 28 race.
Drivers spent most of the available track time today trimming out the downforce in their cars to conduct qualifying simulation runs. Following Bourdais atop the speed chart were a trio of Andretti Autosport drivers: Ryan Hunter-Reay, Takuma Sato and Fernando Alonso.
Hunter-Reay's best lap was 232.132 mph in the No. 28 DHL Honda. The 2014 Indianapolis 500 winner also racked up the fastest lap of the week without an aerodynamic tow from a car in front, 231.273 mph.
Hunter-Reay, Bourdais, 2013 Indy 500 champion Tony Kanaan and defending race winner Alexander Rossi all exceeded 231 mph on no-tow laps. All teams benefited from the INDYCAR regulation upping turbocharger boost equating to about 30 added horsepower, which continues through qualifying.
"We had a good run today, found some things that worked and found some things that didn't," Hunter-Reay said. "It was definitely one of the most on-edge couple of days this whole year. It's nice to be done with the day and we're looking forward to tomorrow. Hopefully the weather cooperates and we can put this (No.) 28 DHL Honda at the front."
Juan Pablo Montoya, in the No. 22 Fitzgerald Glider Kits Team Penske Chevrolet, was fifth on the day at 231.682 mph. The two-time Indy 500 champion was the only Chevy driver among the top 12 on the time sheet.
"We didn't do a lot of laps, but we accomplished enough," Montoya said. "We'll see what the weather does tomorrow. If the schedule starts getting shuffled around, then we need to be ready to go when we can. Hopefully, it won't affect us that much. I like where the car is, but we'll find out for sure tomorrow."
Separate incidents late in the afternoon damaged the cars of Spencer Pigot and Zach Veach, but neither driver was injured. Pigot, looking to qualify for his second Indianapolis 500, made hard contact with the Turn 2 SAFER Barrier in the No. 11 Juncos Racing Chevrolet. Veach, rookie driver of the No. 40 Indy Women in Tech Championship Chevrolet for AJ Foyt Racing, made initial contact with the Turn 1 SAFER Barrier before coming to a stop in Turn 2.
James Hinchcliffe of Schmidt Peterson Motorsports won the Indy 500 pole position a year ago with a four-lap speed average of 230.760 mph. The driver of the No. 5 Arrow Schmidt Peterson Motorsports Honda will be the 13th driver in line to qualify Saturday. Pippa Mann (No. 63 Susan G. Komen Honda) is slated to make the first qualifying attempt. Reigning Verizon IndyCar Series champion and 2017 points leader Simon Pagenaud is in line to qualify 11th and defending Indy 500 winner Rossi 20th.
Alonso, the two-time Formula One champion set to make his heralded Indy 500 debut, sits 15th in the primary car qualifying order.
"Today was obviously a little bit stressful with the rain coming and we tried to fit as many laps as possible (before the rain)," Alonso said. "Yes, we managed to fit another two (qualifying simulation) runs late in the day. We're quite happy. It was another day of learning those extra speeds, and hopefully tomorrow we have a good (qualifying run).
"Tomorrow is about doing a good four laps, hopefully (qualify) in the first nine and wait for Sunday for the real final classification. Tomorrow is another day, but for me, it is another learning day. We'll see what we can do, but there's not much pressure for tomorrow."
A final pre-qualifying practice begins at 8 a.m. ET Saturday and streams live on RaceControl.IndyCar.com . Qualifying runs from 11 a.m.-5:50 p.m., with live coverage on WatchESPN from 11 a.m.-3 p.m. and network coverage on ABC from 4-6 p.m. Coverage of Sunday's climactic qualifying day airs from 2:30-4 p.m. on WatchESPN and from 4-6 p.m. on ABC.
The 101st Indianapolis 500, the sixth race of the 2017 Verizon IndyCar Series season, takes place May 28, with live coverage commencing at 11 a.m. ET on ABC and the Advance Auto Parts INDYCAR Radio Network.
Performance Friction engineers receive Louis Schwitzer Award
Don Burgoon, the late founder of Performance Friction Corp., and engineers James Borner, Darin Cate, Paul Rankin and Mark Wagner were awarded the 51st Louis Schwitzer Award today for their work on developing the PFC carbon disc brake system used on Verizon IndyCar Series cars in 2017. Burgoon, who died in 2015, received the award posthumously along with his fellow engineers during a ceremony at Indianapolis Motor Speedway.
The Schwitzer Award recognizes engineering excellence in racing technology at the Indianapolis 500. PFC's braking system has made its mark on the series using a system that "consists of a carbon disc and pad assembly made from single continuously wound strands along with a patented mounting mechanism." With a more balanced assembly, the PFC system helps INDYCAR teams by reducing unwanted vibration and tire wear, giving teams a more consistent braking feel and wear.
"The spirit of innovation drives progress," said James Verrier, president and CEO of BorgWarner, which sponsors the award. "If you glance in the rearview mirror, you'll see that past award winners have improved performance, efficiency and safety for generations of race car drivers. The engineers we acknowledge today will take their place in history, inspiring new innovations in the future."
Racing world celebrates life of McElreath
Former Indianapolis 500 competitor and five-time Indy car race winner Jim McElreath died Thursday in his hometown of Arlington, Texas, at age 89. McElreath, the 1962 Indianapolis 500 rookie of the year, was one of the top Indy car racers in the 1960s and '70s.
McElreath finished in the top three in USAC points four times between 1963 and 1970, finishing runner-up to Mario Andretti in 1966. He was also competitive in "The Greatest Spectacle in Racing," posting six top-six finishes in 15 starts. After a sixth-place finish in his first running at Indianapolis – where he ran up front all day and many believe would have challenged for the win if not for slow pit stops – McElreath finished third in 1966 behind Formula One stars Graham Hill and Jim Clark.