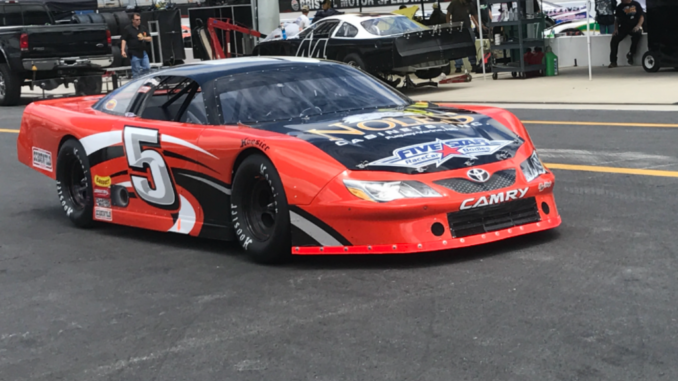 BRISTOL, Tenn. (May 19, 2017) – Super Late Model drivers Trevor Noles, Travis Braden and Chandler Smith led each of Friday's three practice sessions for the Short Track U.S. Nationals at Bristol Motor Speedway.
Smith, a native of Jasper, Ga., was the fastest overall with a time of 14.457 at 132.725 mph in his Smith General Contracting Chevy SS. Noles was quickest in the first practice session with a time of 14.615 seconds at 123.161 mph in his Noles Cabinets Toyota Camry. Braden improved on Noles' time in the second session with a 14.537 at 123.882 in his Team Platinum Camry. Noles was also third-quickest in the second session, clocking an effort of 14.592 at 123.355.
"This thing has been fast off the truck all day long," Noles said. "This would be the biggest win of my career. It's going to take a great car because there is a lot of great competition here. We'll need a car that can last 100 laps."
The Super Late Model class will have a racing legend lead the field to green on Sunday as nine-time Bristol winner Rusty Wallace has been named the official pace car driver. Wallace's son, Steven, will compete in the 100 lap event, which will be sponsored by RustyWallaceCars.com.
This weekend's highly-anticipated inaugural event will showcase the world's best short track racers as they compete for the first time on the high-banks of The World's Fastest Half-Mile, one of the most famous short tracks in the world.
Scott Neal and Travis Braden posted the quickest laps in the Pro Late Model class at 14.864 and 14.980.
Bradley McCaskill led Late Model Stock car with a 15.314 (117.540). He was followed by local racer Danny O'Quinn and JR Motorsports' Josh Berry.
Doug Moff posted the best lap in Modifieds at a 16.614 at 115.493 while Chuck Barnes Jr. (17.692 at 108.456) and Mark Mason (18.827 at 101.917) led Street Stock and Compacts, respectively.
The six classes of competition during the event include Super Late Model, Pro/Crate Late Model, Late Model Stock, Modified, Street Stock and Compact divisions. The five sanctioning bodies are represented include CRA (Super Late Models, Pro Late Models, Street Stock), CARS Tour (Super Late Models, Late Model Stock), Southern Super Series (Super Late Model), National Short Track Alliance (Modifieds), VORES Compact Touring Series (Compacts).
Tickets and pit passes for the Short Track U.S. Nationals start at $85 for a weekend grandstand seat/pit pass combo and $45 for a Saturday/Sunday grandstand GA combo. Kids 12-and-under are just $10 for a Saturday/Sunday grandstand GA combo. Individual pit passes also are available for ages 14-and-up. Visit http://www.bristolmotorspeedway.com/tickets/us-short-track-nationals/ for more information on ticketing for the race. For a VIP race experience, check out The Ole Smoky Roof, Bristol Club and the APEX Infield Lounge presented by Mahle Motorsports. For more information on these VIP experiences, call the Bristol ticket office at 423-BRISTOL.
For those who can't attend, Bristol Motor Speedway and Speed51.com are partnering to offer customers a webcast pay-per-view experience of the Short Track U.S. Nationals. The PPV will be available for $24.99 on Saturday and $29.99 on Sunday of race weekend. To purchase the PPV package, please visit: http://speed51.com/bristol.
About Bristol Motor Speedway
Forged amid the scenic mountains of Northeast Tennessee near the Virginia state line, Bristol Motor Speedway is The Last Great Colosseum, a versatile multi-use venue that hosts major auto races, football games, concerts and many other captivating events. The facility features a 0.533-mile concrete oval race track with 28-degree corner banking and 650-feet straightaways that offers racing in several NASCAR touring series, highlighted by two major Monster Energy NASCAR Cup Series weekends. While at the track, fans are offered a unique viewing experience courtesy of Colossus, the world's largest outdoor center-hung four-sided video screen with a 540,000-watt audio system. The adjacent quarter-mile dragstrip, Bristol Dragway, offers more than 70 events annually, including the marquee NHRA Thunder Valley Nationals. Three football games have kicked-off inside the oval, most notably the 2016 Pilot Flying J Battle at Bristol, where border rivals the University of Tennessee and Virginia Tech met before an NCAA-record crowd of 156,990. In existence since 1961, Bristol Motor Speedway was purchased in 1996 by Speedway Motorsports, Inc., a publicly traded company that is a leading marketer and promoter of motorsports entertainment in the United States. For more information, please visit www.bristolmotorspeedway.com.