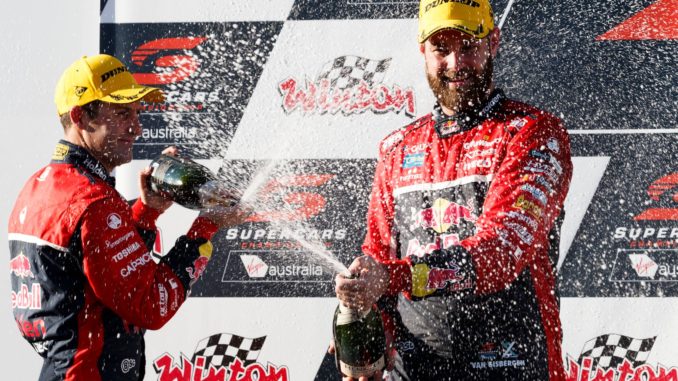 Defending Supercars champion Shane van Gisbergen has broken Ford's six-race winning streak after claiming a dramatic race victory at the Winton SuperSprint this afternoon.
It was a Red Bull Holden Racing Team one-two with van Gisbergen's teammate Jamie Whincup finishing second after leading for the majority of the race.
Whincup was on track to claim a record-equalling 105th career race win until the Safety Car was called in lap 50 of 67 in what would prove to be the most critical turning point of the race.
The Vodafone Safety Car entered the race after wildcard Shae Davies appeared to push into the back of Michael Caruso's car sending the Nissan veteran into the sand on the final corner.
That brought Whincup back to the rest of the field and when racing resumed his Commodore appeared to slip slightly near where the Caruso/Davies incident occurred.
"Personally I am pretty gutted," Whincup said.
"I've given everything I could give it today to win the race, all I want to do is win a race and just can't get there.
"Personally pretty disappointed but all in all happy to walk away having won the round."
Post race wildcard Davies spoke about his views on the collision with Caruso.
"The touch with Michael, that, in my opinion I was up alongside and I don't see anything wrong with that," Davies said.
"It's a shame to come together with a Nissan team mate but that's just racing I guess."
Van Gisbergen said he doesn't think he would've caught Whincup to claim his fourth race victory of the year had the Safety Car not been called.
"I was struggling to get close to him [Whincup] in the middle stint," van Gisbergen said.
"He slipped on some oil at the last corner and I got through with a bit of help from my Kiwi brother [Coulthard] beside me but then I stitched him up at the next corner. It was good battling.
"Third win for the year which is pretty cool but we have to keep working hard.
"Roland [Dane] is putting a lot of pressure on us. We want to get back in front of the team's championship and push on. Roland is cracking the whip and we are responding."
Finishing third was Ford's Fabian Coulthard who now holds just a four point lead in the championship in front of Whincup, who is yet to win a race in 2017.
Coulthard's Shell V-Power Racing teammate Scott McLaughlin, who claimed victory in yesterday's opening Winton SuperSprint race finished fifth after starting from pole position.
After starting in pole position, McLaughlin's Falcon did not have the same pace as yesterday and he would eventually finish fifth. Prodrive's Cam Waters was impressive and unlucky to miss out on a podium finish, he claimed fourth position.
Click here for full results from 2017 Winton SuperSprint.
The Virgin Australia Supercars Championship will now move to Hidden Valley Raceway for the CrownBet Darwin Triple Crown from 16-18 June.