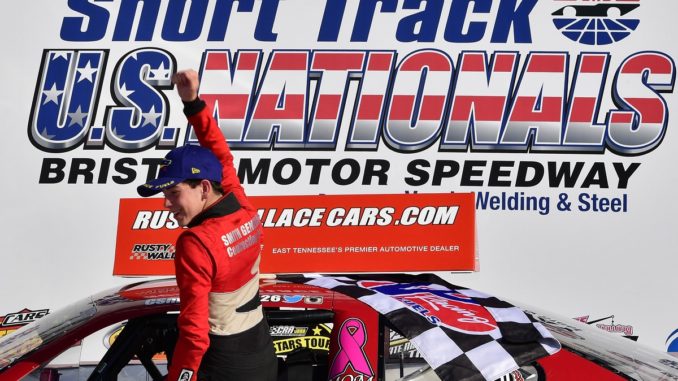 BRISTOL, Tenn. (May 20, 2017) – Raphael Lessard and Chandler Smith raced to victories in the two qualifying races that set the field for Sunday's 100-lap Super Late Model feature race scheduled for 2 p.m. at the Short Track U.S. Nationals at Bristol Motor Speedway.
Both drivers will be among the favorites to win the highly-anticipated inaugural event's main feature. Chad Poole (Modifieds), Bo Hoelscher (Compacts) and Chuck Barnes Jr. (Street Stock) also were winners of the event that is showcasing the world's best short track racers as they compete for the first time on the high-banks of The World's Fastest Half-Mile, one of the most famous short tracks in the world. Sunday's racing also will include 100-lap features in Pro Late Model and Late Model Stock.
Canadian Lessard, who claimed the No. 1 qualifying position for the race with a quick time of 14.550 seconds at 131.876 mph, led the entire way in his 35-lap qualifying race. He finished in front of second-generation racer Steve Wallace and Travis Braden, who was one of the quickest drivers in Friday's practice.
"It's a dream come true," Lessard said. "I just really can't believe it. My team gave me a really good car, but we have a 100-lap race tomorrow, and want to be a little better."
Smith, who qualified eighth, turned it on in the second 35-lap qualifying race and held off Jake Crum for the victory. NASCAR XFINITY Series regular Bubba Wallace, who qualified second, finished third overall in his black No. 6 Ford.
"The longer the run, the car kept tightening up," Smith said. "It kept coming to me and getting faster and faster. We worked our tails off at the shop to bring a good car here, and we did."
Former series champ Poole powered to the NSTA Top Speed Modified victory, holding off Travis Eddy and William Skaggs for the victory. The Springfield, Ohio driver qualified fifth in his 12p Finley Recycling machine, and survived a wreck-filled race that was called official after 42 laps due to the series' 45-minute time-limit rule.
"I really can't believe I'm sitting here in the media center at Bristol Motor Speedway," Poole said. "I really have to thank the folks at Bristol for letting us come out here and race.
Hoelscher, who was quick in practice but qualified sixth, found his groove in the feature race and pulled away from the pack to earn the 50-lap Vore's Welding Compact victory. He finished in front of Chris Jennings, Ron Masters and Matt Jackson.
"The motor felt like it was ready to let go with five to go, I kept looking in my mirror, because I just knew someone was going to catch me," Hoelscher said.  "What a great feeling to win at Bristol Motor Speedway. I have to thank Steve Vore for making this happen."
Barnes Jr. used the classic Bristol bump-n-run to earn the victory in the 50-lap Street Stock feature. He put his Chevy fender on the rear of top qualifier and rival Brett Hudson's machine on the final lap and moved around him to take the checkered flag.
"We race really hard every week and he would do the same," Barnes said. "I have a lot of respect for him but I got one up on him and he owes me one back now. I just got into him a little bit, I didn't wreck him. We got the Bristol trophy. My dad won here back in 2010 and his trophy is in the office. We were joking about who was going to get the next one. I am glad we were able to get it."
Please visit http://www.bristolmotorspeedway.com/tickets/us-short-track-nationals/ for more information on purchasing tickets for Sunday's action. For those who can't attend, Bristol Motor Speedway and Speed51.com are partnering to offer customers a webcast pay-per-view experience of the Short Track U.S. Nationals. Sunday's PPV is available for $29.99. To purchase the PPV package, please visit: http://speed51.com/bristol.
About Bristol Motor Speedway
Forged amid the scenic mountains of Northeast Tennessee near the Virginia state line, Bristol Motor Speedway is The Last Great Colosseum, a versatile multi-use venue that hosts major auto races, football games, concerts and many other captivating events. The facility features a 0.533-mile concrete oval race track with 28-degree corner banking and 650-feet straightaways that offers racing in several NASCAR touring series, highlighted by two major Monster Energy NASCAR Cup Series weekends. While at the track, fans are offered a unique viewing experience courtesy of Colossus, the world's largest outdoor center-hung four-sided video screen with a 540,000-watt audio system. The adjacent quarter-mile dragstrip, Bristol Dragway, offers more than 70 events annually, including the marquee NHRA Thunder Valley Nationals. Three football games have kicked-off inside the oval, most notably the 2016 Pilot Flying J Battle at Bristol, where border rivals the University of Tennessee and Virginia Tech met before an NCAA-record crowd of 156,990. In existence since 1961, Bristol Motor Speedway was purchased in 1996 by Speedway Motorsports, Inc., a publicly traded company that is a leading marketer and promoter of motorsports entertainment in the United States. For more information, please visit www.bristolmotorspeedway.com.