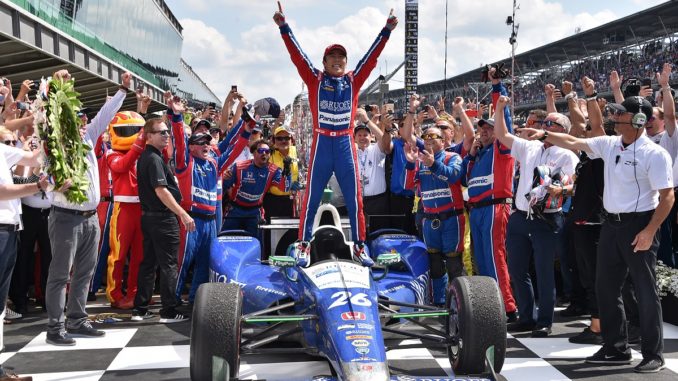 Japan's Takuma Sato was one lap away from Indianapolis 500 glory in 2012 until a daring move on the inside of eventual race winner Dario Franchitti dashed his hopes when he was sent into the wall. The nightmare of losing the most famed open-wheel race on the planet can disappear now that he has become an Indy 500 champion.
In order to win the race, Sato had to hold off three-time Indy 500 winner Helio Castroneves for Team Penske, who was hard charging at the end of the race. In the end, 40-year-old Sato held on to claim his second career Verizon IndyCar Series victory, and first while driving for Andretti Autosport.
Formula 1's Fernando Alonso, who opted to skip the Monaco Grand Prix to participate in his first Indy 500, was one of three victims of Honda engine woes. An ironic twist of fate for the F1 driver who has struggled with Honda reliability in the 2017 Formula 1 season, Alonso finished 25th after leading nearly 30 laps. The other two Hondas to lose an engine included Alonso's quick teammate Ryan Hunter-Reay and Chip Ganassi Racing's Charlie Kimball.
2017 Indianapolis 500 Results